PROTIP: Press 'i' to view the image gallery, 'v' to view the video gallery, or 'r' to view a random entry.
This submission is currently being researched & evaluated!
You can help confirm this entry by contributing facts, media, and other evidence of notability and mutation.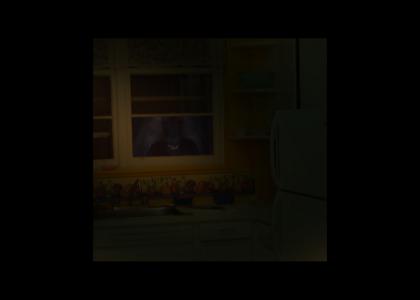 About
For The Last Time is a YTMND fad revolving around a menacing figure standing outside of a window at night. The scene is often accompanied with ominous music, usually the track "The Darkness That Lurks In Our Mind" from Silent Hill 2.[1]
Origin
The original image of a red-eyed Baboon staring into a dark kitchen is said to have originated in one of 4Chan's Legendary Creepy Threads, although it is not clear which Imageboard it was posted under. The image was allegedly inspired by a recurring nightmare that a person had as a child.[2]
On October 3rd, 2006, YTMND user Kacen uploaded a site called |||||||||||||||||||||||||||||||||||||||||||||||||||||||||3||||||||||||||||||||||||||| featuring the image in question with music from the Silent Hill series. The YTMND went on to gather over 900 votes (with a site average of 4.09/5.00), over 140 favorites, over 300 comments, over 69,000 views, and a $38.54 sponsorship from another user.[3]
Spread
Following the creation of the website, user extremejon created another site in the same style, placing a photoshopped version of Happy Cat in the window.[4] In addition, extremejon uploaded a site including the You Forgot Poland fad called "You have forgotten for the last time!" giving the fad an official name.[5] Following the creation of these sites, the fad took off with dozens of variants.[6]
Search Interest
External References
Recent Videos
There are no videos currently available.
Facebook Comments