PROTIP: Press 'i' to view the image gallery, 'v' to view the video gallery, or 'r' to view a random entry.
Is this your favorite meme of 2014? Login to cast your vote now!
Help us find the dankest meme of the year by participating in our annual poll event.
This submission is currently being researched & evaluated!
You can help confirm this entry by contributing facts, media, and other evidence of notability and mutation.
About
Hanami Trace (お花見 トレス in Japanese), also known as "I'm the Only One From 5AM" (俺だけ5時から in Japanese), is a digital art meme featuring various depictions of a young Japanese man playing a handheld gaming device while participating in the springtime cherry blossom viewing tradition hanami.
Origin
In March of 2014, a Japanese television station interviewed people who had gathered outdoors to partake in "hanami," the practice of viewing cherry blossoms in spring. During the segment, a man laying by himself wearing a green jacket revealed he had arrived at 5 a.m. that morning to find a spot to view the flowers. On March 29th, Twitter user @_kazuka_ tweeted several screen captures from the interview segment (shown below). Within the first 48 hours, the tweet gained over 16,800 retweets and 8,700 favorites.
新しいトレースの材料きたぞお前ら pic.twitter.com/A4T4lqlfvO

— 和花* (@_kazuka_) March 29, 2014
Q. When are you holding this place from?
A. A little before 5AM.

Everyone was like, 'Let's get there at around noon"

But only my meeting time was 5AM.
Background: Hanami Spot War
In Japan, Hanami is a quite special event that allow people drinking during office hours in broad daylight. It's usually held by offices mates or college circles And one of the most typical sights in Hanami, particularly in urban area, is people who try saving a good hanami drinking place from early morning or previous night. This task is usually enforced to the most vulnerable position in groups: underlings in office, push-overs who can't refuse someone's ask, or mere cheated people.
So, this man, lying on blue sheets from 5AM, was not an outcast being told a different time, but he was forced to do this miserable task from his friends. And because all Japanese can understand his unfortunate situation at a glance, many people shared this picture from a sense of sympathy to the victims of this annual war.
Spread
Later that day on March 29th, 2014, other Twitter[1][2][3] users began posting illustrated parodies of the screen captured images, many of which featured Japanese anime and manga characters (shown below).
Those posting illustrated depictions of the man began referring to the meme as "hanami trace" (お花見 トレス in Japanese) and "I'm the only one from 5am." According to the Twitter analytics site Topsy, there were over 1,170 tweets containing the keywords "お花見 トレス" posted on March 29th.
On March 30th, YouTuber IbisPaintUser049 submitted a hanami trace speed painting video (shown below). On March 31st, the video game news blog Kotaku[5] published an article highlighting several notable examples from the series.
Notable Examples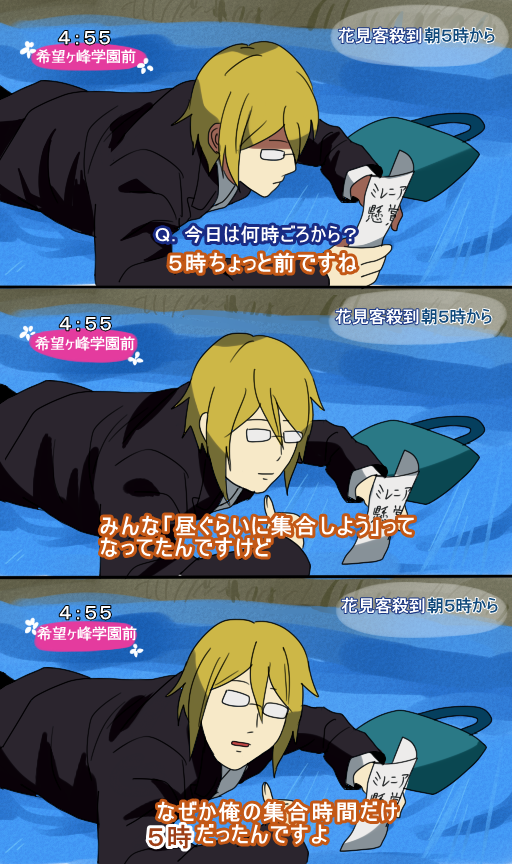 Search Interest
Not available.
External References
Recent Videos
There are no videos currently available.
Facebook Comments