PROTIP: Press 'i' to view the image gallery, 'v' to view the video gallery, or 'r' to view a random entry.
This submission is currently being researched & evaluated!
You can help confirm this entry by contributing facts, media, and other evidence of notability and mutation.

About
Kimoi Girls (Japanese: キモーイガールズ, roughly meaning: "It sucks!" girls) is an exploitable picture and reaction image depicting two girls laughing at one's failure described in their speech bubbles. Their first usage as a reaction image, close to Girls Laughing and further on as an exploitable similar to Gedô Beibî on Japanese imageboards then exploded beyond those websites when Japanese and Western users alike started portraying famous characters in similar fashion poking fun at their favorite themes.
Origin
The original panel reused in the meme comes from a Japanese pornographic manga called "Pay Back" by artist Jun Nitta (にったじゅん), in which two schoolgirls are making fun of a boy when they find out he is a virgin:

Transcript:
えーマジ童貞!? (What, really, you're a virgin!?)
キモーイ (How pathetic!)
童貞が許されるのは小学生までだよねー (Being a virgin is totally unacceptable past grade school.)
キャハハハハハハ (Hahaha!)
The initial adult manga was released on July 2002.
Spread
According to a thread for the artist in /erocomic/ (Adult Manga & Novel) board in BBSPINK[1] which is 2channel's sister board community for adult contents, this ridiculous panel began to catch an attention in /may/ (Nijiura) board in the Japanese imageboard community Futaba Channel (2chan) around the beginning of March 2003. Futaba users gave these girls a nickname "Kimoi Girls", began reusing this panel as a reaction face and made a Shift-JIS Art of this scene. The word "Kimoi" (キモーイ), meaning "It sucks!", "How lame!" or "How weak!". It was mainly used to mock on one's failure at doing something right, keeping the "virgin" mockery involved.

Shortly after, this Shift-JIS art was imported to 2channel and got much popularity. A thread of archiving derivatives of this Shift-JIS art started in 2channel's /gline/ board on March 26th.[2] Several image generators utilizing this panel[3] or catchphrase[4] were launched in the middle of 2000s. Parody illustrations have been also posted to the Japanese online artist community pixiv since 2007.[5]
EEEHHH

?! Easy Mode?!

In 2006, IOSYS[6], famous doujin circle working on Touhou related material, released a flash animation for their Touhou remixed song entitled "Stops at the affected area and immediately dissolves ~ Lunatic Udongein" (患部で止まってすぐ溶ける 〜 狂気の優曇華院, Kanbu de tomatte sugu tokeru ~ Kyouki no Udongein)[7], which is also known as "Overdrive" to English speaking people (shown below, left). Between 00:49 and 00:56, and appearing again further on in the animation, the viewer can witness the original panel modified to feature Touhou characters making fun of people who would play Touhou in "Easy Mode"[8] (shown below, right).




This flash animation was also uploaded to the Japanese video sharing service Nico Nico Douga (NND) in April 2007[9], and it has scored 2 million page views within the first 3 years. People has posted hundreds of parodies and MAD videos utilizing this popular song and video to NND.[10]
For more information about that particular phenomenon, please check the KYM entry for Overdrive
Outside Japan
Gaining appeal among Touhou fans, both Japanese and Western, catchphrases such as "Easy Modo?!" and "Only kids play in Easy Mode!" popped up on the Western web, mainly gaming websites such as GameSpot[11] or GameFAQs.[12]Danbooru has a wiki page for "Kimoi Girls".[13] Many parody illustration are uploaded to deviantART.[14] A single-serving site "easymodo.net" was even created in 2008.[15]
Notable Examples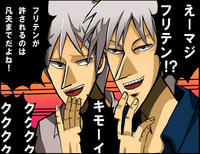 Blank Template

Although not as notable as the meme itself, photos of the streets of Japan show some stores reusing the exploitable as an advertising tool to sell their goods, as posted on Flickr (shown below, left) or even Twitpic (shown below, right).


Search Interest
Externak References
Editor's Note: Registration is needed to browse the original videos listed in this section.
Recent Videos
There are no videos currently available.
Facebook Comments