PROTIP: Press 'i' to view the image gallery, 'v' to view the video gallery, or 'r' to view a random entry.
This submission is currently being researched & evaluated!
You can help confirm this entry by contributing facts, media, and other evidence of notability and mutation.
About
"Lets go to bowling" is a quote from the NPC (non-playable character) "Roman Bellic" in the GTA series, calling his cousin and the main character "Nico Bellic" to play bowling.
Suggesting can be applied to nearly any situation, whether to reply to a genuine question as to what to do, or to cut into unrelated conversation or at inappropriate times, much like Roman does in the game. The bizarre nature of the question is one of the reasons to the jokes humour.
Spread
The meme became popular on the internet after the games release. Popular Web-show, "Unforgotten Realms" referenced it in episode 4, "Plan C". Newgrounds user, Oney, featured the phrase in his Flash animation "Grand Theft Awesome". Nearly every player of Grand Theft Auto IV who has taken part in a friendship activity has at least heard the insistent question.
College Humor mentioned Let's Go Bowling in a recent article: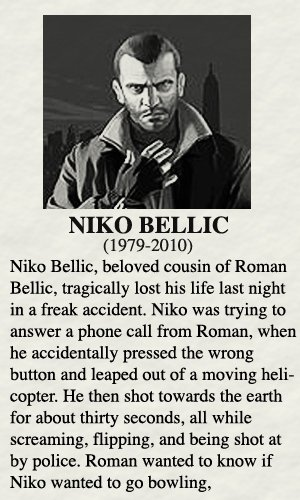 The phrase can be added to images, usually those that feature a person talking on a phone. The person featured in the image with the phrase, or their response to the question, is the punchline to the phrase.


Facebook Comments