PROTIP: Press 'i' to view the image gallery, 'v' to view the video gallery, or 'r' to view a random entry.
This submission is currently being researched & evaluated!
You can help confirm this entry by contributing facts, media, and other evidence of notability and mutation.
Grand Theft Auto IV is an open world crime video game released by Rockstar Games in 2008. This entry to the popular franchise was a major step up for the popular series, including improved and realistic graphics and new gameplay mechanics. One of these new additions to the free roaming world of Grand Theft Auto was the ability to have friendships with certain characters, and gain bonuses through interracting with these characters in friend activities.

The first friend character encountered by protagonist Niko Bellic is his cousin, Roman Bellic. The player can call Roman and other friend characters via Niko's mobile phone to arrange activities, such as going to play pool, go drinking or see a show. Niko can also recieve calls from friends, who request a get together at a specific venue. These requests can be accepted or declined; accepting the mission and keeping the friend happy rewards the player with the friend's fondness increasing in Niko. Declining decreases it, which can lead to the player losing the special abilities they gained from the relationship.

These phone calls happen randomly and often take place after a certain ammount of time has passed since the played has interracted with that friend. The phone calls can take place at any time of day during any activity the player is partaking, whether it be a story mission, a side quest or during free play. The most persistent caller is Roman, and his most common request for friend activities is bowling. The friendship minigames can often be tedious, with each mission taking on average five to ten minutes to complete. It is because of the frequent calls during inappropriate or difficult times of the game lead to the meme being born.

Suggesting to go bowling can be applied to nearly any situation, whether to reply to a genuine question as to what to do, or to cut into unrelated conversation or at inappropriate times, much like Roman does in the game. The bizarre nature of the question is one of the reasons to the jokes humour.

The meme became popular on the internet after the games release. Popular Web-show, "Unforgotten Realms" referenced it in episode 4, "Plan C". Newgrounds user, Oney, featured the phrase in his Flash animation "Grand Theft Awesome". Nearly every player of Grand Theft Auto IV who has taken part in a friendship activity has at least heard the insistent question.

College Humor mentioned Let's Go Bowling in a recent article: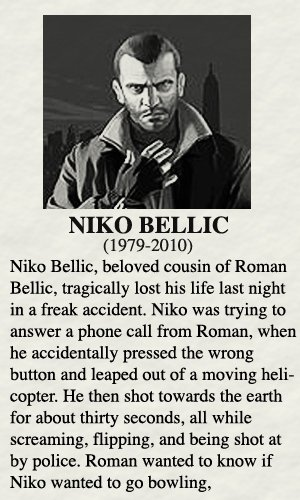 The phrase can be added to images, usually those that feature a person talking on a phone. The person featured in the image with the phrase, or their response to the question, is the punchline to the phrase.
Facebook Comments