PROTIP: Press 'i' to view the image gallery, 'v' to view the video gallery, or 'r' to view a random entry.
This submission is currently being researched & evaluated!
You can help confirm this entry by contributing facts, media, and other evidence of notability and mutation.

About
My Waifu's Favorite Hold (Japanese: 嫁の必殺技, Yome no hissatsu waza), previously called as "My Waifu's Atomic Suplex Hold" (嫁の原爆固め, Yome no genbaku gatame), refers to a series of illustrations of German Suplex Hold[1] by Waifu. It was one of the successful illustration response projects on the Japanese illustrators community pixiv in 2009.
Origin
This pixiv's project, which means user-generated events of drawing in a same theme, was proposed by a Japanese illustrator/doujin mangaka Saiga[2] on February 26th, 2009.[3] This project, called as "My Waifu's Atomic Suplex Hold", was a simple & easy illustration response project of just tracing a template image prepared by the inventor.

Prior to this pixiv project, a hand-drawn animated video meme featuring German Suplex, Spitting while Kissing, occurred on the Japanese video sharing service Nico Nico Douga (NND) in November 2008. However, it seems there are no direct relationships between them.
Background: Pro-wrestling Moves in Japanese Pop Culture
In Japan, pro-wrestling was one of the national pastimes during the period of rapid economic growth from 1950s to 1980s. In particular, since the early days of Japanese pro-wrestling was deeply influenced by a Belgian wrestler Karl Gotch[4], known as an alias "God of Wrestling" in Japan, and he coached many subsequent pro-wrestlers, his favorite "German Suplex", originally introduced as "Atomic Bomb Suplex Hold" in Japan, is one of the representative moves in the good old days of the exciting fighting entertainment as well as "Karate Chop" by Rikidōzan[5], "Iron Claw" by Fritz Von Erich[6], "Abdominal Stretch" by Giant Baba[7] and "Octopus Hold" by Antonio Inoki.[8]

Besides, under the circumstances of the Japanese pop culture which allows casual violence in entertainments, these well-known pro-wrestling moves have been occasionally used as a punchline in comedy skits, mangas, particularly gag stripes, and animes. So, many Japanese people are familiar to pro-wrestling moves through the media, and hence this suplex hold known for its dynamic move and beautiful arc at finish is often used for lulz.

Left: Yui from Angel Beats! | Right: Principal vs. Deer in Nichijou
Spread
Partly due to its quite convenient editing style, this project succeeded to quickly gather many illustration responses from female users who are fond of this kind of trace-type fads. Its amount had increased into 100 within its first month, and reached to 550 in its first year. Moreover, it has been still increasing gradually even after the template was removed by the creator.[9] In addition to this, dozens of "German Suplex" illustrations which refer to this pixiv's project are found on deviantART.[10]
Notable Examples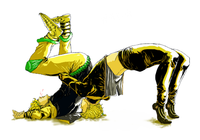 Search Interest
[Not Available]
External References
Editor's Note: Registration is needed to browse the original illustrations listed in this section.
Facebook Comments