PROTIP: Press 'i' to view the image gallery, 'v' to view the video gallery, or 'r' to view a random entry.
This submission is currently being researched & evaluated!
You can help confirm this entry by contributing facts, media, and other evidence of notability and mutation.
About
Benedict Cumberbatch is an English actor best known for portraying Sherlock Holmes on BBC's TV crime drama series Sherlock On Tumblr and elsewhere the web, he has developed a large fan base who call themselves "Cumberbitches."
Acting Career
Cumberbatch began his acting career in the early 2000s through minor role appearances in British TV movies and miniseries, before landing supporting roles in the feature films Atonement and The Other Boleyn Girl released in 2008. After finding fame through Sherlock in 2010, Cumberbatch has acted in many high profile films such as Twelve Years a Slave, August: Osage County, and War Horse.
Online History
On February 11th, Urban Dictionary[19] user missCumberbatch submitted an entry for the term "Cumberbitch" defined as:
"A refernce given to people who admire the beautiful features of Benedict Cumberbatch. ex- his green eyes, beautiful cheekbones, sexy toussled hair."
On August 9th, 2010, a Facebook page for Benedict Cumberbatch[20] was launched. As of January 2014, the page has 235,000 likes.
On October 11th, 2013, Cumberbatch hosted a Reddit AMA, during which he jokingly confirmed he had "cheek polishing parties"[21] with actors Matt Smith and Tom Hiddleston and made some more serious comments on fame.
A clip from The Jimmy Kimmel Show was uploaded to Youtube on December 5th, 2013, showing Cumberbatch reading the lyrics to "Genius," a song by R. Kelly. The video has gained over 2,000,0000 views. Cumberbatch had previously read the lyrics to Sir-Mix-a-lot's "I Like Big Butts" on an October 2013 episode of Late Night With Jimmy Fallon.
Fandom
In Sherlock
Many members of the show's fandom convene on Tumblr. Popular tags include #Sherlock[1] and #Sherlock BBC[3], as well as ones dedicated to the characters and actors themselves. Various blogs dedicated to the show can also be found, such as Fuck Yeah, Sherlock[4] and Sherlock Holmes Fanart[5]. Many artists upload their fan works to Tumblr, such as Sdkay[8], Reapersun.[9] DeviantArt also hosts various fanworks when searching for Sherlock[10] and Sherlock BBC.[2] The site also has two Sherlock dedicated groups: BBC-Sherlock[6] and Sherlock-2010.[7] In October 2011, The Beginner's Guide to the Sherlock Fandom[44] Fans have also compiled a glossary[43] of popular terms within the fandom, which has more than 100 entries relating to pairing names for shipping purposes, fanfiction terms and inside jokes relating to actual dialogue from the show.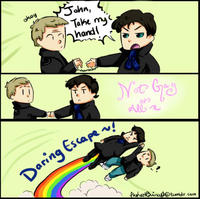 British Teen Look-alike
On January 6th, 2013, Tyler Michell, a sixteen-year-old from Norfolk, England bearing much resemblance to the famed British actor, began uploading selfies of himself via Instagram[45] using the hashtags #Benedict and #Cumberbatch. Well aware of his look-alikeness, Michell even uploaded a picture of Cumberbatch and captioned it "selfie." Soon, thousands of Instagram users in China, where Cumberbatch has become quite popular along with Sherlock, began following him and posting comments on his Instagram photos, with some uploads spawning more than 4,000 comments.[46]
However, his overnight fame on Instagram quickly took an awkward turn when the teenager decided to respond to the large influx of Chinese comments by saying: "Chinese followers. Stop commenting on all my stuff."[47] Within 24 hours, the post received more than 3,000 comments and sought a lot of anger from his followers from China and elsewhere, many of whom believed his comment was rude and ungrateful.[48] As of February 2014, his Instagram has over 14,000 followers.
Related Memes
Benedict Cumberbatch Name Generator
On August 27th 2013[11] Tumblr user Wandaventham[12] created the Benedict Cumberbatch Name Generator[13], a program that suggests names at random that poke fun at Cumberbatch's funny sounding multi-syllabic name. Some examples of names generated include Beetlejuice Cumberbund, Boilerdang Snugglesnatch, and Bulbasaur Countryside.
Otters Who Look Like Benedict Cumberbatch
Using an otter to represent Sherlock became popular after the Tumblr photoset "Otters Who Look Like Benedict Cumberbatch: A Visual Examination"[14][15] created by Red Scharlach[16] went viral in March 2012. [17] The idea expanded beyond otters with a Buzzfeed post published on October 22, 2003 titled "13 Things Benedict Cumberbatch Looks Like"[18] which included milk, a foot, and E.T.
Top Gear Photo
A photo from a shoot uploaded to TopGear.com[22] on July 12th, 2013 showing Cumberbatch stricking an open mouthed pose holding onto the shoulder of a race car driver was soon encorpated into other photos including Sherlock stills and otters.
U2 Photobomb
On March 2nd, 2014, Cumberbatch photobombed the rock group U2 by jumping behind them on the red carpet before the start of the 86th Academy Awards.[49]
The photo of Cumberbatch jumping quickly became a photo meme on Tumblr where he has a very large and vocal fan base. Some of the best examples were collected into posts published by the fandom site Hypable[50] and Buzzfeed.[51]
Personal Life
Cumberbatch was born on July 19th, 1976 in London, England to actor parents. Early in his schooling he studied visual arts, but he eventially went on to study theater at Manchester University and the London Academy of Music and Dramatic Art.
Search Interest
External References
Facebook Comments