PROTIP: Press 'i' to view the image gallery, 'v' to view the video gallery, or 'r' to view a random entry.

About
Scumbag Hat (snowclone: "Scumbag X") is an exploitable image inspired by the fitted baseball cap worn by Scumbag Steve, an advice animal character associated with socially unethical or dishonest behaviors. The add-on accessory is typically photoshopped onto any image to portray the subject as a letdown or to point out its shortcomings.
Origin
The brown, hound-tooth patterned baseball cap is a limited edition of Boston Red Sox A-Tooth fitted cap manufactured and licensed by New Era. The hat was first introduced to the online audiences in January 2011 with the popular advice animal series Scumbag Steve.


Spread
Following its initial onset, numerous spin-off characters began to emerge on Reddit[2], most notably Scumbag Dog and Scumbag Stefano and Scumbag Mubarak. The last of the three satirized the former Egyptian president's ill-advised decision to shut off the nation's internet access which fueled the Arab Spring protests.



Since then, the image of the baseball cap quickly evolved into a symbol of nuisance in a wide range of contexts. In grammatical terms, Scumbag Hat can be seen as a visual modifier of its subject as a source of annoyance or inconvenience, similar to the way Hipster Glasses are used to depict its subject as a conceited elitist.


The presence of "Scumbag X" meme continued to grow throughout the year and inspired a long list of spin-off characters, many of which were influenced by other trending memes and current events. The exploitable enjoys especially strong presence on Reddit and Tumblr; aof May 2012, there are more than 48,000 posts relating to the keyword "Scumbag" on Reddit and 8,800 derivative templates featuring Scumbag Hat on Quickmeme.[1] Reflecting the popularity of the exploitable add-on, some began creating Scumbag Hat image macros with meta-references to the hat itself.
Notable Examples
Some of the most enduring derivatives include Scumbag Brain (21,000 instances), Scumbag Stacy (9,000 instances), Scumbag Redditor (6,000), Scumbag Christian (2,400 instances), Scumbag DNA (1393 instances) and Scumbag Alcohol (1564).






Scumbag Congress
Scumbag Congress is an advice animal image macro series featuring a photograph of the United States Capitol Hill building and captions criticizing the legislations and other government policies enacted by the lawmakers in Washington D.C. While the site of its origin is unclear, the earliest known instance was submitted in early April 2011, during the of the federal budget crisis and tax filing season.

In the following years, a handful of Scumbag Congress image macros continued to surface, especially during the times of national debates on controversial laws or bipartisan standoffs, most notably the SOPA/PIPA and USDA Spending Bill in 2011, NDAA and CISPA in 2012 and the Fiscal Cliff and NSA PRISM Scandal in 2013.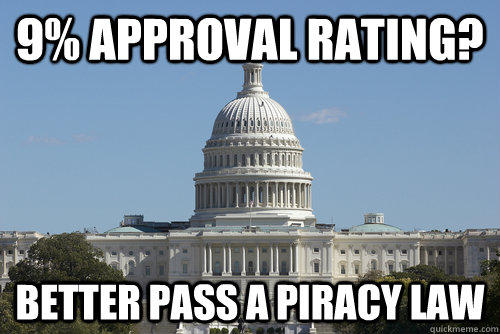 Search Interest
According to Google Insights and search results, Scumbag Steve and Scumbag Hat can be credited for the sudden overall increase in search interest and vernacular usage of the English adjective "Scumbag" on the Internet.
External References
Recent Videos
There are no videos currently available.
Facebook Comments