PROTIP: Press 'i' to view the image gallery, 'v' to view the video gallery, or 'r' to view a random entry.
This submission is currently being researched & evaluated!
You can help confirm this entry by contributing facts, media, and other evidence of notability and mutation.
W.I.P.
About
BattleTech[1] is a cross media franchise[2] based on 1984 board game originally called BattleDroids[3] created by Jordan Weisman[4] and L. Ross Babcock III[5]. The game and subsequent spin off works is centered on giant piloted robots called BattleMechs[6] and their pilots the MechWarriors[7].
History
Board Games
The main board game takes place on hexagonal grid with 1/285 scale miniatures (or markers) of the BattleMechs and other units such as vehicles[8][9][10] and even infantry squads[11]. The results of combat and other action are typically resolved by two six-sided dice. Players must keep track of their units' damage, ammunition, and heat.
The first edition of what became to known as BattleTech was originally called BattleDroids[3]; it was owned and published by FASA Corporation[12]. Due to George Lucas and Lucasfilms claiming the rights to the term "droid"[13] the following year's second edition's name was changed to BattleTech[14]. FASA also created the third[15] and fourth[16] editions of BattleTech in 1992 and 1996 respectively. A Japanese edition of BattleTech was licensed by FASA in 1992[17][18]; it had new artwork provided by Studio Nue[19].

Left:

HBK

-4G from

TRO

: 3025 | Right:

HBK

-4G from Japanese BattleTech
FASA also released BattleForce (a game simulating larger battles) in 1987 and 1997[20]; BattleTroops (a game simulating infantry engagements) in 1989[21]; and BattleSpace (a game simulating space battles) in 1993[22].
All the BattleMechs (with the exception of the one used as the example of the construction rules[23]) in the first edition used unmodified mechanical designs from various animes[24][26][28] from Studio Nue[19], Tatsunoko Production[25], and Sunrise[27]; those designs continued through the following editions (the second edition even used several more outside designs). FASA was under the impression at the time that it had received the rights to use the designs from Twentieth Century Imports[29]. Around the same time Harmony Gold[30] acquired the U.S. rights to several animated series[24][31][32] from Tatsunoko Production along with the name "Robotech" from Revell[33]. FASA continued to use the design with little issues until the mid-1990s when legal issues concerning a failed pitch to PlayMate Toys, designs and story similarities to FASA's appearing in PlayMate's ExoSquad line, and Harmony Gold's involvement in the ExoSquad line resulted in the designs from outside sources being phased out.[34] These removed BattleMechs became known as the "Unseen"[35].

BattleTech Designs or Macross Designs?
Yes
In 2001 WizKids[36] purchased the rights to BattleTech and created MechWarrior: Dark Age in 2002 and its second iteration named MechWarrior: Age of Destruction in 2005[37]; these game were used WizKids's Clix System. During this time the original board game was re-branded as Classic BattleTech and published under license by FanPro[38].
In 2003 WizKids was purchased (and eventually shut down in 2008) by Topps[39]; and in 2007 FanPro's license ended and was acquired by Catalyst Game Labs[40].

MechWarrior: Dark Age/Age of Destruction Clix Miniatures
During the board game's history many smaller supplementary books[41][42][43][44][45] were released (including Technical Readout: Project Phoenix in 2003 that reintroduced many Unseen units with new designs that became known as the "Reseen"[46]); these supplementary books introduced new unit, equipment, rules, and scenarios. Many of these rules were complied and stream lined (along with the basic fifth edition rules) in the Total Warfare source book in 2006[47]. Total Warfare serves as the source book for tournament play and BattleTech, 25th Anniversary Introductory Box Set (released in 2011) contains the basic fifth edition rule set[48].

BattleTech, 25th Anniversary Introductory Box Set
Pen and Paper Roleplaying Game

Left: 1st Edition | Center: 2nd Edition | Right: 3rd Edition (Original

FASA

Cover)
As of July of 2013 there have been four editions of the roleplaying game each of which tend to take place primarily in a different eras of BattleTech history[50] and have significantly different mechanics from one another. In the RPG the players typically took the role of a BattleMech pilot (the often titular MechWarrior) but could also take other roles.
The first edition titled MechWarrior: The BattleTech Role Playing Game released in 1986 by FASA[49]; it's more centered around the board game than later editions[51].
The second edition came out in 1991[52][53] and the third edition was released in 1999[54].

Left: 3rd Edition (FanPro Reprint Cover) | Center: Classic BattleTech

RPG

| Right: A Time of War
Due to the "MechWarrior" title being used by MechWarrior: Dark Age the third edition was re-released by FanPro under the title of Classic BattleTech RPG in 2006[55][56]. The fourth edition titled A Time of War was released by Catalyst Game Labs in 2009[57][58].
Centers

Left: Original Battle Pod | Right: One of the Later Tesa Series Pod
BattleTech Centers are entertainment venues that feature enclosed cockpit simulators (referred to as "pods") used to play multiplayer matches of mech on mech combat. The first center opened in Chicago, IL, USA in 1990 followed by centers in Japan in 1992 and 1993. At their height there were 26 BattleTech centers. [59][60] The centers in Japan had all closed by 2000. By July of 2013 only a hand full of centers[61] along with groups of pods that travel from convention to convention in the US[62] and only a few pods in private hands in Japan.
Video Games
Over the years there have been numerous BattleTech based video games across many platforms; it should be noted that the story lines and events contained in these games are consider apocryphal[68].
BattleTech: The Crescent Hawks' Series
This series consist of two RPGs developed by Westwood Associates[69]: BattleTech: The Crescent Hawks' Inception released in 1988 for various home computers[71][72] and BattleTech: The Crescent Hawks' Revenge in 1990 for MS-DOS[73][74]. Both games use an overhead view for combat (along with navigating the world in the first game) with the first game being turned based and the second game being real-time with pausing.
MechWarrior Series
A series of vehicular simulation games typically featuring 3D polygon graphics, customizable mechs, and a default first person view.

The Evolution of MechWarrior: 1989 – 2012
The first game in the series (simply titled MechWarrior) released in 1989 for MS-DOS based PCs. The game featured an non-linear campaign unlike most of the future main games in the series but the 'Mercenary' games did tend to feature a similar campaign.[79][80] In 1992 a Japanese port of the game was released for the Sharp X68000 under the title バトルテック ~奪われた聖杯 [81](BattleTech: Holy Grail Deprived); the 2D portion of the graphics that appeared between missions during the campaign were redone by Victor Musical Industries to look more Japanese.[82]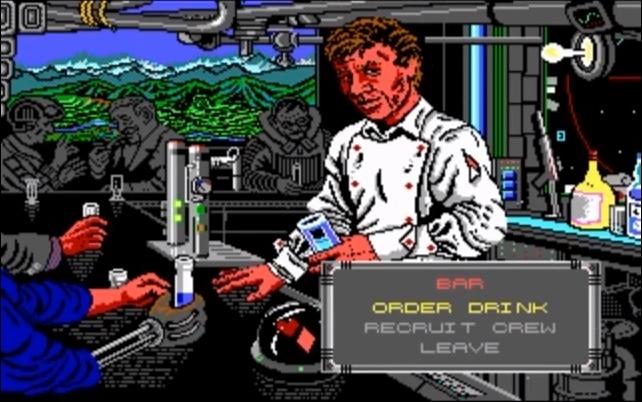 Left: Bartender MS-

DOS

| Right: Bartender X68000


Left: Mech Bay MS-

DOS

| Right: Mech Bay X68000
There was also 1993's MechWarrior for the SNES; instead of 3D polygon graphics it featured 2.5D Mode 7 graphics but the mission were still played in first person perspective from inside the cockpit. The game lacked the PC's version larger campaign but it did feature a roster of highly customizable BattleMechs designed by Victor Musical Industries.[84][85]
The next entry in the series was MechWarrior 2: 31st Century Combat in 1995 for various home PCs and consoles.[86][87] The Windows version came with the "NetMech" software that allowed for player vs. player matches over a network. It was one of the most widely played MechWarrior games and helped to make the Timber Wolf[90] one of the most iconic mechs of the franchise. The same year an expansion, MechWarrior 2: Ghost Bear's Legacy, came out (but not for consoles). In the following year of 1996 the prequel standalone expansion MechWarrior 2: Mercenaries came out for various home PCs.[93][94]
In 1999 MechWarrior 3 came out for Microsoft Windows. Later in the same year the expansion MechWarrior 3: Pirate's Moon was released.[99][100] Due to poor the multiplayer balance legging becoming stigmatized in not only in this game but in future MechWarrior multiplayer.[101][102]
MechWarrior 4: Vengeance was released in 2000; it's notably distributed by Microsoft due to Microsoft buying out the rights to BattleTech video games in 1999[103]. The following year the expansion, MechWarrior 4: Black Knight, was released.[104][105] There was also an arcade version of MechWarrior 4: Vengeance released by Tsunami Visual Technologies in 2000.[106] In 2002 MechWarrior 4: Mercenaries, a standalone expansion, came out.[107][108] The multiplayer was known for the prevalence of "poptarting" (the tactic of hiding behind cover, using jump jets to briefly rise above the cover, and delivering a single high damage attack during only a brief moment of exposure).[101]
In April of 2010 the MechWarrior 4 series was released as a free download by MekTek Studios.[109] In 2012 MekTek Studios shifted its focus to developing a new game based on the Heavy Gear franchise[110] and ceased support of MechWarrior 4 along with its availability as a free download.[111]
MechWarrior: Living Legends is a fan made multiplayer mod officially sanctioned by Microsoft. It started life as a Quake War mod in December of 2006 but eventually moved to Crysis Warhead.[112] The team was given early access to the Crysis Software Development Kit by CryTek and entered into open beta in 2009; in January of 2012 it was announced that the core team (Wandering Samurai Studios) would cease development on the project and the last update was released.[113]Livng Legends was noticeably different from previous games in the series (besides being purely multiplayer and fan developed) in that it focused on common canon variants of mechs with no customization (allowing for balancing based on individual units instead of weapons and build rules) and players could also control wheeled and treaded vehicles along with aircraft and infantry battle armors. Dan Tracy, one of the founders of the project, is currently working on Star Citizen: Squadron 42.[114]
In July of 2009 MechWarrior 5 was announced by developer Piranha Games Inc.(PGI)[115] but due to difficulties find a publisher and funding MechWarrior 5 was retooled into MechWarrior: Online(MWO) and Infinite Game Publishing was secured as the publisher by October of 2011.[116]MWO entered into close beta on May 22, 2012, open beta on October 29, 2012, and has a planed launch date of September 17, 2013[117]. MWO is a match based free-to-play multiplayer game notable for introducing a dual reticule system (one reticule aims the torso and other the arms).
MechCommander
The MechCommander series consist of two (and an expansion) real-time tactics games developed by FASA Interactive in 1998, 1999 (expansion), and 2001 (MechCommander 2).[121][122][124][125]
MechAssult
A series of third person shooters consisting of two games released for the Xbox in 2002 and 2004 respectively, and a 2006 Nintendo DS. The first 2002 game's multiplayer was one of the first to use the Xbox Live service[131][132]; the second game, MechAssault 2: Lone Wolf, also featured Xbox Live multiplayer.[134][135] The DS game(MechAssault: Phantom War) was not as well received as the Xbox titles.[137][138]
Multiplayer BattleTech
A series of massively multiplayer online vehicle simulation games developed by Kesmai[139] that consisted of Multiplayer BattleTech: EGA for the GEnie gaming network that ran from 1992 to 1996[140]; Multiplayer BattleTech: Solaris for AOL and GameStorm that ran from 1996 to 2001[141]; and Multiplayer BattleTech 3025 that was in beta in 2001 before being canceled the same year.[142]
Other
MechWarrior 3050 is a 1995 isometric action game for the SNES. There is a Sega Genesis version by a different developer simply titled BattleTech.[144]
There have been many smaller fan made projects dating back to early 1990's text based games (if not before).[145] One of the most notable currently active fan project is MegaMek: an online open source freeware version of the table top game using the Total Warfare[47] rules set along with many of the more advanced rules from Tactical Operations[146].[147]
MechWarrior Tactical Command is a 2012 real time strategy game for the iPad developed by Personae Studios.[148]
MechWarrior Tactics is an free-to-play browser based turn-based tactics game based closely on the board game. It's in development by Blue Lizard Games and Roadhouse Interactive and being published by Infinite Game Publishing. As of July 2013 it is in closed beta.[149]
Collectable Card Game
In 1996 Wizards of the Coast[150] created the BattleTech Collectible Card Game for FASA. The game was designed by Richard Garfield[151], creator of Magic the Gathering (MTG), and featured game play similar to MTG. It went out of print in 2001.[152][153]
Novels
There have been over a hundred full-length, canonical, physically published novels[154] under the name of BattleTech and MechWarrior since the first novel, Decision at Thunder Rift[155], in 1986. The novels were initially published by FASA until 1991 when Roc Books[156] took over the publication.
One notable author is US science fiction and fantasy writer Michael A. Stackpole[157]. He wrote The Warrior Trilogy(1988-1989), the Blood of Kerensky Trilogy (1989-1991) , and eight other BattleTech/MechWarriors novels from 1992 to 2007.[158] In his novels mechs that had their nuclear fusion powered engines breach would frequently experience large and dramatic explosions; they did not do this in the board game. This mech explosion phenomenon became known as "stackpoling"[159]; optional rules for the table top game were released to recreate stackpoling along with MechWarrior 3 and 4 featuring Stackpoling.
Animated Series
After a failed attempt to pitch a toy line to PlayMates FASA successfully managed to convince Tyco Toys[163] resulting in a 1994 toy line[164] and accompanying Saban Entertainment[165] produced animated series[29] that aired on Fox and in syndication. BattleTech: The Animated Series lasted for 14 episodes and told the story of MechWarrior and minor House Steiner[75] royal Adam Steiner[166] in his quest to liberate planet Somerset (or as the protagonist referred to it "MY HOME PLANET!") from Clan Jade Falcon[89]. The animated series is not considered canon but does exist in universe as a badly reviewed attempt at anti-Clan propaganda.[167]
Comics
The first BattleTech comic (and the only comic considered cannon) is 1986's The Spider and the Wolf; this standalone comic was published by FASA and also served as an introduction to the BattleTech universe and as a scenario pack.[168]
From 1987 to 1889 Blackthorne Publishing, Inc.[169] put out a comic series consisting of six regular issues, two special issues, and two issues of a BattleForce comic.[170]
From 1994 to 1995 Malibu Comics Entertainment Inc.[171] published five issues of the Fallout series inspired by BattleTech; The Animated Series.[172]
Online Presence
Notable Fan Sites
BattleTechWiki (a.k.a. Sarna)[183] is a popular long running wiki started by Nicholas Jansma. It began as Slayer's BattleTech page on GeoCities in 1996.[184]
No Guts, No Galaxy[205] is a site centered around a weekly podcast of the same name. The first podcast was on October 31, 2011 and it frequently features guests from Piranha Games Inc., Catalysis Game Labs, the various developers of MechWarrior: Tactics, BattleTech artist, and hosts of other BattleTech based podcast. The podcast is regularly co-hosted by voice actor George Ledoux[206] that also reprises his role of Duncan Fisher[207] the Solaris VII[208] announcer from MechWarrior 4 and MechWarrior: Living Legends. The site also host two comics, a forum, a Twitch.TV channel with regular events, and a YouTube channel that features highlights from the Twitch .TV events, the All Systems Nominal animated series, and let's play of BattleTech video games (particularly MechCommander series).
Fan Forums and Mercenary Units
There are BattleTech and MechWarrior presents on many popular gaming forums often with a clan of players attached to the particular forum. The name clan is already taken in the context of the BattleTech universe so they are more commonly referred to as mercenary corporations. Conversely there are smaller mercenary corps with forums.
Reddit has a Subreddit for BattleTech[185], MechWarrior[186], and MechWarrior: Online[187] along with the cReddit Mercenary Corporation[188][189].
Gamers out of the Something Awful forums [190][191] have formed The Word of Lowtax[162] (whose members are often referred to as "goons") along with writing articles for the gaming website The Mittani[197] and creating the pod-cast Violent Combat Robot Show[198]. The Word of Lowtax has adopted bird based imagery along with the battle cry "SQUAWK!" (often retorted with "GOONS RUIN EVERYTHING!") in part due to the Tetatae (a sentient race of primitive bird-like aliens) from the fan-infamous (due to in the BattleTech universe humanity is almost completely removed from other sentient races[161]) 1993 Peter Rice novel Far Country[160].
MWO players based out of the Penny Arcade forums [192] have formed the Oosik Irregulars [193] along with the Outreach Broadcast News[199].
Some mercenary units combine fandoms such as the "Equestria Royal Guard"[209] and "The Eridani Light Pony Merc Corp"[210] that combines their adoration of small colorful horses that teach the joy of the magic of friendship with their adoration of big stompy robots that teach the joy of reducing your enemies' machines to a piles of scrap that crumples under their own weight.
Fan Art
As of August of 2013 there are over 9000 results for "BattleTech"[194] and over 8000 results for "MechWarrior"[195] on DeviantArt; although many of the works featured on the site are works that have appeared in official BattleTech products from the original artist. By contrast there are only a little over 160 results with the "バトルテック" tag on Pixiv as of August of 2013[200].
A notable BattleTech fan artist is Alex Iglesias (a.k.a. Flying Debris[119]) who made the leap from BattleTech fan artist to official artist when he started working with Catalyst Game Labs in 2008 and is also currently making the mech concept art for MechWarrior: Online[118]. Another such artist that made the leap from fan artist to official artist is Anthony Scroggins (a.k.a. Shimmering Sword[201]) who has been working under contract by Catalyst Game Labs since 2011[202] but still does commissioned pieces for individuals.
Let's Plays
As with most games with any degree of popularity the players post what they play. Due to the BattleTech franchise spanning both table top and video games player post everything from traditional Let's Plays of the various video games, to "After Action Reports"/"Batreps" (either text and picture[211], or video) of table top skirmishes, to live streaming events, to interactive forum thread where poster determine the actions taken, and on rare occasions to tutorial play thoughts by iDOLM@STER[212] or Touhou[213] characters.
Left: Felicia Day Plays BattleTech with Ryon | Right: Ouchies Batreps: Battletech #2
One particularly notable example is the Something Awful forums' "Let's All Play BattleTech and rewrite Inner Sphere history"[214] thread. The thread has been running for over two with over 800 pages of post. In it participants discuss then vote on the action in game units take; the action that receives the most popular votes is implemented by the thread's starter and gamemaster PoptartsNinja. Once the consequences of the action are determined PoptartsNinja writes a descriptive in-universe short story of the action and its results. "Let's All Play BattleTech…" combines elements of the table top, a forum game, and fan fiction.
Fan Fiction
As of August of 2013 there are only a little over 400 submissions on FanFiction.net[215] but the official forums for current products typically have sub-forums for fan fiction[216][217][218].
Even fan a fan project can have have a fan fiction based on them: on January 7, 2013 the fan fiction novel The Human Equation by S7alker117 was released.[219]
Notable Sub-Memes
Alpha Strike
While the term "alpha strike" likely originated as a United States Navy carrier action from Vietnam War era where an aircraft carrier would send all available aircraft to strike a target leaving none for defense[173] BattleTech used the term to describe an attack were a battlemech would fire all its weapons usually generating large amounts of heat[174]. "Alpha strike" has been adopted by many other games for an all-out aggressive attack or strategy that leaves the unit, force, or player venerable; TV Tropes attributes the use of term as used in gaming to BattleTech.[175]
YouTube gaming commentator and reviewer (and known BattleTech/MechWarrior player[176]) John Bain (a.k.a. TotalBiscuit[177]) currently calls his early look video series "Alpha Strike"[178].
Lyran Scout Lance
The Lyran Commonwealth[75] (dominated by the Steiner royal family) is an Inner Sphere Successor State[179] that is known for being wealthy, favoring larger mechs (because they can afford them due to the wealth), and has the in-universe reputation for incompetent commanders. These factor have lead players to joke a typical lance (a unit of four mechs)[180] employed for scouting and recon by Lyran forces is composed of four Atlases/Atlai (a 100 metric ton assault class mech[6] making it the heaviest and often slowest weight class typically available)[181] or of other configurations of four assault mechs. Scout Lances are typically composed of fast light and medium battlemechs, and the Lyrans manufacture and deploy the 25 metric ton light mech the Commando[182] (which may be refereed to as a Lyran Battle Armor[133]), but the assault dominated scout lance is the joke.
"Lyran Scout Lance" my also be refereed to as "Steiner Scout Lance", "Lyran Recon Force", "Steiner Recon Force", and similar.
UrbanMech
The UrbanMech[203] is a 30 metric ton light mech that holds the distinction of being slower than most considerably more heavily armored assault mechs; but it's small, relatively inexpensive, has jump jets, has a relatively large cannon for a light mech (but not much ammo), won't get bogged down by street debris and swarmed by infantry like larger mechs, and won't skid into a building when trying to take a tight turn on a narrow city street while going fast. So it's exactly what its name suggest. It also looks like a dome-topped rubbish bin on legs.

Left: Official Art | Center: Classy Mech | Right: Early Prototype
It's comic appearance along with it's niche use and apparently paradoxical nature have caused it to be the subject of simultaneous ridicule and affection from BattleTech and MechWarrior fans. The Urbanmech is such a frequent subject that comes up on the MechWarrior: Online forums that PGI included the Urbanmech in the game as a limited time New Years 2013/3050 cocpit item: the Classy Mech[204].
External References
Editor's Note: Registration is needed to browse the NicoNicoDouga videos and Something Awful forum threads listed in this section.
Facebook Comments