PROTIP: Press 'i' to view the image gallery, 'v' to view the video gallery, or 'r' to view a random entry.
This submission is currently being researched & evaluated!
You can help confirm this entry by contributing facts, media, and other evidence of notability and mutation.
[W.I.P. Editorships welcome]
About
Nintendo is a japanese video game company originally founded in 1889 as a hanafuda card manufacturer. They are most famous for their video game franchises and consoles such as NES, Wii, and DS as well as their company mascot Super Mario.
History
Nintendo
Nintendo started as a card making company in 1889, but from 1956 to 1974, they had also created other unsuccessful businesses such as a Love hotel and a cab company. Nintendo moved into the video arcade game industry with EVR Race in 1974, designed by their first game designer, Genyo Takeda. While they had small success with this, it wasn't until they released Donkey Kong in 1981, designed by a student product developer named Shigeru Miyamoto, that their success began. In 1983, Nintendo launched the Family Computer (also known as "Famicom"), known outside Japan as the Nintendo Entertainment System or NES, alongside ports of its most popular arcade titles. In 1985, the NES launched in North America, and was accompanied by Super Mario Bros., currently one of the best-selling video games of all time and introduced Nintendo's mascot and most iconic creation. Nintendo continued to release successful video games and consoles.
Consoles
Color TV Game
Nintendo Entertainment System
Super Nintendo Entertainment System
Nintendo 64
Nintendo GameCube
Wii
Wii U
Game & Watch
Game Boy line
Virtual Boy
Nintendo DS
Nintendo 3DS
Virtual Boy
The Virtual Boy is a console that was released on July 21, 1995 in Japan and August 14, 1995 in North America and was said to be capable of "true 3d graphics". The console sold poorly, and the red and white background was met with claims of headaches and nausea, and was discontinued within a year. Despite this, the console still has a large fan-base, and is often the subject of parody a jokes.
Shigeru Miyamoto
Shigeru Miyamoto is one of the chief executives of nintendo and currently manages the Nintendo Entertainment Analysis and Development (Nintendo EAD). He is also well known as the creator of franchises such as Super Mario, The Legend Of Zelda, Star Fox, Pikmin, and Donkey Kong. Thanks to his hand in Nintendo's Most popular and successful franchises, He has earned himself a fan following as well as fan sites. He has earned several awards for his works, and in a survey of game developers, 30% of the developers chose Miyamoto as their "Ultimate Development Hero".
Reggie Fils-Aime
Reggie Fils-Aime (also known as the Regginator) is the president of Nintendo of America and became popular with fans as well as the rest of the internet, after introducing himself at E3 2004 by saying "My name is Reggie. I'm about kickin' ass, I'm about takin' names, and we're about makin' games." Following the conference, many images of him soon spread across the Web. Reggie is considered to be responsible for revamping Nintendo's public relations in North America, leading many fans and members of the press to dub his arrival the "Reggielution" (after "Revolution", the code name for the Wii). His popularity grew in 2007, when he said at that years E3 "My Body Is Ready" before demonstrating their new game Wii Fit. This statement has spawned an online trend of the phrase through many variations.
Flipnote Hatena
Flipnote Hatena is an online service in which you can post your creations from the dsi-ware free app Flipnote Studio. In a similar way to Youtube, users are able to give stars (similar to likes) and add creators to a list of favorites. The site frequently uses memes, and commonly uses minigames from the game Rhythm Heaven as inspiration. Each day the number of flipnotes increase exponentially.
Reception
Nintendo has received generally positive reception from members of the gaming community, for it's range of consoles, games, and notable IPs. However, during the lifetime of their console "The Gamecube", Nintendo achieved mass unpopularity due to the lack of "Hardcore video games" in favor of their traditional games roster. Because of this, Sony's Playstation and newcomer at the time Xbox overtook Nintendo in popularity, even if it still has a large fanbase (mainly on the internet).
E3 2013
In April 2013, Nintendo announced[1] that they would not be holding a keynote press conference at Electronic Entertainment Expo (E3). As the event drew closer, Nintendo of America President Reggie Fils-Aime confirmed[2] via the Nintendo Facebook page[3] the company would be holding a Nintendo Direct conference online, relying on the company's official Facebook, YouTube and Twitter accounts to announce their new releases.
At 7 AM PST on June 11th, the Nintendo Direct live stream began, during which they announced new games including Donkey Kong Country: Tropical Freeze and Super Mario 3D World (shown below, left), a new Fairy type for October's Pokemon X and Y and a Wii U edition of the Super Smash Brothers series (shown below, right). While the main event introduced two new characters for Super Smash Brothers, Mega Man and Animal Crossing's default Villager, an event later in the day revealed the Wii Fit trainer avatar would be joining the game as well.
That day, Nintendo was mentioned more than 390,000 times on Twitter according to Topsy Analytics[4], peaking at 130,737 mentions during the hour of 7 a.m. EST. A discussion thread of Nintendo's events was started in the /r/Games subreddit[5], gaining more than 2,900 upvotes, 1,600 points overall and more than 1,800 comments within 13 hours. Additionally, many of the announcements yielded a number of screen captures, GIFs and fan art on Tumblr under the tags Pokemon X and Y[6], The Villager[7], Wii Fit Trainer[8], Mega Man[9] and Nintendo.[10]
Impact
[wip]
Many of Nintendo's different video games, Especially Pokemon, Super Smash Brothers, and The Legend Of Zelda, have become large subcultures, and have made a big impact on sites such as Youtube, Tumblr and 4Chan.
Fandom
[wip]
Operation Bluewave
Operation Bluewave is a fan-made project, based on trying to bring fan support for Nintendo and to make the gaming community outside the Nintendo fandom aware of the Wii U's capabilities. It has spread onto social networking sites such as Facebook, Twitter and Tumblr, gaining even more fans and supporters, who are also trying to bring attention to 3rd party developers who ignored the Wii. So far from the announcement of 3rd party developers creating games for the Wii U, this fandom is steadily increasing in popularity.
Related Sub-Memes
Nintendium
Nintendium is a material which is believed to have been discovered by Nintendo, and used to make their NES, and all their following consoles. In a similar style to the Indestructible Nokia , It has led to the conclusion that Nintendo consoles are indestructale, and can be used as a powerful weapon.
It Prints Money!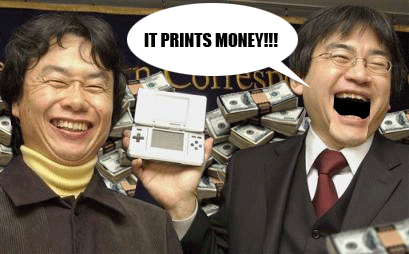 It prints money! is a catchphrase referring to the Nintendo DS portable gaming system often used in GIFs and image macros with the CEOs of Nintendo, Satoru Iwata and Shigeru Miyamoto. It is often used to show when something will sell commercially in large quantites.
Nintendo is Doomed
Nintendo is Doomed is a meme that relates to the growing mainstream hatedom for the company. It is about how many people believe that Nintendo is a dying company, and that it will meet its end just like SEGA. It has lead to many people poking fun at the company, with many making claims of when the company shall fall and how it will be done.
Related Subcultures
Super Mario
Super Mario is the name of the most famous Nintendo game franchises. The first game, Super Mario Bros, was released on 1985 for NES, and is currently one of the best selling video games of all time. Super Mario continued in popularity as Nintendo's main mascot. The majority of his games involves going through a number of levels, trying to save Princess Peach (also known as Princess Toadstool) of the mushroom kingdom from Bowser, the series main antagonist. As of now Mario has appeared in over 200 games since his arrival.
The Legend Of Zelda
The Legend of Zelda is also one of Nintendo's trademark brands, but while not as big as Mario, It has a huge fan following. The game's main story is usually based on the her Link, trying to save the kingdom of Hyrule, as well as it's ruler Princess Zelda, from the series main antagonist Ganondorf. However, this is not always the case as most of the games have various story lines staring different characters. The series is famous for it's main timeline , which many fans have been trying to organize the games in chronological order. In late 2011, Nintendo revealed a timeline for all Zelda games, which many were surprised about the order of the games.
Kirby
Kirby is the name of the Nintendo brand which was first created by HAL Laboratory in 1992. The Kirby series is one of Nintendo's many well-known game franchises, with nearly twenty games in the series. The game entails playing as Kirby, a pink fluffy round star warrior, who has to save Dreamland from The evil King Dedede. In most recent games, King Dedede has become a playable character as well as an ally of Kirby, along with fan-favorite character Meta-Knight.
Rhythm Heaven
Rhythm Heaven is the name of a video game published by Nintendo for the Game Boy Advance, Nintendo DS and the Wii, in 2006, 2008 and 2011 in Japan. The games feature a collection of mini-games centered on keeping rhythm. Many video parodies have been uploaded to Youtube, Nico Nico Douga and Flipnote Hatena, which includes popular characters from different fandoms.
Super Smash Bros
Super Smash Bros is a fighting game which stars some of Nintendo's most popular characters, which was first released on the Nintendo 64 with sequels on the Gamecube and Wii as well as upcoming games on Wii U and 3ds. The most popular version of the game was the Gamecube version, named Super Smash Bros Melee, which has a huge fan following. The second most popular game, Super Smash Bros Brawl for Wii, included an extra story mode in which the characters have to try and stop the main enemy Tabuu from engulfing the world in subspace.
Pokemon
Pokémon is a franchise spawned from a video game and anime series. The franchise revolves around the capturing of strange creatures, the titular Pokémon (or Pocket Monsters in Japan), and using them in battle to capture more Pokémon in order to "catch 'em all". Pokemon has one of the biggest Nintendo based fan followings, with a large amount of sub-memes. However, when Nintendo lost it's mainstream following, Pokemon was one of the games most affected. Many shows such as The Simpsons and South Park have either parodied or mentioned Pokemon. There has also been backlash at the most recent games due to the appearance of the Pokémon being too different from the previous generations. This has been expressed through online forums and memes.
Earthbound/Mother
Mother is a videogame series created by Shigesato Itoi consisting of three games released between 1989 and 2006 published by Nintendo. The first game of the series, Mother, was released for the Family Computer console exclusively in Japan. In 1995, Mother 2 was released on North America as Earthbound. Despite the game selling poorly, the game recieved a large fanbase. Most speculate that the fandom comes from the storyline and the idea behind producing them.
Search Insights
External References
Facebook Comments