PROTIP: Press 'i' to view the image gallery, 'v' to view the video gallery, or 'r' to view a random entry.
This submission is currently being researched & evaluated!
You can help confirm this entry by contributing facts, media, and other evidence of notability and mutation.

About
Professor Layton is a puzzle adventure game series for the Nintendo DS developed by Level 5[1], which are about Professor Hershel Layton and Luke Triton's adventures together. There are six main games in the franchise, five of which have been published, as well as a movie, with a crossover game with Ace Attorney in the works.
History
The original game, Professor Layton and the Curious Village, was released on the Nintendo DS in North America on February 10 2008 and became an instant success. Because of Layton's worldwide success, the series has spawned 5 games altogether, with one in the making.
Main Characters
Professor Hershel Layton


Professor Layton is based on the idea of an English gentleman, and is a professor of archaeology at the fictional Gressenheller University in London. He investigates mysteries while solving various brain teasers. The original concept of Layton, was inspired by Phoenix Wright, taking Wright's characteristics and improving over the bad points.
Luke Triton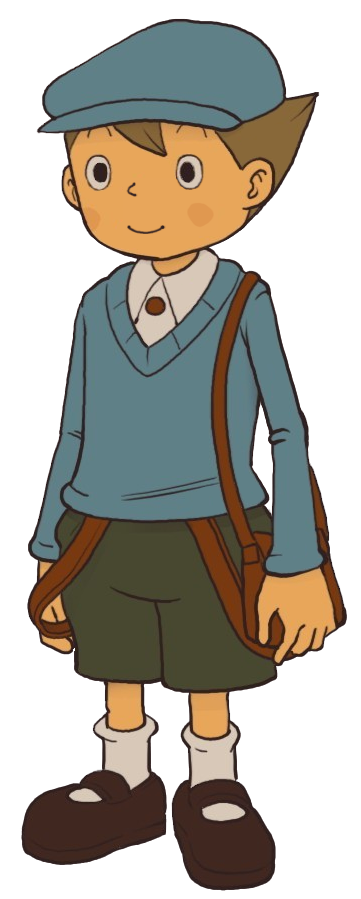 Luke Triton is the deuteragonist of the entire Professor Layton series. He is the son of Professor Layton's friend Clark Triton, and is the professor's self-proclaimed apprentice. Luke is a sensible young man who is able to converse with animals and is already a bit adept at solving puzzles, most likely due to the fact that he is commonly with Layton.
Gameplay
The game is essentially a collection of puzzles with exploration sections in-between. The player, as Professor Layton and Luke, explore their environments in a point-and-click adventure game fashion. This can be used to talk with non-player characters, learn more about the environment, moving between different areas, or to find hint coins that are used during puzzles. Often, when interacting with a person or object, the player will be presented with a puzzle, valued at a number of "picarats", a type of currency within the game. Solving the puzzle correctly will earn the player that many picarats, but a wrong answer will reduce the value a small amount on subsequent attempts down to a minimal picarat number. In order to progress the plot, the player is required to solve specific puzzles, or to solve a minimum number of puzzles or gain a minimum amount of picarats
Reception
The series has gone on to be one of the most successful Nintendo DS exclusive series, With fans both in the casual market, as well as the general gaming market. Casual gamers tend to enjoy the game for the puzzles, while gamers enjoy the animation, voice acting and Story. As of March 2012, the series has sold over 13 million copies. Due to the popularity, the series has spawned a manga, a feature film, as well as numerous novels. The game was also the top selling game for the Nintendo DS in the United States in the first three weeks after its release.
Impact
The series has a huge presence on sites like DeviantArt, Tumblr and Fanfiction.net, With fans of the series being nicknamed "Laytards". Despite this, many call Professor Layton Fandom "the best fandom that has most rapidly devolved into the worst fandom" Due to creepy shippings (especially between Layton and Luke) and creepy fanfictions.
Fan art







Cosplay



Sub-memes
This reminds me of a puzzle!

"This reminds me of a puzzle" is a line said numerous times by Professor Layton throughout the series. In the games, Layton says it when he sees an item (e.g. a vase or stairs) and proceeds to tell Luke a puzzle about the item. Many fans use this line to poke fun of the fact that almost anything, which often comes in the form of Fan art and image macros.
Professor Layton and the Malignant Growth
Professor Layton and the Malignant Growth is a fan animation made by Newgrounds user Skaijo, also known for his parody of My Little Pony. It is based around Layton (who is presented as an abusive dad figure) finding out he has a Malignant Growth, while having to take care of an annoying Luke (who he often beats up) and Flora (who is scared of Luke and Layton). Many quotes from the series have become quite popular, especially the line Baseball, said by Luke.
Professor Layton Figures/Shotgun Layton

Professor Layton Figures , are a set of Revoltech toys released in japan . In a similar fasion to Hentai Woody , most of the images consist of Layton placed in different scenarios. One of the most popular versions is a picture of Layton holding a machine gun, which eventually came in the form of an image macro.
Search Interest
External References
Facebook Comments