PROTIP: Press 'i' to view the image gallery, 'v' to view the video gallery, or 'r' to view a random entry.
Warning: This page contains material that may be considered not safe for work.
About
The Rock Driving is a multi-pane exploitable comic series based on several screen captured images from the 2009 family adventure film Race To The Witch Mountain. The comics usually begin with the film's protagonist Jack asking Sara a question while driving, to which she responds with a shocking revelation that makes Johnson turn his head with a startled facial expression.
Origin
On July 29th, 2009, Newgrounds Forum[1] member MetalStar submitted a three-pane comic template image featuring screen captures from The Race to Witch Mountain in a new thread. Over the course of the next 10 months, the thread gained over 690 responses, many of which featured customized versions of the template (shown below).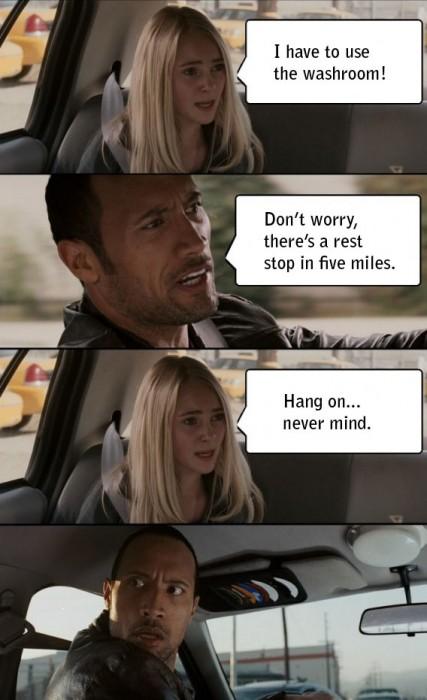 The three panels were taken from a Race to Witch Mountain scene in which Jack Bruno (played by Dwayne Johnson) unexpectedly discovers two children in the backseat of his cab (shown below).
Spread
On July 31st, Newgrounds[12] member TheJamoke posted a comment in the original thread complaining that the exploitables were being posted over on the /b/ (random) board on the imageboard 4chan. On August 23rd, 2009, BodyBuilding Forums[10] member Razicator submitted a thread featuring several comics from the series. On October 16th, 2010, MMO Champion Forums[11] member nightnox posted a comic joking about the "Cataclysm" expansion for the online role-playing game World of Warcraft (shown below).

On May 31st, 2011, a page titled "The Rock Driving" was created on the image macro generator website Quickmeme.[6] Over the course of the next three years, the page gathered upwards of 41,000 submissions. On June 29th, the pop culture blog Coed[7] published a gallery of 25 notable examples from the series (shown below).



On May 15th, 2012, Redditor relevant_rule34 submitted a sexually explicit version of the comic to the /r/rule34[9] subreddit, accumulating over 930 up votes and 10 comments prior to being archived. On November 14th, a Facebook[8] page titled "The Rock Driving – Meme" was launched, which highlights notable versions of the comic with Spanish captions.
Notable Examples






Search Interest
External References
Facebook Comments