PROTIP: Press 'i' to view the image gallery, 'v' to view the video gallery, or 'r' to view a random entry.
This submission is currently being researched & evaluated!
You can help confirm this entry by contributing facts, media, and other evidence of notability and mutation.
Needs work
~Kip
About
Prior to V for Vendetta's movie that was released 17 March 2006, Anonymous' mascot was somewhat faceless. Exactly the thing Anonymous wanted to be portrayed as.
It was a green faced male, no eyes or mouth and sometimes a nose, Wearing a black suit with a red tie he would have "No Picture Available" printed on his face.
Origin
The Origin of "No Picture Available" Would have to be 4chan. Being its mascot and in over 9000 of its exploitable memes, there is no template he would of not touched or no shoop we would not shop, he was in all cases a "True Anon".
But what was the origin of the style and the taste for a black suit, red tie, and green face?
Well it is believed to be a painting dating back to 1964, The Son of Man, Oil on Canvas.


As you can see, it clearly looks like it could be Anon, just smear that apple all over his face, give him the knowledge of all the internet, and look at him with 1 eye squinting and he kind of looks like Old Anon.
/b/ Uses
Mainly used in arguments of how /b/ or Anonymous was better before Project: Chanology, here is afew examples of it in action.

There is many other uses where "Old Anonymous" is used as a filler for exploitable content or templates including Fsjal,


and Card Crusher.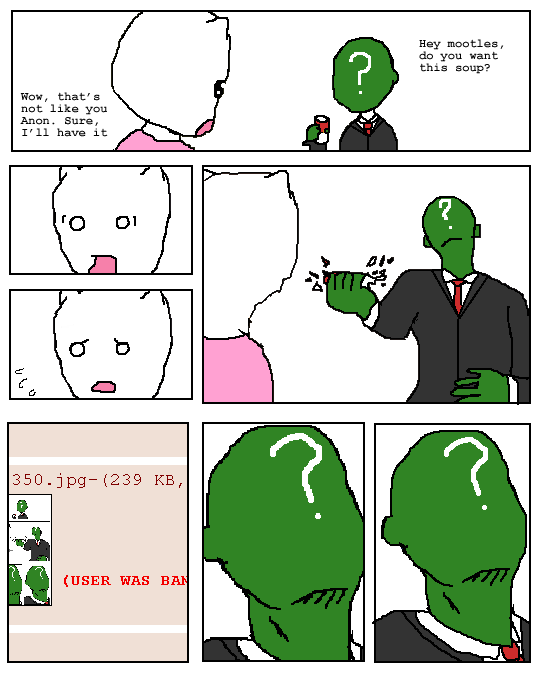 /f/ Uses
The majority of use in /f/ would have to be "Party Hard" Flashes, where they take a flash that looks like this


And alter the music, the background, or even give him a hat.
Their is so much that their is a website coined to the Party Hard flashes, where the site lets you download over 300+ Party Hard flashes.
http://www.anonpartyhard.com/
It was stated in the Comment section below that the dance might of originated, and most likely copied or flash "traced" from the guy dancing as 0:05 in this video
Another great flash example would be this "moot roll" where he plays the bartender.

Facebook Comments