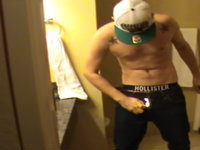 This stupefying dare game, which essentially boils down to setting oneself on fire for a hot second, is the latest pain endurance challenge to sweep through YouTube and Vine.

A Dominican radio show host finds himself in utter confusion when a call-in listener requests a "very popular song" with the chorus that goes "are those Reebok or Nike," but upon realizing the original words to the beautifully misheard lyrics, a round of hearty laughter ensues on-air.

While visiting the Magical Midway amusement park in Orlando with his daughters this weekend, the rambunctious rapper of the Ruff Ryders decided to film himself doing the reverse bungee ride. Need we say more? Just watch.

A fictional edit to the children's book character Amelia Bedelia's Wikipedia page that said she was based on a real life maid from Cameroon remained untouched for five years.

Five-year-old Sadie doesn't know what's more upsetting, the fact that she will someday die or the fact her little brother won't be an adorable baby forever.

Sarah Palin is launching SarahPalinChannel.com, a new online news channel that promises to "go beyond the soundbites and the media's politically correct filter" and will cost a subscription fee of $9.95 per month.

The latest bemusing gender-war hashtag started by Buzzfeed writer Katie Notopoulos asks Twitter users to trim an obnoxious mansplainer off their follow list and make room for more women.