YouTuber Ingela Tanneskog gets a quite a spectacular surprise while filming a picturesque rainbow off her porch in Blaiken Storuman, Sweden.

Check out the newly released trailer for the upcoming game Pokkén Tournament, which allows players to battle creatures from the Pokemon franchise as if they were playing the fighting game Tekken.

The "Undercover Colors" nail polish designed to change color when coming into contact with date rape drugs has drawn both praise for attempting to prevent rape and criticism for placing responsibility on women to protect themselves.

Sure, we've all seen at least one video of someone getting tasered at some point, but have you ever seen the faces of people in slow motion as they mentally prepare themselves for tens of thousands of volts to flow through their bodies?

Hide yo hashtags, verify yo Twitter accounts, 'cause they be hijacking errything over here.

A surprisingly articulate little boy goes off on his mother after she announces her latest pregnancy.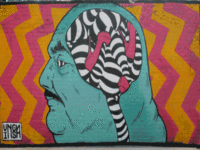 This street artist is known for producing time lapse animations of his graffiti paintings in GIF form, which he refers to as "GIF-iti."