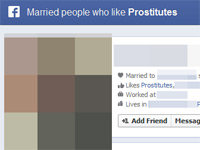 Facebook's latest semantic search engine "Graph Search" allows users to find content using natural language queries, which has already inspired the creation of a new parody Tumblr blog.

This clip comes from the cheesy 1996 film Vibrations, in which an ex-guitarist becomes a raver with cyborg hands named "Cyberstorm."

Reggie Fils-Amie's infamous quote from E3 2007 as seen in the upcoming tactical RPG Fire Emblem: Awakening.

In an alternate universe, this Minecraft Creeper is really just a cute Japanese girl in disguise. Wat do?

The music video for the rap song "Thrift Shop" by Macklemore has taken off since it was uploaded to YouTube in August of last year. Know something about how it spread online or any parodies that have come about since? Jump in on the meme research forum thread!