Barnacle Boy's Sulfur Vision
About
Barnacle Boy's Sulfur Vision, also known as Barnacle Boy's "The," refers to a series of memes in which the SpongeBob SquarePants character Barnacle Boy attempts to use his ability Sulfur Vision on a certain object. The memes usually follow a format in which Barnacle Boy holds an object in his hand, with the caption starting with the word "The" and describing that object. In January 2021, the format regained popularity as a vehicle for sharing QR codes linking pirate copies of software and media.
Origin
On March 3rd, 2001, the SpongeBob SquarePants episode "Mermaid Man and Barnacle Boy II" premiered in the United States.[1] In the episode, SpongeBob repeatedly summons the superheroes Mermaid Man and Barnacle Boy to his aid by blowing a conch signal that he got from a cereal box. Angered by his constant misuse of the item, Barnacle Boy takes the conch from SpongeBob and unsuccessfully attempts to destroy it with his "Sulfur Vision".
Spread
Prior to October 2019, the still image of Barnacle Boy attempting to destroy the conch with Sulfur Vision saw moderate use online in memes. For example, starting in July 2016, a photoshop in which marijuana was edited into the conch was circulated online, with the earliest found post made by iFunny[2] user 12ozmouse on July 19th, 2016 (shown below, left). Starting in Autumn 2017, a Delet This reaction based on the scene gained popularity, with the earliest known post made by Twitter[3] user @craftosaur100 on October 1st, 2017.


Prior to August 21st, 2019, an unknown user posted an edit of the image reading "The," erasing part of the caption from a previous meme (original meme could not be discovered). On August 21st, iFunny[4] user Kowl reposted the image (shown below, left). Prior to October 24th, 2019,[5] an unknown user made the earliest known meme based on that format, with the caption reading "The Tuna Melt" (shown below, right). On October 28th, iFunny[6] user Gotteemlol reposted the "The" version of the meme, gaining over 480 smiles in six months.


The format did not see notable spread until mid-November 2019. Prior to November 19th, an unknown user posted a Dang, That Look Good! version of the meme (shown below, left), with iFunny users GutybcfV2[7] and lawny[8] reposting the meme on November 19 and 21st and gaining over 330 and 1,100 smiles in five months. Instagram user salad.snake reposted the image on November 21st, 2019,[9] which received over 31,000 likes in the same period. On November 20th, 2020, iFunny[10] user JohnnyTesticles posted a video version of the meme, with the edit gaining over 2,000 smiles in five months.

Following these posts, starting in late November 2019, the format in which Barnacle Boy held various objects, captioned with "The X" snowclone, gained a prominent presence on iFunny, also spreading to Twitter and Instagram in the following months.
Original Sketch Discovery
On May 26th, 2020, Twitter[11] user @Lunarnarwhal shared an image of the original sketch used for the scene, although other people mistakenly referred to it as an animation cel (shown below). The post received over 13,600 retweets and 76,600 likes in three days.


Starting on that day, users on Twitter utilized the sketch to make Barnacle Boy's Sulfur Vision memes; for example, @Lunarnarwhal[12] posted a Take on Me meme that received over 1,500 retweets and 7,800 likes in three days.
QRposting
QRposting refers to a practice of editing QR codes containing links to pirate copies of software, video games and other media into memes. In early January 2021, the trend, which mostly utilizes Barnacle Boy Sulphur Vision and My Child Will X formats, gained viral popularity on Twitter.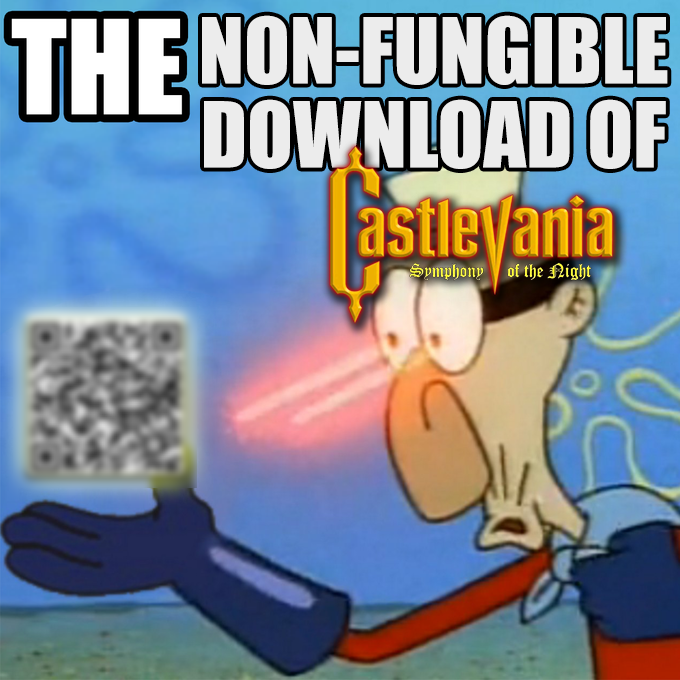 Related Memes
Yankee With No Brim
Yankee With No Brim refers to a viral video in which a person comments on a New York Yankees baseball cap with its brim cut off, saying "Woah, Yankee with no brim!" In early April 2020, the clip, combined with Barnacle Boy's Sulfur Vision, spawned a meme on iFunny in which the words of the phrase were recombined in humorous ways.
Various Examples






Templates



Search Interest
External References