Warning: This page contains material that may be considered not safe for work.
Warning: This entry contains content that may be inappropriate for some users.

---
About
Sex Dolls are large, anthropomorphic toys, some of which are robotic, that are designed to be sexual partners for the purpose of masturbation. Online, the dolls have frequently been the subject of viral videos and social media jokes within various internet communities.
Online History
On July 13th, 2007, YouTuber Elecktroboy uploaded a video titled "Japanese Sex Doll," featuring a documentary about a Japanese man who owns nearly 100 anthropomorphic sex dolls (shown below, left). On March 13th, 2010, the crystalxu85 YouTube channel uploaded a comedy sketch in which a man attempts to inflate a blow-up sex doll (shown below, right). Within eight years, the video accumulated more than 22.4 million views and 6,600 comments.
On July 16th, 2013, the ViralEditVideos YouTube channel uploaded a video titled "Inside the sex doll factory," which gained over 68 million views and 10,400 comments over the next five years (shown below, left). On October 20th, 2016, Vice released an episode of the web series Slutever in which host Karley Sciortino visits a male sex doll factory (shown below, right).
On September 12th, 2017, this British morning talk show This Morning held an interview with the creator of a sex robot named Samatha, which is built with an onboard AI allowing the toy to tell jokes (shown below).
WM Dolls' Shakira Model
On December 27th, 2017, the blog Real Doll Addict posted a gallery of NSFW images featuring the WM Dolls' "Shakira" model sex toy.
On January 12th, 2018, a photograph of the doll was submitted to 4chan's /pol/ board in a thread titled "Female Obsolescence" (shown below).[3]

On January 14th, Twitter user @oogaisdead[2] posted two photographs of the doll with the caption "if this is what sex dolls look like in 2018 den we are so FUCKED" (shown below, left). Within four days, the tweet gathered more than 35,000 likes and 14,000 retweets. That same day, Twitter user @inutfast[4] posted a photograph of a finger pressing a power button along with a joke about reacting to a sex robot saying "we need to talk" (shown below, right).


On January 15th, Twitter user @its_roy[5] posted a tweet with several rhetorical questions about sex dolls (shown below, left). That dame day, Redditor sexbobombd submitted a collection of sex doll tweets to /r/BlackPeopleTwitter[6] (shown below, right). On January 17th, a Moments page was created on Twitter[1] collecting various joke tweets related to sex dolls and sex robots.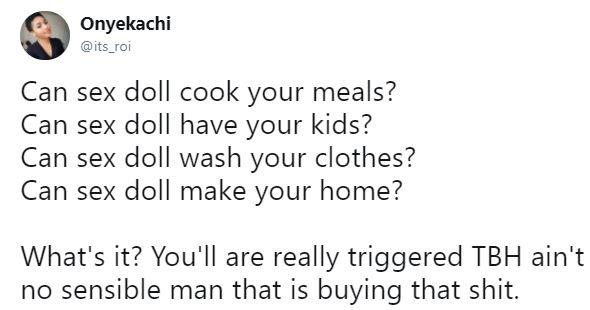 Search Interest
External References
All Videos 9 total
This gallery contains videos that may not be suitable for public viewing.
All Images 32 total
This gallery contains images that may not be suitable for public viewing.