Jared Fogle Child Porn Investigation
Overview
The Jared Fogle Child Porn Investigation was a 2015 investigation by federal authorities into the existence of child pornography at the residence of Jared Fogle, a spokesman for the Subway sandwich chain who is better known as "Subway Jared" or Jared from Subway.
Background
In 2000, Jared Fogle rose to fame after losing 200 pounds by exercising and habitually eating at a Bloomington, Indiana Subway franchise. The company used an ad campaign featuring Jared holding up a pair of pants that he had used before he began losing weight as a method of demonstrating the health of their sandwiches compared to other fast foods. Subway continued the campaign through 2013, filming at least 300 commercials. Jared also had a lucrative career in motivational speaking connected to his weight loss.[1]

The Investigation
In 2004, Fogle established the Jared Foundation, dedicated to fighting obesity in American children.[2] In 2009, Russell Taylor was appointed the executive director of the foundation. Seven years later, on April 29th, 2015, Taylor was arrested on charges of possession of child pornography, child exploitation, and voyeurism, and was found to have over 400 different graphic of child pornography in his possession at the time, all recorded by him at his residence between the years of 2012 and 2015.[3] Taylor later attempted suicide while in prison.[4]
Notable Developments
Jared Fogle's Home Raided
On July 7th, 2015, at 6:30 am, federal and state agents, acting on a federal warrant, entered Fogle's home in Zionsville, Indiana, and removed several electronic devices, analyzing them in a van parked in the driveway. Fogle was seen exiting his home and entering the van, but by noon he had left with his lawyer and was not under arrest. It was unclear as to whether Fogle himself was under investigation or if the seizings were related to the investigation into Taylor.[5]
That same day, Fogle's employer Subway released the following statement:
"We are shocked about the news and believe it is related to a prior investigation of a former Jared Foundation employee. We are very concerned and will be monitoring the situation closely. We don't have any more details at this point."
By 2 p.m. EST on July 7th, Subway had removed all mention of Jared from their web site, including a section called Jared's Journey, which began redirecting to their home page instead.
Online Reaction
Most of the online reaction happened on Twitter, where users tweeted the phrase "Subway Jared" more than 40,000 times in less than 12 hours.[6] Many of the jokes parodied other Subway marketing tag lines, including the marketing campaign "$5 Footlong", their slogan "Eat Fresh," and the use of Jared's large pre-weight loss pants in their marketing. Users also incorporated images of Chris Hansen from the child pornography vigilante television show To Catch a Predator and his slogan, "Why don't you take a seat."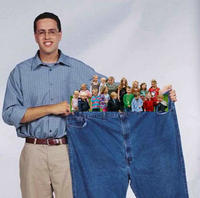 Subpoena of Fogle's Text Messages
On July 31st, 2015, Business Insider[7] reported that the FBI has subpoenaed a series of text message conversations that allegedly took place between Fogle and a former female Subway franchisee during the course of their brief relationship in 2008, which ended abruptly after Fogle repeatedly pressured her to post listings on Craigslist for random sexual encounters. According to the affidavit obtained and independently verified by the publication, the conversation began in April 2008 when Fogle asked the unidentified franchisee via text message:
Jared Fogle: "How young would you like?… Would you want to have an adventure like that?"
On May 1st, 2008, Fogle began asking the woman if she could arrange a three-way meeting with her then-underage cousin:
Jared Fogle: "When can we find a time for me to talk to your cousin?"
Jared Fogle: "Any more news with your cousin?"
Jared Fogle: "Tell me what u think about when u think of the three of us all together???"
Over a month later, on June 19th, Fogle again asked the woman if she would advertise herself on Craigslist for sex with other men, offering her a payment of $500 per act if he could watch the sexual acts. According to the excerpts of the conversation from the affidavit:
Woman: "Is this the same website you found that 16 year old girl you that you fucked? …I still can't believe you only paid $100 for her."
Jared Fogle: "It was amazing!!!!"
Woman: "What part of her ad made you think she was selling sex?"
Jared Fogle: "U will have to read them to see."
According to the former franchisee's attorney, the woman shared the text conversations and her concerns about Fogle with the company's management at the time, but no actions were taken. Upon being contacted by Business Insider for comments, Subway claimed it has no record of the woman's complaint. Meanwhile, neither the spokesperson for FBI's Southern Indiana branch or Fogle's attorney has responded to Business Insider's inquiries for comments regarding the text message conversations.
Guilty Plea
On August 19th, Indianapolis Star[10] reported that Fogle has reached a plea agreement on one count of unlawful commercial sexual acts with minors and one count of possession of child pornography, citing a court document released by the U.S. Attorney of the Southern District of Indiana. According to the document[11], the former Subway spokesperson admittedly used escort websites to have sex with two underage girls on separate occasions in New York in 2012, during which he offered one of the girls a finder's fee if she could arrange a meeting with another underage girl, stating "the younger the girl, the better." In addition, Fogle also admitted to possession and distribution of child pornography, including hidden-camera video recordings of minors "as young as 13 or 14" engaged in sex acts, in connection to his business partner Russell Taylor who was arrested earlier in May. Based on the details of the plea deal, Fogle is expected to agree to pay each of the 14 victims $100,000 and serve no less than five years in prison.
Sentencing
On the morning of November 19th, approximately three months after Fogle accepted a plea agreement with the state, U.S. District Judge Tanya Walton Pratt sentenced the former Subway spokesperson to 15 years and eight months in prison after he pleaded guilty to both of the aforementioned charges: a) traveling to engage in illicit sexual conduct with a minor; and b) distribution and receipt of child pornography. In addition to the prison term, Fogle has been ordered to pay his 14 victims $100,000 each in restitution as per plea agreement.


During the hearing at the federal court in Indianapolis, Indiana, Fogle reportedly delivered a written statement of apology and admission to his wrongdoings[12][13]:
"Not a day will go by when I don't think about what I did to (the victims). […] Members of my family are also victims of my acts. […] I so regret that I let so many of you down."
"For most of my adult life, I've been in the spotlight, trying to be a role model. […] I became dependent on alcohol, pornography and prostitutes."
After nearly five hours of the final cross-examinations, witness testimonies and closing arguments from both the defense team and prosecutors, Pratt sentenced Jared Fogle to 188 months of jail term and recommended he be sent to Englewood's Federal Correctional Institution in Littleton, Colorado, where he can enroll in a rehabilitation program for sex offenders. In delivering the sentence, which exceeded the imprisonment terms requested by both the prosecutors (12 years and six months) and the defense attorneys (no more than five years), Pratt defended her ruling by noting that "the level of perversion and lawlessness exhibited by Mr. Fogle is extreme" and the advisory sentence range "does not sufficiently account for the defendant's criminal conduct."
In-Prison Activities
After his sentencing, news outlets continued to report on Fogle's activities in prison. He was placed in a minimum security federal prison outside Denver, Colorado. On March 23rd, 2016, it was reported that Fogle had been beaten in prison by another inmate, Stephen Figg, because Fogle "had hired other inmates to be his security guards." Figg's brother told reporters that Fogle wasn't the first child molester that Figg had beaten in the prison, but that this was the first time he'd been caught doing so.[14]
Later that day TMZ reported that after the beating, Fogle had been relocated from working in the general prison cafeteria, where he had been making sandwiches for inmates and where he had been attacked by Figg, to the correctional officer's cafeteria.[15]
Search Interest
External References