About
The Russian Anti-Meme Law refers to the Russian government's ban on impersonating or sharing doctored images of public figures that are deemed out-of-context in relation to their personality or reputation in real life. The policy was introduced in early April 2015 as a direct result of a court decision in Moscow which ruled the unauthorized use of Russian singer Valeri Syutkin's images as an internet meme to be an infringement of his privacy. However in other areas of the world, the ban showed a Streisand Effect as satire and memeification towards Russia's President Vladimir Putin showed an increase.
Background
On April 7th, 2015, Roskomnadzor, the Russian government's media bureau, issued an official statement on the online networking site VK[1] to declare the ban of social media activities that involve misrepresenting public figures, such as assuming false identities or appropriating their images to misportray them out of context of their "personality." The announcement of the policy came off the heels of a court decision in Moscow earlier that month which ruled that Russian celebrity singer Valeri Syutkin's privacy had been violated as a result of an internet meme pairing his image with an offensive phrase (shown below).


The meme in question features a photograph of Syutkin, who commands a large female following in Russia for his romantic, gentle persona, captioned with "BBPE," an acronymic reference to an offensively misogynistic lyric from another Russian musician Nambavan's 2005 album Sex, Drugs, and Russian Girls, which stands for "Bei Babu Po Ebalu" (English: "smack the bitch in the face"). According to the Russian meme wiki Lurkmore,[10] the "BBPE" meme initially surfaced on the image board site 2ch.ru as a frequently said insult in 2008, before gradually evolving into a popular troll quote misattributed to a number of Russian celebrities, including Valeri Syutkin, as well as pop star Phillip Kirkorov and actor Aleksey Panin.
Notable Developments
Following the announcement of the initiative, many in Russia believed that Kremlin's new policy was directed at suppressing online satires and memeification of the Russian president Vladimir Putin. Meanwhile, both the court ruling and the anti-meme policy were met with heavy scrutiny from the news media in the West, while prompting an upsurge of Putin-related memes from the critics of Vladimir Putin in the social media overseas.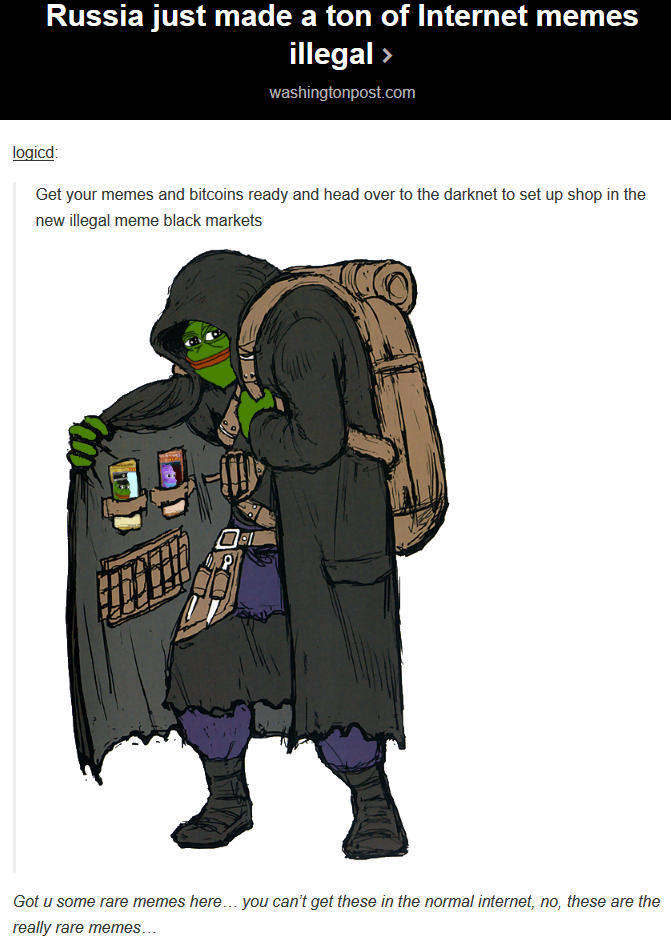 Various websites and news outlets also documented the ban, such as the Huffington Post,[2] Dailymail UK,[3] Techdirt,[4] Circa,[5] Business Standard,[6] Chicago Tribune,[7] Global Voices Online,[8] NY Daily News,[9] NPR,[11] NewsComAU,[12] Vocativ[13] and the Washington Post.[14]
Search Interest
External References