About
My Skin Is Clear refers to a snowclone used by fandoms in reaction to pictures or videos of the object of their fandom. "My Skin Is Clear" is generally used as one of many positive things the person says about themselves as a result of seeing the object of their fandom. Others include "My crops are flourishing" and "My grades are up."
Origin
On April 13th, 2015, Tumblr used the phrase in video in reference to hate mail she was receiving (shown below).[1] The full text of her video reads:
Nigga…It's April 2015, and y'all motherfuckers still sending me anonymous hate mail like I give a fuck. Nigga, do you know that there is an "ignore" button right next to the trash icon? And I will ignore yo' ass, okay? My edges are still full, bitch. My skin is still clear, bitch. Okay? My ass is still round. My personality is still blessed. Whether you find me attractive or not is not my problem. Okay? Find Jesus.
Spread
In the following years, "My Skin Is Clear" would come to be used by fandoms. On September 23rd, 2015, Tumblr user fobpetepatrick[2] used the snowclone in reference to Fall Out Boy drummer Andy Hurley (shown below, left). On March 17th, 2016, Twitter user @kahunaguzma[3] used it talking about Hamilton star Daveed Diggs, gaining 91 retweet and 117 likes (shown below, right).


The snowclone continued to be used by fandoms in this way over the course of the following year. On May 16th, 2017, Reddit user RainyPug posted a thread inquiring about the origin of the phrase to /r/OutOfTheLoop.[4]
Various Examples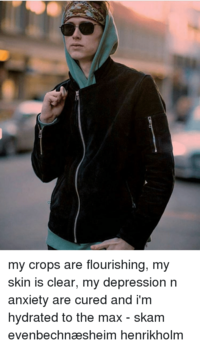 Search Interest
Unavailable
External References