Ohio School Bus Driver Jackie Miller Rants at Students
This submission is currently being researched & evaluated!
You can help confirm this entry by contributing facts, media, and other evidence of notability and mutation.
About
Ohio School Bus Driver Jackie Miller Rants at Students is a viral video of a former Amherst, Ohio bus driver, Jackie Miller, going on an expletive-filled rant at the students on her bus after one student purportedly sprayed perfume that triggered her asthma while on the bus. The video was posted to TikTok in late March 2023 and went viral across social media, inspiring mixed reactions, many in support of Miller. In the following days, Miller resigned from her position but refused to "take back" her rant, using it to spread awareness for the lack of respect students give bus drivers. Over $110,000 USD were raised for Miller's retirement fund through GoFundMe.
Origin
On March 29th, 2023, TikToker[1] @amberhuhn posted a video described as "Amherst bus driver gone wild 😂," showing an Amherst, Ohio school bus driver (Jackie Miller) walking down the aisle of the bus while angrily ranting at her students. She yells, "How much more do you expect me to take" then yells at a student, saying she can "smell it," referring to a perfume she believes the student sprayed that triggers her asthma. The student denies doing anything. She then yells at another student to put their phone away and tells the student, "My foot's going to be so far up your goddamn ass it's going to dangle out your goddamn nose." The video gained over 4 million views in two weeks (shown below).
Spread
On March 31st, 2023, News 5 Cleveland[2] reported on the video, reporting that Miller resigned after it went viral. The story features an interview with Miller, who says the perfume being sprayed was her "breaking point" and that the behavior shown is uncharacteristic of her. Miller reportedly worked as a school bus driver for 15 years. She claims that the outburst was the "culmination of years worth of frustration stemming from a small group of junior high students" and reportedly asked for help from the administration, but never got any. In the report, she is quoted as saying:
"I truly regret the whole incident because it should not have happened. I should've been a little more calm and been able to talk to him [the student] better than what I did. I do apologize for that but I don't take it back, this was my breaking point."
The report also links to a page by local Ohio apparel store Mistakes on the Lake[3] where they are selling a shirt that reads, "My foot's going to be so far up your goddamn ass it's going to dangle out your goddamn nose" (shown below). A GoFundMe[4] page was started by Jeff Grob to raise funds for Miller, which acquired over $100,000 in two weeks.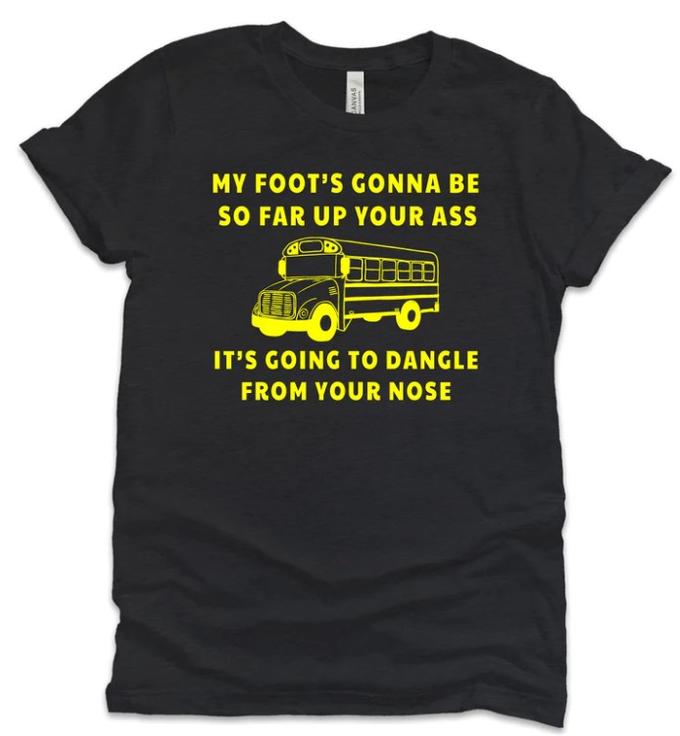 The video and story continued to go viral through April, garnering further support for Miller. On April 3rd, the Twitter[5] page @BarstoolSports shared the video, garnering over 2,900 likes in 10 days. The hashtag "#teambusdriver" began to see use on sites including TikTok and Twitter in support of Miller as people made posts sharing support for her.[6][7]
On April 10th, 2023, Fox News posted an interview with Miller to YouTube,[8] garnering over 80,000 views in three days (shown below). In the interview she explains in further detail the incident that lead up to the rant, saying one student was making phone calls, another was making comments about pictures of a student's mother and another student claimed someone sprayed perfume that she was allergic to that would trigger her asthma.
On April 12th, the H3 Podcast reacted to the video in a YouTube[9] video garnering over 455,000 views in under 24 hours (shown below).
Search Interest
External References