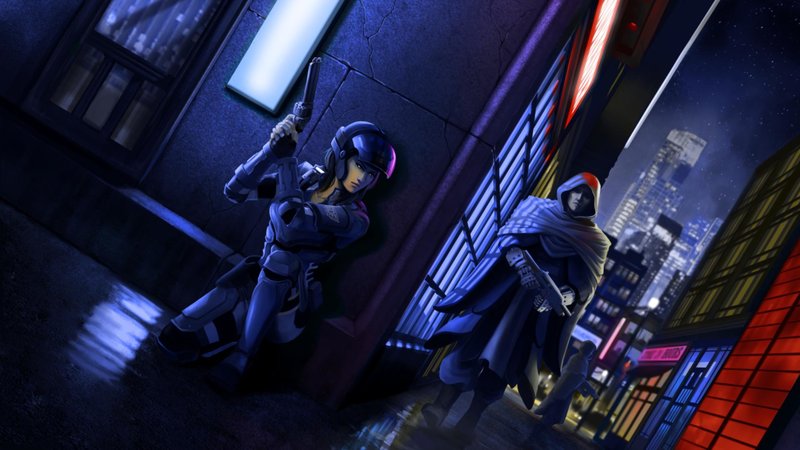 This submission is currently being researched & evaluated!
You can help confirm this entry by contributing facts, media, and other evidence of notability and mutation.
About
Ion Fury (previously known as Ion Maiden) is a 2019 first-person shooter based on the Build engine, bearing many similarities to 2.5D shooter games of the 1990s. The game was released in August 2019 to positive reviews and became a subject of controversy shortly after due to transphobic remarks made by the development team.
History
On August 15th, 2019, first-person shooter Ion Fury, developed by Voidpoint and published by 3D Realms, was released. The game is the first game based on a modified version of Build engine in 19 years, and draws many similarities to popular titles of the 90s such as Duke Nukem.[1]
Gameplay
Ion Fury follows the story of bomb disposal expert Shelly "Bombshell" Harrison, who is tasked with defeating a transhumanist cult in the city of Neo D.C.
The gameplay and user interface of Ion Fury shares multiple similarities with first point shooters of the 90s such as key cards, multiple secret areas, armor and health pickups and a character face health indicator. The player has to utilize a selection of weapons to progress through the levels.



Reception
As of August 20th, 2019, Ion Fury positive critic reviews, maintaining a 78 score on Metacritic.[2] On Steam, the game had a "Very Positive" rating with over 1,820 user reviews submitted.[3]
Controversies
Iron Maiden Lawsuit
In May 2019, British metal band Iron Maiden filed a lawsuit against game publisher 3D Realms, claiming that that the publisher intended to "confuse consumers into believing Defendant's products and services are somehow affiliated with or approved by Iron Maiden."[4]
On July 11th, 2019, 3D Realms announced that the name of the game was changed to Ion Fury.[5]
Transphobic Comments
On August 16th, 2019, ResetEra forum user Twenty5Thousand released several screenshots from 3D Realms official Discord server in which several developers from Voidpoint made transphobic comments and criticized "social justice warriors" (screenshots shown below).[6]






On the same day, Voidpoint's official Twitter commented that the screenshots were taken out of context.[10]
On August 18th, 2019, ResetEra forum user Flapjack posted screenshots from the game, including an out-of-bounds area containing the word "fagbag" and shampoo bottles reading "OGAY."[7]


In the following days, multiple gaming news outlets and blogs reported on the story, including articles by Gamer Revolution[8] and The Gamer.[9] On Metacritic and Steam, multiple negative reviews were written by users,[2][3] while on Twitter several users posted negative tweets criticizing the developers of the game. Additionally, some users criticized ResetEra users making calls to harm the careers of Voidpoint employees.[12]



On August 19th, 2019, game developer Voidpoint and publisher 3D Realms issued apologies for the comments,[11] with Voidpoint also promising to implement "mandatory sensitivity training" for all employees and contractors and to donate $10,000 from Ion Fury's proceeds to an American non-profit for suicide prevention in LGBTQ community.
Members of Voidpoint's Ion Fury team have made sexist and transphobic comments, and included homophobic language in Ion Fury.
We recognize these statements are insensitive, unacceptable, and counterproductive to causes of equality. We unequivocally apologize both for these comments and language as well as for any pain they have caused the gaming community, particularly women and members of the LGBTQ community. We take full responsibility for any damage that has been done to the relationships we've worked so hard to build.
Moving forward, Voidpoint will institute a zero-tolerance policy for this type of language and all employees and contractors will undergo mandatory sensitivity training. As part of our efforts to contribute to the work that must be done to further support these communities, we are donating $10,000 from Ion Fury's release day proceeds to The Trevor Project. We are also patching Ion Fury ASAP to remove all unacceptable language."
It has come to our attention Voidpoint, the developers of Ion Fury, have been accused of making transphobic and misogynistic statements.
Under current leadership 3D Realms has taken pride empowering marginalized groups, as evident by our strong female protagonist Shelly 'Bombshell' Harrison and the makeup of our team.
Moving forward all of 3D Realms' contracts will include terms which would allow us to sever relationships if a contractor does not abide by our zero-tolerance policy for hate speech.
"Ion Fury Will Not Be Censored" Announcement
On August 26th, 2019, Ion Fury game developer Voidpoint and publisher 3D Realms have released a joint statement in which they affirmed that the game will not be censored. Within eight hours, the post accumulated over 620 likes and over 580 comments on Steam,[13] and over 200 retweets and 1,000 likes on Twitter.[14] Additionally, Voidpoint confirmed that the donation to suicide prevention non-profit fund The Trevor Project will be made.[15]
We've caused a recent controversy suggesting Ion Fury game content was to be censored. We will absolutely NOT be censoring Ion Fury or any of our other games, now or in the future, including but not limited to by removing gags such as gaming's most controversial facial wash. We do not support censorship of creative works of any kind and regret our initial decision to alter a sprite in the game instead of trusting our instincts. 3D Realms and Voidpoint stand together on this matter.




Search Interest
External References