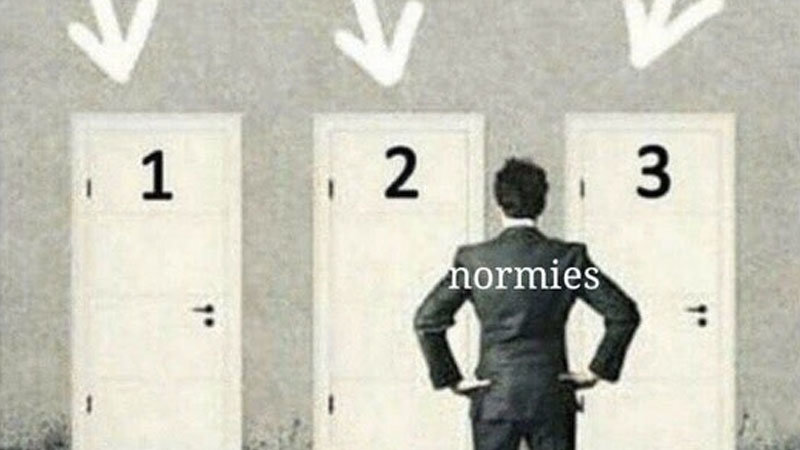 This submission is currently being researched & evaluated!
You can help confirm this entry by contributing facts, media, and other evidence of notability and mutation.
About
Three Doors is a two-pane captioned photo series in which a man in a suit strands before three doors in the first panel and kicks in door three in the second. The meme's author labels each of the doors with door three being the least desired option in most cases.
Origin
The meme is the combination of two different image sources. The top image comes from the cover of the book The Lateral Lawyer: Opportunities and Pitfalls for the Law Firm Partner Switching Firms, which was published on November 7th, 2015 (shown below, left).[1] The second image is based on a Getty stock photograph of a man kicking in a door, which was taken by John Eder and submitted to Getty on September 2nd, 2005 (shown below, right).[2]


Spread
On January 9th, 2018, WorldStarHipHop posted a variation of The Lateral Lawyer cover on their social channels, Twitter [4] and Instagram. [5] In this version, they labeled each of the doors "Restart Life," "$5 Billion" and "Power to Read Others Mind." The image is captioned "Which one will you choose?" The post (shown below) received more 450 retweets, 2,100 likes and 580 comments on Twitter and 311,000 likes on Instagram in six days.

On January 15th, 2018, Redditor [3] ScarySkeleton24 posted a meme that combines both images in the /r/dankmemes subreddit. In this version, the man is looking at three doors labeled 1. Somebody touched my Spaget, 2. Tide PODS and 3. Ugandan Knuckles. The man is label "Normies". In the bottom panel, the man label "Normies" is shown kicking in door three, asserting that Normies love Ugandan Knuckles. Within 24 hours, the post (shown below, left) has received more than 4,400 points (92% upvoted) and 140 comments.
Shortly after the initial post was made, more members of /r/dankmemes posted variations (examples below, center and right, respectively. The common theme within the series is "normies" infiltrating the meme community and potentially overusing specific, popular memes.



!
Various Examples






Search Interest
Not Available.
External Reference
Recent Videos
There are no videos currently available.