This submission is currently being researched & evaluated!
You can help confirm this entry by contributing facts, media, and other evidence of notability and mutation.
About
Unnecessary Footnotes refers to the tongue-in-cheek usage of footnotes to immediately contradict with what the meme's author wrote.
Origin
The earliest known instance of the meme occurred on September 2nd, 2017. That day, Tumblr [1] user equalistmako wrote, "this just in.. The New Meme On The Block is unnecessary footnotes and anyone who doesn't like this idea can kiss this¹
_____________________
¹ my ass"
The post (shown below) received more than 89,000 notes in two months.

Spread
The following week, numerous Tumblr users began using unnecessary footnotes to answer questions, make jokes and essentially provide honesty to their sarcastic posts. On September 3rd, Tumblr[1] user jilydiedmyass posted "You'll stay with me? ¹ / ¹ Until the very end. The post (shown below, left) received more than 190 notes in two months.
The next day, Tumblr[3] user mygayisshowing posted, "Am I straight? ¹ / ¹ hell no." The post (shown below, right) received more than 1,900 notes in less than two months.


Two weeks later, Tumblr[4] user bee-pd posted, "hey everyone! just wanted to say that right now i'm mentally stable¹ and i'm having a great day²! / ¹actually doing terrible: this is a cry for help ²another breakdown!!!" The post (shown below) received more than 4,500 notes in a month and a half.

On October 29th, the meme was included and explained by the tumblr account and meme archivist memedocumentation.[5]
That day, the meme's creator, equalistmako, posted "The 'footnotes meme'¹ is my greatest contribution to society / ¹ equalistmako, Tumblr, September 2nd 2017. The post (shown below) received more than 200 notes in three days.

Various Examples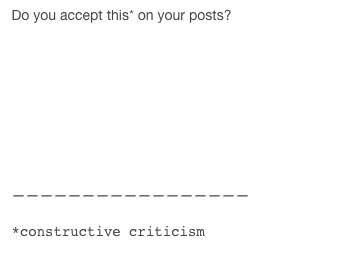 Search Interest
Not Available
External References
Recent Videos
There are no videos currently available.