PROTIP: Press 'i' to view the image gallery, 'v' to view the video gallery, or 'r' to view a random entry.
This submission is currently being researched & evaluated!
You can help confirm this entry by contributing facts, media, and other evidence of notability and mutation.
The Accelerator's Whisper exploitable originated from a page in the manga 'A Certain Scientific Rail Gun', volume 5, chapter 24.
Accelerator, a pale-skinned, teenage mass murderer with esper powers which can redirect, reflect and/or alter any type of force (vector values), participates in a scientific experiment in which he battles and kills numerous cloned girls (originally created from the DNA of another esper, Misaka Mikoto) who are all universally known as 'Sisters'. Just after killing another helpless victim, the original Misaka Mikoto arrives, only to be easily driven back by Accelerator to the point of distraught fear. He mocks her and tells her the name of the most powerful esper in their city.
The exploitable's captions may range from famous one-liners, to psychotic statements, to just plain random sentences.
The Original Page: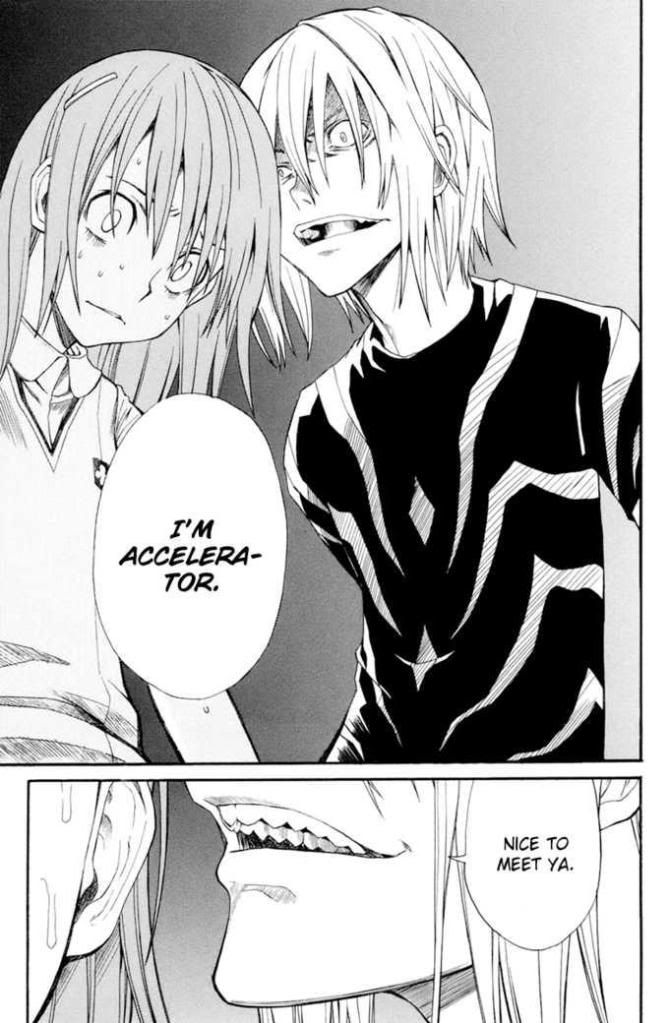 Facebook Comments