PROTIP: Press 'i' to view the image gallery, 'v' to view the video gallery, or 'r' to view a random entry.
This submission is currently being researched & evaluated!
You can help confirm this entry by contributing facts, media, and other evidence of notability and mutation.
About
Awkward Moment Seal is an advice animal image macro series featuring a seal with a wide-eyed expression and captions describing socially awkward or uncomfortable situations in similar vein to "That Awkward Moment…" and Socially Awkward Penguin..
Origin
On April 15th, 2014, Reddit user Niccalv2015 submitted a blank image of a Awkward Moment Seal to the subreddit /r/aww.[9] The post received over 3,00 upvotes and 373 comments. The photo was titled "Hurumph" and did not initially receive any macro captioned derivations.


The following day, Redditor Balten submitted the first captioned version of the seal to /r/funny titled "I always feel like the creepiest person when I do this…".[12] The post neared 2200 upvotes and a 89% upvote rating. On the 17th, Redditor walrusmeats[1] submitted another captioned version that read, "I need to shit but my girlfriend won't go home," to the /r/AdviceAnimals[2] subreddit. Walrusmeats titled the image "Introducing squeamish seal," and gained over 400 comments and over 17,000 upvotes. (Below Left) The next day Redditor Honorato[7] posted an example of the meme to the /r/AdviceAnimals[8] subreddit titled "So are we doing a Awkward/Bad Moment Seal?" The submission received over 4,000 upvotes in less than a week. (Below Right)


Spread
On April 18th, the meme was covered by Mashable[4] and UpRoxx[5]. The same day examples of the meme were also featured on the Tumblr blog TastefullyOffensive[6]. In less than a week the post gained over 13,000 notes.


An example of the image macro landed on Reddit's front page on April 21st. It received more than 3,000 upvotes in less than 24 hours.
On April 22, a Meme Generator for Awkward Moment Seal was published and has since received nearly 3,000 images.[10] The Facebook page "Awkward Moment Seal" was created May 3rd, 2014, and has since received over 3,700 likes.[11]
Notable Examples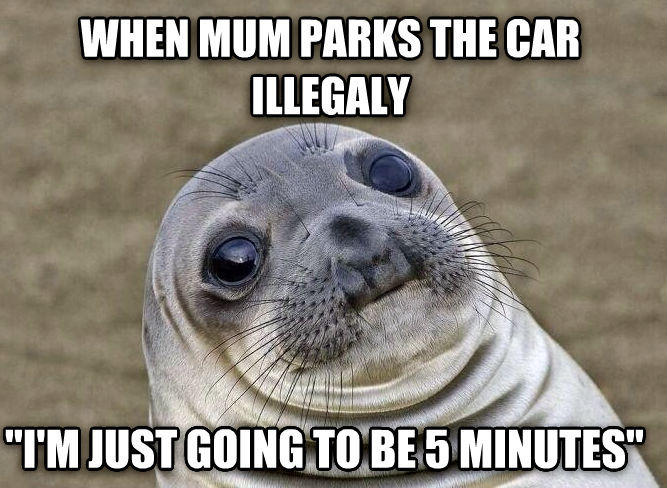 Search Interest
External References
Recent Videos
There are no videos currently available.
Facebook Comments