PROTIP: Press 'i' to view the image gallery, 'v' to view the video gallery, or 'r' to view a random entry.
This submission is currently being researched & evaluated!
You can help confirm this entry by contributing facts, media, and other evidence of notability and mutation.
Overview
Fired Big Bird refers to a series of online satires surrounding a budget cut proposal on the Public Broadcasting Service (PBS), which runs the children's television series Sesame Street, introduced by Mitt Romney during the U.S. presidential debate against President Obama in early October 2012. On the Internet, the quote was quickly taken out of the original context and turned into a joke that Mitt Romney Hates Big Bird, the protagonist of Sesame Street.
Background
On October 3rd, 2012, the first 2012 U.S. presidential debate between Mitt Romney and Barack Obama was held at the University of Colorado in Denver, moderated by the renowned PBS journalist Jim Lehrer. During the course of the debate, Mitt Romney remarked that he "[will] stop the subsidy to PBS" in order to reduce the national deficit despite his self-declared affection for Big Bird, a protagonist of the children's television show Sesame Street.
"I'm sorry Jim, I'm gonna stop the subsidy to

PBS

, I like

PBS

, I love Big Bird, I actually like you too, but I am not going to keep spending money on things to borrow money from China to pay for."
Notable Developments
Online Reactions
Minutes after Romney's comment went on air, several Twitter accounts, including #FiredBigBird and #BigBirdRomney, were created, along with thousands of tweets criticizing Romney for his PBS budget cut proposal and the implied firing of Big Bird. By the end of the debate at 10:30 (ET), the hashtag #SaveBigBird climbed to the fourth-highest trending topic on Twitter.
Among the most notable reactions on Twitter came from American astrophysicist Neil deGrasse Tyson, who compared Mitt Romney's PBS budget cut proposal to "deleting text files to make room on your 500GB hard drive." Tyson's Twitter post gained nearly 62,000 retweets and more than 12,200 favorites.
Cutting PBS support (0.012% of budget) to help balance the Federal budget is like deleting text files to make room on your 500Gig hard drive

— Neil deGrasse Tyson (@neiltyson) October 4, 2012
Meanwhile on Reddit and Tumblr, humorous image macros portraying Big Bird as an unemployed job seeker quickly began pouring in, as well as catchphrase slogans like "Save Big Bird," "Don't Mess with Big Bird" and "Mitt Romney Hates Big Bird." Furthermore, dozens of Facebook fan pages carrying pro-PBS and anti-Romney slogans began to surface on the social networking site.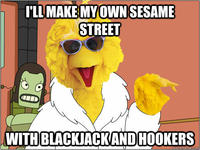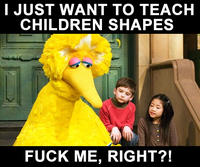 News Media Coverage
Romney's "Big Bird" remark and the online reaction were covered by virtually all mainstream news outlets in the United States, including the New York Times[5], Washington Post[1], Chicago Tribute[2] and Boston Globe[3] among many others. While the majority consensus in the news media and public polls pointed to Mitt Romney as the victor of the night, the "Big Bird" ultimately emerged as the most memorable moment from the debate.
Official Responses
On the following day, PBS released a lengthy official statement defending its values and federal subsidy of the network, while expressing disappointment at Mitt Romney's remark during the debate:
We are very disappointed that PBS became a political target in the Presidential debate last night. Governor Romney does not understand the value the American people place on public broadcasting and the outstanding return on investment the system delivers to our nation. We think it is important to set the record straight and let the facts speak for themselves.
In addition, Sesame Workshop[4] released a statement of its own to stress the program's non-partisan stance in the election:
"We do not comment on political campaigns, but we're happy we can all agree that everyone likes Big Bird."
Barack Obama's Campaign Ad
The "Big Bird" fiasco soon spilled onto the campaign trail with President Obama drawing a reference to Romney's remark on the Sesame Street character during a rally outside of Washington D.C. in which he was quoted as saying "[Romney] is getting tough on Big Bird. Wall Street can run wild again, but he's bringing the hammer down on Sesame Street." On October 9th, Barack Obama's reelection campaign team released a new TV advertisement starring the Sesame Street character as its central figure. Produced in the typical fashion of a negative political ad, the faceless narrator attacks Mitt Romney's preoccupation with PBS subsidies while turning a blind eye on the Wall Street.
Search Interest
External References
Facebook Comments