PROTIP: Press 'i' to view the image gallery, 'v' to view the video gallery, or 'r' to view a random entry.
This submission is currently being researched & evaluated!
You can help confirm this entry by contributing facts, media, and other evidence of notability and mutation.
Overview
Nelson Mandela's Death refers to the decease of the the first President of South Africa due to a prolonged respiratory infection.
Background
On 5 December 2013, Nelson Mandela, the first President of South Africa, died at the age of 95 after suffering from a prolonged respiratory infection. He died at around 20:50 local time (UTC+2) at his home in Houghton, Johannesburg, South Africa, surrounded by his family.[1] His death was announced by President Jacob Zuma.[1][2] Reactions from governments, international organizations, and notable individuals, gained worldwide media coverage.
On twitter
Many celebrities, including the former president Barack Obama, expressed their condolences and sentiments through Twitter.
"Let us pause and give thanks for the fact that Nelson Mandela lived." --President Obama

— Barack Obama (@BarackObama) diciembre 5, 2013
Never met a better person in my life than Nelson Mandela. My sympathy to his family & his country.

— Samuel L. Jackson (@SamuelLJackson) diciembre 5, 2013
He lives within us forever. We will never forget. pic.twitter.com/xLOEr8QW6O

— Tyra Banks (@tyrabanks) diciembre 5, 2013
A remarkable man and an inspiration to all. Remembering #NelsonMandela

— Barbara Walters (@BarbaraJWalters) diciembre 5, 2013
Notable Developments
Sign Language Interpreter Controversy
On december 11, 2013, during the memorial service it became evident that the official sign language interpreter, Thamsanqa Jantjie, was a fake.[3] A South African association for the deaf, stated that Jantjie had made a "mockery of South African sign language" and that the "deaf community was in outrage".[4] Jantjie, who stood on the memorial stage alongside world leaders throughout the event, made meaningless hand gestures that did not reflect established signs.
On 12 December, Jantjie apologized if he had offended anyone, explaining that his performance was impaired due to a hallucination brought on by his schizophrenia. He added that he suffers from violent tendencies and stated that he had been hospitalized in a mental health facility for 19 months, beginning around 2006. Nonetheless, he maintained that he performed well, calling himself "a champion of sign language."[5][6]
The same day, Deputy Minister for Women, Children and People with Disabilities Hendrietta Bogopane-Zulu admitted, "In the process, and in the speed of the event, a mistake happened." However, she rejected the view that Jantjie was a fraud, stating, "we should not say that he is a fake interpreter because he does have a basic sign language translation qualification. He started off very well and got tired in the process … [H]e has interpreted to deaf people in court before and is able to communicate with his deaf friends very well. It's just that (on that day) he did not sign what was expected of him."[7]

Obama–Thorning-Schmidt–Cameron selfie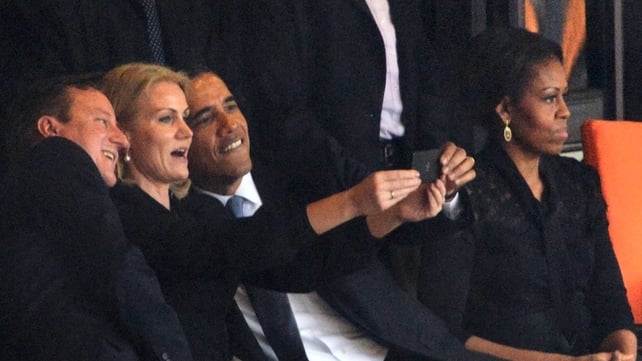 Along with President Obama, Helle Thorning-Schmidt and David Cameron--the respective Prime Ministers of Denmark and the UK--faced criticism on social media that they had behaved inappropriately after posing for a "selfie" which was taken using Thorning-Schmidt's mobile phone.[8][9] Defending her actions, Thorning-Schmidt said, "There were lots of pictures taken that day, and I just thought it was a bit fun. Maybe it also shows that when we meet heads of state and government, we too are just people who have fun."[8] Cameron said he was being polite when Thorning-Schmidt asked him to take part in the picture.[10]
Search Interest



External References
Facebook Comments