PROTIP: Press 'i' to view the image gallery, 'v' to view the video gallery, or 'r' to view a random entry.
About
Karate Kyle is an advice animal image macro series similar to Vengeance Dad and PTSD Clarinet Boy where the original photo consists of a digital composite of the subject's head enlarged around his entire body with the opacity decreased. The captions generally depict various violent acts Karate Kyle has performed in retaliation to being bullied.
Origin
On February 24th, 2011, the original Karate Kyle photo was uploaded to James Von Helton's Facebook[1] page. While no archived threads exist, it is rumored to have spread to 4chan shortly afterward. The first Reddit[2] post including the Karate Kyle photo wth the caption "They broke my pencils / I broke their necks" was submitted on February 25th, 2011 but had no mention of the name "Karate Kyle". The second Reddit thread[3] titled "Introducing Karate Kyle" later that day with a round-up of Karate Kyle image macros.

Spread
The single topic blog for Karate Kyle on Tumblr[5] was created on May 17th, 2011. The first image macro published was captioned with "She deleted me from Facebook / I deleted her from life" and received over 500 notes within 9 months.

Karate Kyle was #21 in BuzzFeed's[10] "Top 40 Best Memes of 2011" post published on December 8th, 2011. Round-ups of derivatives has been posted to Smosh[8], Runt of the Web[7] and Funny or Die.[6] The Karate Kyle Quickmeme[4] page has 7,898 submissions and a Karate Kyle "public figure" Facebook[9] page has 798 likes as of February 20th, 2012.
Notable Examples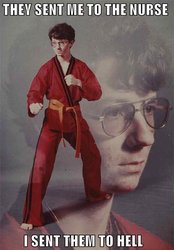 Template

Search Interest
Search query volume for "karate kyle" rose significantly in March of 2011, one month after it was originally posted on Facebook.
External References
Facebook Comments