PROTIP: Press 'i' to view the image gallery, 'v' to view the video gallery, or 'r' to view a random entry.
This entry has been rejected due to incompleteness or lack of notability.
To dispute this DEADPOOL flagging, please provide suggestions for how this entry can be improved, or request editorship to help maintain this entry.
About
Kilroy Was Here is a graffiti doodle consisting of a bald man with his nose hanging and his hands clutched over a wall, accompanied by the caption "Kilroy was here." The image was popularized during World War II by the United States soldiers who drew the man and expression on walls and other surfaces.
Origin
The character Mr. Chad seen in the doodle (shown below) is rumored to have been originally illustrated by British cartoonist George Chatterton in 1938, according to the author Michael Quinion on his site World Wide Words.[6]

The earliest known use of the doodle in street art can be found on a wall in Fort Knox, Kentucky, drawn in chalk and dated May 13th, 1937, as seen in the History Channel documentary titled "Fort Knox: Secrets Revealed,"[1] (shown below).

Precursor
An Australian version of the doodle bearing the phrase "Foo was here" is rumored to have predated the American version by roughly 25 years, according to the website Digger History.[3]

Spread
The doodle was often written on walls and equipment by United States servicemen during World War II and is rumored to have led Hitler to believe that Kilroy was the code name of a spy. In the book Panati's Parade of Fads, Follies, and Manias: The Origins of Our Most Cherished Obsessions, author Charles Panati wrote that Soviet Union leader Joseph Stalin discovered a Kilroy graffiti in the VIP bathroom at the Potsdam Conference in 1945. In 1946, NBC singer Paul page released a song titled "Kilroy Was Here."[4] In 1955, the science fiction short story The Message by author Isaac Asimov was published, in which a time-traveler named George Kilroy is depicted as the writer of the graffiti.[5] In 1997, New Zealand released a new stamp featuring Kilroy (shown below).

Notable Examples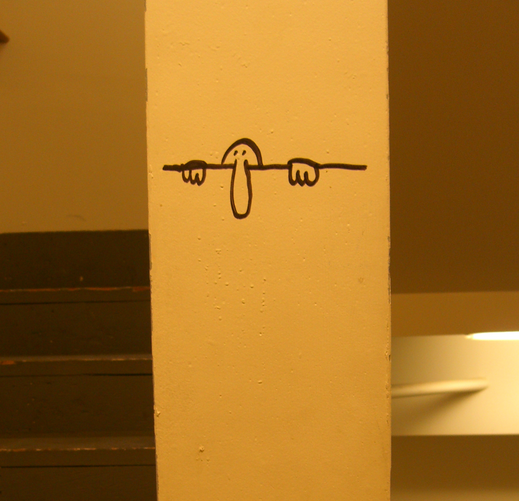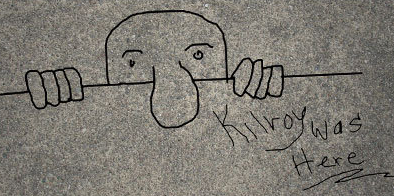 History of References

External References
Facebook Comments