PROTIP: Press 'i' to view the image gallery, 'v' to view the video gallery, or 'r' to view a random entry.
This submission is currently being researched & evaluated!
You can help confirm this entry by contributing facts, media, and other evidence of notability and mutation.
About
Lunch Bag Art is a single topic blog on Tumblr showcasing the artwork of Derek Benson, who has been drawing intricate designs and character art on his children's brown paper lunch bags since 2008.
Origin
Derek Benson, a video game developer, launched the blog Lunch Bag Art[1] on September 7th, 2008, posting eight different lunch bags he had drawn on, featuring charaters from Pokemon (shown below, left), Canadian animated series Total Drama (shown below center) and Spongebob Squarepants (shown below, right).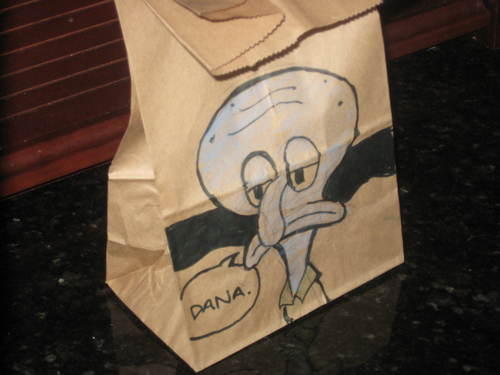 Spread
On November 7th, 2008, exactly two months after the blog launched, Benson's drawings were featured on Serious Eats[5], leading to additional coverage on internet culture blogs Urlesque[6], Neatorama[7] and Kotaku[8] in 2008. The next year, more of his lunch bag artworks were featured on My Modern Met[9], Trend Hunter[10] and marker company Sharpie's official blog[11], which included one of Benson's first interviews about his Tumblr blog. In this interview, he revealed that he does the drawings on his lunch break or while helping his kids with homework.
Between 2010 and 2012, Lunch Bag Art has been featured on Buzzfeed[12], Uproxx[13], the Chive[14], the Huffington Post[15] and Smosh.[16] In July 2012, Benson posted a tutorial[17] to his blog on how he approaches his lunch bag art. He noted on Twitter[18]that the process was supposed to take no more than 20 minutes. As of November 2012, Lunch Bag Art has more than 2400 followers on Twitter[2] and more than 1200 fans on Facebook.[3] The site also has a store[4] with shirts featuring some of Benson's artwork.
Notable Examples
Derivative Artists
Following in Benson's footsteps, other bloggers began posting their lunch bag artwork. In 2009, Matt Roberts launched Lunch Bag Artist[19] (shown below, left) to document the bags he would put together for his three children. Over the course of four weekdays, each child would receive a piece of a larger picture, which Roberts would document on the site. The following year, Scott Semegran took to his personal blog[20] to chronicle the bags he decorated for his two daughters (shown below, right) while they were attending summer camp, a tradition he continued[21] in 2011.
Search Interest
[Not currently available]
External References
Recent Videos
There are no videos currently available.
Facebook Comments