PROTIP: Press 'i' to view the image gallery, 'v' to view the video gallery, or 'r' to view a random entry.
This submission is currently being researched & evaluated!
You can help confirm this entry by contributing facts, media, and other evidence of notability and mutation.
Researching
---

About
"Oh Wait. You're Serious? Let Me Laugh Even Harder!" are a series of response pictures and videos, mainly used by trolls for the overreacting of other relating to a particular subject is consider important for their existence but unbelievably useless for everyone else.
Origin
The saying originally came from the episode of show, "Futurama" [1] "Love and Rocket" [2] where the character, "Bender" uses the term to make fun of Leela.
Popularity
The phrase has been commonly used throughout the use of the internet while using other characters from popular shows and board forms of 4chan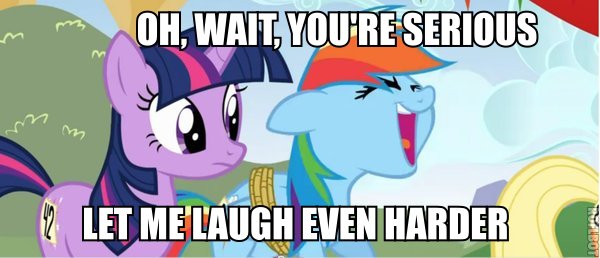 From a discussion of how to pay for future astronauts
External References
[2]Wikipedia – Futurama – Love and Rocket
Facebook Comments