PROTIP: Press 'i' to view the image gallery, 'v' to view the video gallery, or 'r' to view a random entry.
About
Running Dad is an exploitable series based on a Belgian webcomic depicting a father jumping through the window and running far into the distance. Since crossing over to 4chan and Reddit, the comic has inspired a series of parodies in which the dad runs away from his son in utter dismay, similar to other aversive reaction memes like nope and abandon thread.
Origin
The original comic was illustrated by Belgian cartoonist Jeroom Snelders[1] and first shared online on the Facebook page for his webcomic Jeroom[2], which is known for its dark and deadpan humor, on June 19th, 2012. The comic shows a young boy asking his father about the female reproductive anatomy, which prompts the father to undergo an anxiety breakdown and run away from the situation by jumping through the window.

English Translation:
Kid: "Dad, where lies the g-spot in the woman?"
Dad: "Uhm… Uh…"
Spread
Sometime around May 27th, 2013, a 4chan[3] user posted a blanket template of the comic, leading to a slew of derivative instances from numerous boards across the site. Some of these images were later posted on Reddit's /r/4chan community[4], receiving 1,850 upvotes and spawning a handful of additional instances in the comments. Later that day, the comics were also posted on TheMaveSite Forums[5].
Notable Examples






The Libertarian Edition
On May 31st, 2013, an edited version titled "Dad… I'm a libertarian"[6] was posted on /r/libertarianmeme, where it garnered over 350 thumbs up (shown below). Months later, on August 16th, the same image was posted Ron Paul Forums[7], followed by another repost on FunnyJunk[8] on December 12th.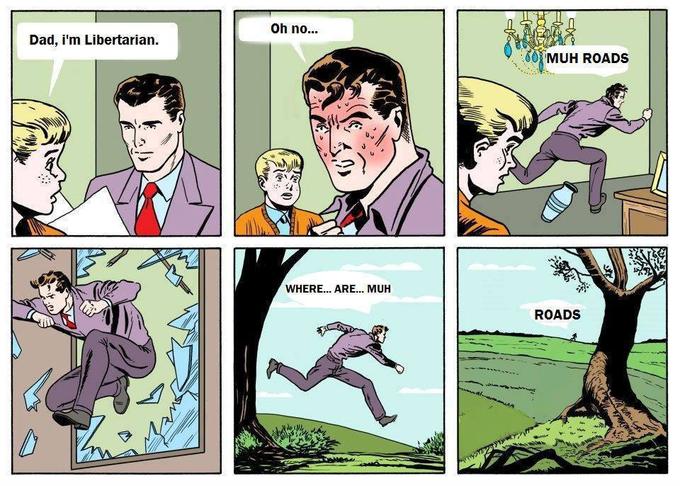 External References
Recent Videos
There are no videos currently available.
Facebook Comments