PROTIP: Press 'i' to view the image gallery, 'v' to view the video gallery, or 'r' to view a random entry.
This submission is currently being researched & evaluated!
You can help confirm this entry by contributing facts, media, and other evidence of notability and mutation.
About
Summary of Art Meme is an illustrators' practice of summarizing their works in each periods into one blank template panel. Since it's particularly practiced at the end of the year, it has been a sort of annual event on online illustrators communities since 2009.
Origin
According to descriptions in the first template image, this idea was proposed by a deviantART (dA) user rosalarian[1] (shown below, left), and her friends brushed up the idea and made a blank template file on December 18th, 2009 (shown below, right).[2]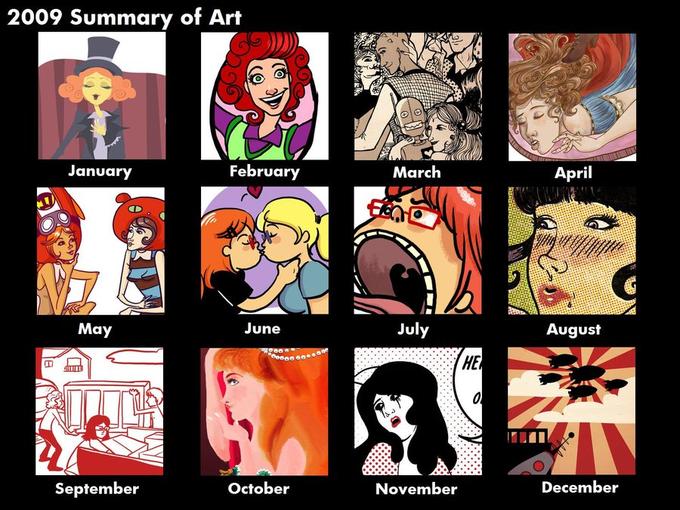 Spread
That user group's proposal was widely received to many other dA users not only because of its quite easy participating way, just copying & pasting existing pictures onto the template, but also because of its feature as an event of looking back on the year together with other community members. Many thousands of dA users posted their "Art Summary" in that year, and since then, it has been a sort of annual year-end event on deviantART.[3]
New blank templates are posted in every December. These posts are also collected in dA's user group called "Year in Art"[4] as well as Tumblr.[5]
Improvement Meme
Following the "summary of art meme", a dA user Kamaniki[6] presented another template of summarizing 4 works in each years of users' career on December 30th.[7] This template called "Improvement Meme" has been also utilized among users. A user group for "Improvement Meme" was launched on January 2014.[8]
One Year's Progress
"Summary of Art Meme" was imported to pixiv on the next December by dA/pixiv user Bondson.[9][10], and it has been also a popular annual event called "One Year's Progress" (Japanese: 絵師一年進化録, lit "record of an illustrator's one year progress") on that Japanese illustrators community. Thousands of sumarries have been posted to pixiv every year as well as dA.[11] In this pixiv's event, the same template by Bondson[12] has been used in almost all of posts in every year since his template doesn't have year description.
Besides, in the same vein to Improvement Meme, pixiv users too created an art summary template for a decade which is called "Ten Years' Progress" (絵師十年進化録).[13]
Notable Examples
Search Interest
[Not Available]
External References
Editor's Note: Registration is needed to browse some of the original illustrations listed in this section.
Recent Videos
There are no videos currently available.
Facebook Comments