PROTIP: Press 'i' to view the image gallery, 'v' to view the video gallery, or 'r' to view a random entry.
About
"That Escalated Quickly" is a memorable quote said by Ron Burgundy (played by Will Farrell) in a scene from the 2004 comedy film Anchorman: The Legend of Ron Burgundy. In online discussions and comments, the expression can be used in response to a remark or a situation that has quickly gotten out of hand.
Origin
The quote "well, that escalated quickly, really that got out of hand fast!* was originally heard in a scene from the 2004 comedy film Anchorman: The Legend of Ron Burgundy, in which Ron Burgundy and his co-anchors discuss their previous encounter of a violent midday brawl with the rival KQHS Channel 9 Evening News Team.
Ron Burgundy: Boy, that escalated quickly. I mean, that really got out of hand fast!
Champ Kind: It jumped up a notch.
Ron Burgundy: It did, didn't it?
Brick Tamland: Yeah, I stabbed a man in the heart.
Ron Burgundy: I saw that! Brick killed a guy! Did you throw a trident?
Brick Tamland: Yeah, there were horses, and a man on fire, and I killed a guy with a trident.
Ron Burgundy: Brick, I've been meaning to talk to you about that. You should probably find yourself a safe house or a relative close by. Lay low for a while, because you're probably wanted for murder.
Along with many other memorable lines from the movie, Ron Burgundy's afterthought continued to be quoted in various comedy and movie discussion forums, as well as in comments of news articles and discussion threads as a general notion that something has gone out of control quickly. The earliest known use of the phrase outside of its original context can be found on the webcomic blog I Heart Eddit in a comic titled "In Which Eddie & Logan Make Like A Banana" posted on December 2nd, 2007.
Spread
The quote was included in the YouTube compilation video "The Top Ten Lines from Anchorman-The Legend of Ron Burgundy" uploaded on July 20th, 2008, which has gained more than 1.2 million views in the span of four years. On September 17th, 2008, YouTuber ScopeStyle posted a kinetic-typographical video based on the dialogue from the scene. Another YouTube clip of the dialogue scene was uploaded by YouTuber Courage11235 on April 14th, 2011.
Beginning in 2010, the phrase became increasingly used as the title or the tag of various image, video or discussion posts on 4chan and Reddit, most notably with videos depicting public fights, screenshots of arguments in chatrooms and discussion threads relating to relationships and dating. Sometime in early 2012, an image macro based on the screen capture of Ron Burgundy from the dialogue scene began appearing on Reddit, FunnyJunk and Tumblr as a reaction image.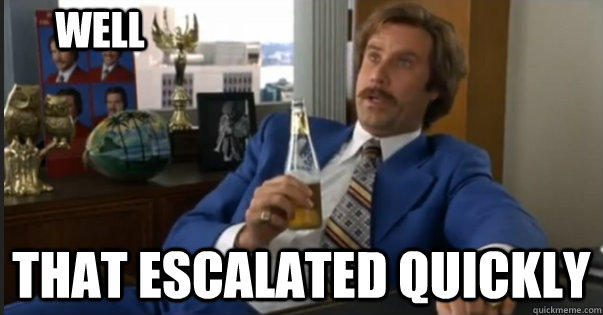 Notable Examples






Search Interest
External References
Facebook Comments