This submission is currently being researched & evaluated!
You can help confirm this entry by contributing facts, media, and other evidence of notability and mutation.
About
Will Ferrell is an American actor and comedian best known for his sketch comedy performances as a cast member of NBC's live comedy show Saturday Night Live and his starring roles in dozens of comedy films, such as Old School, Elf and Anchorman among others.
Acting Career
Ferrell joined the cast of the sketch comedy show Saturday Night Life in 1995, where he stayed until 2002.[1] He made his film debut in the 1997 comedy Men Seeking Women, acting in a string of comedies in the late '90s including two based on SNL sketches, Superstar(1999) and A Night at the Roxbury(1998). In 2003, after his departure from SNL he stared in the holiday film Elf, following that with Anchorman: The Legend of Ron Burgundy (2004) which became a cult classic. He stared in several more comedies throughout the 2000s, and most recently stared in the sequel to Anchorman, Anchorman 2: The Legend Continues(2013).
Online History
As of February 2014 Ferrell's Facebook page[2] has over eight million likes. Though Ferrell has never launched a Twitter account there are many impostors on Twitter with large followings including @WillFerreI[13] who has over 330,000 followers and @LegitWillFerrel[14] who has over 440,000 followers.
Ron Burgundy in Anchorman
Anchorman is a 2004 comedy film staring Ferrell. The film developed a cult following and quotes from the movie quickly gained popularity online in the form of GIFs and memes.
On December 1st, 2011, a Meme Generator[8] page titled "Anchorman" was created, featuring a screen capture of Ron Burgundy with captions written from the fictional character's perspective. On the following day, Funny or Die[12] highlighted several notable animated GIFs featuring scenes from the film (shown below). In the first two years, the post received over 530,000 views and 6,500 Facebook shares.



As of June, 2013, over 30 pages related to the film have been created on the image macro website Quickmeme,[8] including "Anchorman I dont know what were yelling about,"[9] "Anchorman Milk"[10] and "Anchorman"[11] (shown below).



Funny or Die
Funny or Die is a comedy website founded by Ferrell and comedian Adam McKay in January of 2007 that features both original and user-generated content in the form of videos, images and podcasts. Its first sketch video titled "The Landlord," in which Ferrell is harassed by his two-year-old landlord played by McKay's daughter Pearl (shown below). The video has received over 81 million views as of February 2014.
Popular series on the site include Drunk History, which acts out famous scenes from history as a drunk person would tell them, and Between Two Ferns a satirical talk show hosted by Zach Galifianakis.
Reddit AMA
On February Ferrell hosted a Reddit Ask Me Anything to benefit Cancer For College, a nonprofit that gives college scholarships to students who have battled cancer.[4] He covered topics from the very simple (his favorite color) to the more serious (the Cancer for College charity). When asked about what his favorite SNL sketch was and who was his favorite cast member to work with he explained:
"I will say that off the top of my head, the two favorite sketches that I was a part of had to have been the Harry Caray space show with Jeff Goldblum and, of course the cowbell sketch with Christopher Walken.
My favorite cast member to work with was Julia Louis-Dreyfus."
Several sites praised his AMA as funny and entertaining including Buzzfeed[5], Today[15], Paste Magazine[16], Business Insider[17], E Online[18], Rolling Stone[19], MTV News[20], Jezebel[6], and SplitSider.[7]
Related Memes
What is Love
What is Love is a 1993 dance pop song by the Trinidanian eurodance artist Haddaway,[1] which saw a resurgence in popularity when it was featured in the "Roxbury Guys"[2] sketches on TV show Saturday Night Live in 1996 (shown below).
On June 2nd, 2005, YTMND user ligamentx submitted a page titled What is love, featuring a GIF of the car scene (shown below) accompanied by a looped audio clip of "What is Love." Within the next seven years, the page accumulated over 1.7 million views, 900 favorites and 800 comments.






Needs More Cowbell
Needs More Cowbell is a catchphrase originally quoted in a SNL sketch featuring Ferrell and Christopher Walken which aired on April 8th, 2000. This expression is typically used to indicate something needs more emphasis--or literally, when it needs more cowbell. The sketch parodied VH1's music documentary series Behind the Music fictionalizing the studio recording of the 1976 song "(Don't Fear) The Reaper" by Blue Oyster Cult.
The video sparked many online homages and parodies including "Cowbell Hero" (below, left) and "More Cowbell" (below, right).
"I Feel Like I'm Taking Crazy Pills"
I Feel Like I'm Taking Crazy Pills is a line Ferrell's character, Jacobim Mugatu, says in the 2001 comedy Zoolander. Since the film's release, the phrase has been used online to describe vexation when the common consensus appears to go against common sense or when an expected straight-forward situation is greeted by a surprise outcome.
You Sit On a Throne of Lies
You Sit On A Throne Of Lies is a memorable quote uttered by Buddy The Elf (played by Ferrell), the protagonist of the 2003 holiday family-comedy film Elf. On the web, the phrase is typically used to expose a lie or otherwise misleading statement told by someone else.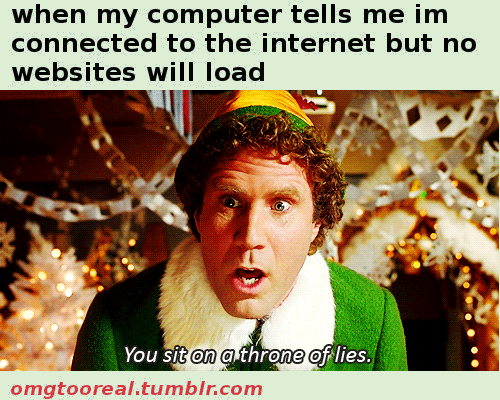 Personal Life
Will Ferrell was born on July 16th, 1967, in Irvine, California. He attended the University of Southern California, ultimately graduating with a Sports Information degree.[3] He and his wife Viveca Paulin have three sons.
Search Interest
External References