About
FunnyJunk is a content aggregator website with user uploaded content in the form of images, video and animated GIFs. Advice animals and rage comics are frequently submitted to the site, some of which were originally created by FunnyJunk users.
History
The domain FunnyJunk.com was registered by an unknown party on July 29th, 2001. According to the FunnyJunk Wiki[1], the site's administrator is known only by his screen name "Admin."[4] In April of 2010, Admin claimed to have handed over the site's administrative duties to the user TheDesigner[3], while many speculated that it was just an alias being used by Admin.[2]
Features
Content
The site allows users with registered accounts to post pictures, videos, animated GIFs, text and links. Posts can be thumbed up or down by registered users and the top voted content is featured on the front page. An image macro generator allows users to caption uploaded images and a comic creator provides a user interface for creating rage comics. The main section of FunnyJunk is considered "work safe", but there is an entire "NSFW" section accessible to registered users.
Commenting
The commenting system includes a mechanic called "rolling", which allows users to display randomly selected numbers, images and user names. The command "roll picture*" displays a random reaction image, the command "roll user" will display a random FunnyJunk user name and "roll (number)" will display a randomly generated number.
Several wordfilters have been implemented in the commenting system. The words "thumb" and "penis" becoming highlighted and capitalized and the word "Admin" has been changed to a variety of different words including "sadmin", "badmin", "Princess Celestia", "man in the mirror", and "the most beautiful man in the world."
Traffic
From May 13th to June 12th, 2012, FunnyJunk received over 19,750,000 pageviews, 56,000 logged in users and 90,000 comments.[14] As of June 13th, 2012, FunnyJunk has a Compete rank of 2,239, an Alexa[13] rank of 2,933.

Controversy
Feud With 4chan
According to a post on online news site WebUpon[15], on Feburary 28th, 2010, users from the image board 4chan led a raid against FunnyJunk in which the site was repeatedly spammed with images, but was considered a failure by the FunnyJunk community. On August 19th, 2010, YouTuber AngeloLakey uploaded an Xtranormal video titled "FunnyJunk vs 4chan", which featured a mock conversation between a 4chan user and a FunnyJunk user.
Legal Dispute With The Oatmeal
On May 25th, 2011, Matt Inman, creator of the webcomic The Oatmeal, published a post titled "What should I do about FunnyJunk.com?", which complained that many of his webcomics were being hosted without credit on FunnyJunk's servers. On June 1st, Inman published a follow-up post titled "An update on the FunnyJunk situation", which included a screenshot of a mass email sent by FunnyJunk's owner urging members of the site to contact The Oatmeal (shown below).

The Oatmeal's Facebook page was subsequently inundated with comments from FunnyJunk users attacking Inman for sending a cease and desist request to the site. Inman responded by posting a letter insulting the commenters' intelligence (shown below, left) and claimed he had no intention of suing FunnyJunk or having it shut down. A year later on June 11th, 2012, Inman published a post titled "FunnyJunk is threatening to file a federal lawsuit against me unless I pay $20,000 in damages"[11], which claimed FunnyJunk hired the attorney Charles Carreon to threaten Inman with a lawsuit for the wrongful accusation of willful copyright infringement.


Inman included an annotated version of the letter in the post (shown above, right) and outlined his plan to to raise $20,000 in donations to give to the National Wildlife Federation and the American Cancer Society. He went on to reveal that after receiving the donations, he would mail a photo of the money to Carreon along with a drawing of his mother seducing a Kodiak bear (shown below).

The same day, Redditor BrettBr0wn submitted a post linking to Inman's blog titled "This is how TheOatmeal responds to FunnyJunk threatening to file a federal lawsuit unless they are paid $20,000 in damages"[10], which reached the front page accumulating over 32,000 up votes and 2,800 comments within two days. Inman subsequently tweeted that he had raised the $20,000 64 minutes after published the blog post.
Raised the $20,000 in 64 minutes. THANK YOU EVERYONE!is.gd/DgKP13

— Matthew Inman (@Oatmeal) June 11, 2012
On June 12th, MSNBC[9] published an article titled "Cartoonist turns lawsuit threat into $100K charity fundraiser", which reported that Inman had raised $117,000 in donations from over 8,000 people within 24 hours. The article included a statement from Carreon who was surprised by the Internet's reaction to the legal dispute, revealing he would attempt to have the fundraising campaign shut down.
"I'm completely unfamiliar really with this style of responding to a legal threat. I don't like seeing anyone referring to my mother as a sexual deviant."
Highlights
Happy Hank
The exploitable photoshop meme Happy Hank uses a still image of the character Hank Hill from the Fox cartoon series King of the Hill edited over the faces of subjects in a variety of different images. The first photoshops were submitted by an unknown FunnyJunk user on December 10th, 2009.

Now Kiss
The rage comic face Now Kiss was originally created in an MS Paint comic by FunnyJunk user KimgGawjuss on February 16th, 2010.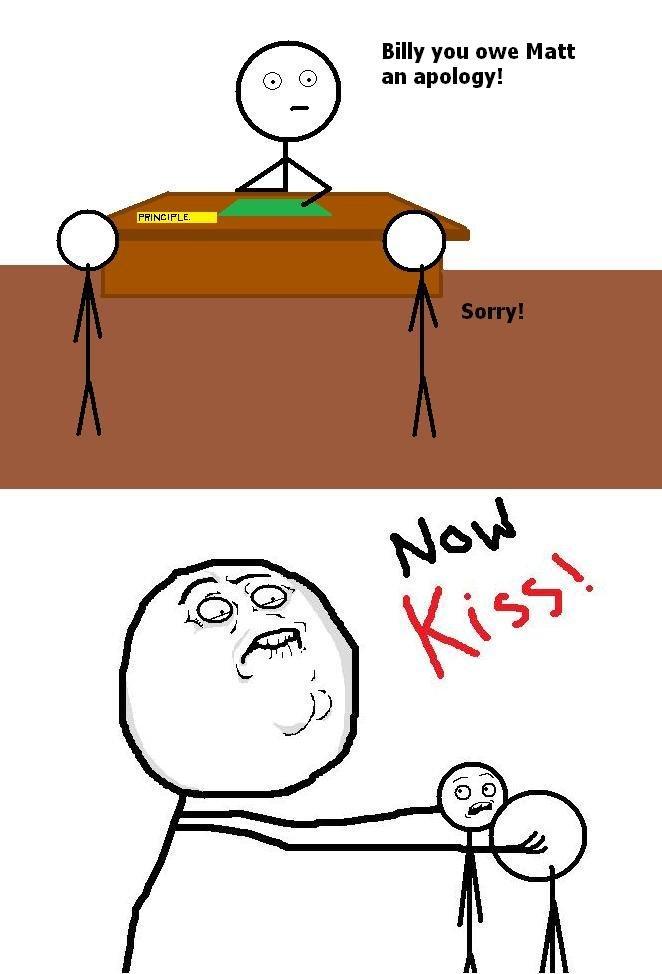 Ladies, Please, Contain Your Orgasms
The expression "Ladies, Please, Contain Your Orgasms" is typically used to caption image macros of unattractive men exhibiting an aura of self confidence. The earliest known instance was submitted by FunnyJunk user butterpancakes on September 22nd, 2010.

Oh God Why
Oh God Why is a rage comic character that expresses remorse and shame when recounted embarrassing or disturbing childhood events. It was created by FunnyJunk user Diamondhead, who published the first examples of the character on July 23rd, 2011.

Search Interest
External References