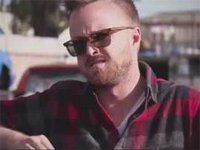 Joined by Breaking Bad creator Vince Gilligan and star Aaron Paul, MythBusters puts Walter & Jesse's tricks and hustles to the test.

The world's saddest dining ritual has been confirmed.

Portland, Oregon duo The Doubleclicks shut down the Idiot Nerd Girl stereotype with this music video featuring 150 geeks who have nothing to prove about their fandoms.

This is Mary Hvizda, a 63-year-old percussionist who rose to internet fame as the "Grandma Drummer" overnight after her solo performance of "Wipe Out" went viral on YouTube.