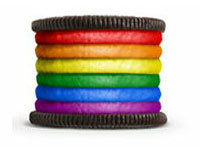 A picture of a rainbow Oreo posted in recognition of LGBT pride month on Kraft Nabisco's Facebook page immediately escalated into a lengthy debate between critics and supporters of gay marriage.

If you've ever fallen for the myth that Asians can read minds, just wait until you see what a robot designed by Asians can do.

Single Topic Blogs: Even with thousands of Facebook friends, this blog reminds readers that the web can be a very lonely place.

Baracksdubs is at it again with a new video with clips of President Barack Obama edited to form the lyrics of the song "Boyfriend" by the pop star Justin Bieber.

Yo dawg, I herd you liek flags, so… yeah, you get the message.

While this anti-bullying campaign has become a success story in the uncharted territory of social media advocacy, recent cases of bullying in school seem to raise more questions about the degree of its impact.

Valve has concluded their series on Team Fortress 2 characters with an interesting look at what goes on in the mind of the Pyro.

Single Topic Blogs: Where ALL CAPS humor and wildlife photography meet, this Tumblr site featuring funny animal image macros recently sealed a book deal last month.

This is certainly one of the more accurate Better Book Titles. In related news, E.L. James has become the first author to sell over one million copies via Amazon Kindle.