What Is The Rare Chess Move 'Il Vaticano?' The Reddit-Certified Special Move Explained
A chess move called the Il Vaticano has been gaining some notoriety in recent weeks for being a hitherto unrecognized and underappreciated special move. The trick supposedly involves the use of two bishops and can be used to decimate two of your opponent's pieces at once. Some say that the move, when used in conjunction with the Bongcloud attack, can decimate your chess opponent's strategy.

But where did this move originate, and why did it only resurface after getting renewed interest on the chess subreddit /r/AnarchyChess? Here's the history behind the resounding hoax.
What Is The Il Vaticano?
In December 2022, a /r/AnarchyChess resident poster shared an infographic showing the various "special moves" they know and enjoy using in a game of chess. The moves shared by Redditor /u/MidnightFireworks included two legitimate special moves, castling and the en passant. However, the post also contained a bizarre move dubbed the "Il Vaticano."

For those not in the know, /r/AnarchyChess is a joke chess forum full of chess fans and chess trolls alike. The users of the subreddit jumped at the opportunity to share even more special chess moves, but the allure of the "Il Vaticano" lingered.
How Did The Il Vaticano Become A Meme?
Rookie chess enjoyers who stumbled across a subreddit sharing "rare" chess moves were bamboozled by the existence of the Il Vaticano. The legitimacy of the en passant move added to the confusion around the Il Vaticano, and people began making falsified histories to account for the move.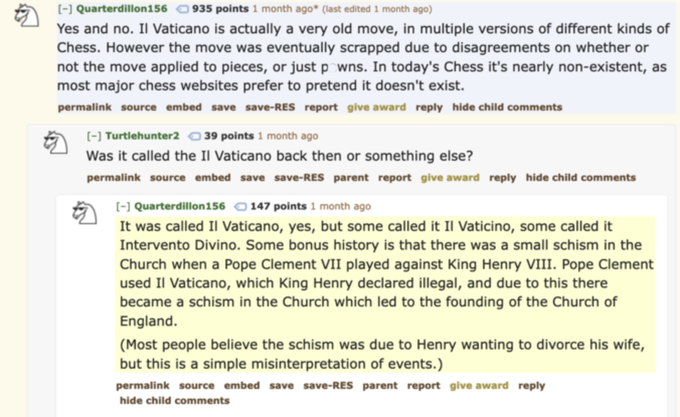 Some people even began to pose as chess players fumbling their use of the Il Vaticano move, with one person making up a fake strategy for avoiding the move, and another person lamenting about how they "Il Vaticano-ed" their own King and Queen pieces.


---
For the full history of the Il Vaticano, be sure to check out our entry on the meme here for even more information.