What Was Angel Reese's Taunt To Caitlin Clark? John Cena's 'You Can't See Me' Taunt And The Women's March Madness Controversy Explained
John Cena's undeniable pop culture impact took a strange turn over the weekend as his classic WWE taunt "You can't see me" became the subject of a debate about racism in women's basketball. For those not in the know, the women's March Madness college basketball tournaments drew to a close with the LSU Tigers' win against the Iowa Hawkeyes.
However, the celebration was marred in part by a debate about what counts as "disrespectful conduct" on the courts. LSU Tigers player Angel Reese taunted Iowa Hawkeye player Caitlin Clark by waving her hand over her face like John Cena, sparking a debate about bias, racism, and sportsmanship.

What Happened Between Angel Reese And Caitlin Clark?
Iowa Hawkeye player Caitlin Clark came to be recognized as a skillful player during the 2023 Women's March Madness college tournament. After dunking her sixth three-pointer in a match against Louisville, Clark was filmed briefly waving her hand in front of her face as if to say, "You can't see me." The news reached the creator of the taunt, John Cena himself, who congratulated her on the win.
Even if they could see you…they couldn't guard you!

Congrats on the historic performance CaitlinClark22</a> and to <a href="https://twitter.com/IowaWBB?ref_src=twsrc%5Etfw">IowaWBB on advancing to the Final Four! @MarchMadnessWBB #WFinalFour https://t.co/QvpYDTESwb

— John Cena (@JohnCena) March 28, 2023
A few days later, the Hawkeyes lost their National Championship match against the LSU Tigers by a score of 102 to 85. A few minutes before the match closed, LSU Tiger player Angel Reese was seen mimicking Clark's taunt back at her.
This is cold by Angel Reese 😬 pic.twitter.com/vZHOZTQHRh

— Bleacher Report (@BleacherReport) April 2, 2023
What Was So Controversial About The "You Can't See Me" Taunt?
The controversy surrounding the women's college basketball tournament snowballed after renowned instigator Dave Portnoy, CEO of Barstool, posted a tweet calling Angel Reese "classless" for her actions at the championship finale.

The tweet sparked a raucous debate, with major basketball legend Shaquille O'Neal and football player Emmanuel Ocho coming to Reese's defense by drawing parallels between Clark's and Reese's taunts, and calling out Portnoy for his hypocrisy.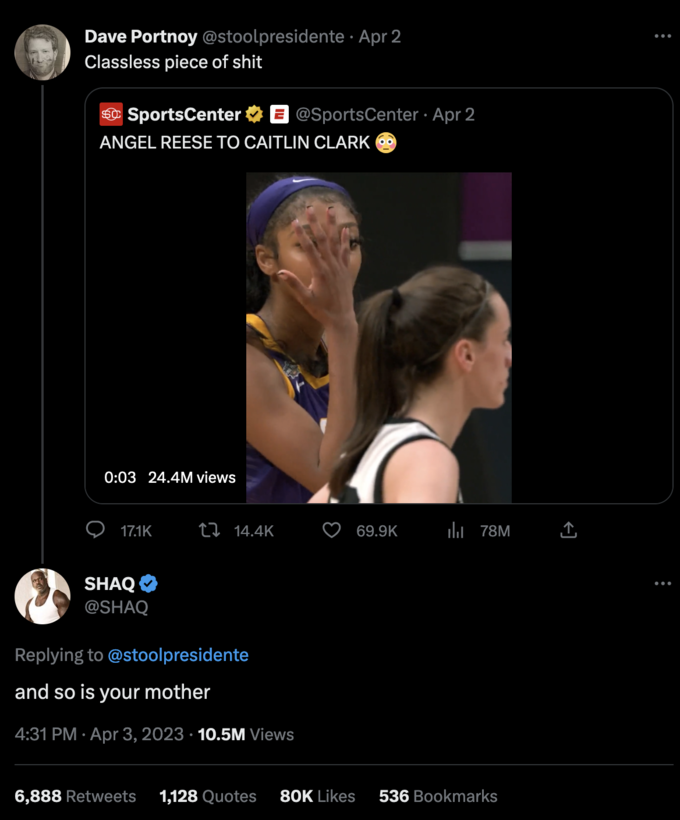 However, other users drew attention to the fact that Reese's taunt was longer and closer to the end of the game, making it more unsportsmanlike.
Where Does The "You Can't See Me" Taunt Come From?
The "You can't see me" taunt originates from a move John Cena became popular for during his stint in the WWE. The taunt involves him waving his hand in front of his face as if to imply that he is too fast or downright invisible.
The move soon became a meme, with Cena embracing the catchphrase in all its hilarity. Memes about John Cena being invisible became hugely popular in the late 2010s, and continue to be a running gag.


---
For the full history of the event, be sure to check out our entry on it here for even more information.