Why Is 'SuperCum' Trending On Twitter? The Russia-Ukraine Drone Turned Meme Explained
Since the start of the Russia-Ukraine conflict, it's been a trending topic of discussion on social media, especially on Twitter, where viral discourse often ensues. The most recent meme is a rather silly one, spawning from a typo that called a missile "SuperCum."
The idea of any military-grade weapon having such a ridiculous name is obvious meme gold, especially when the tweet came from a reputable Ukrainian account and, at first, seemed legit.
Since the viral mishap, "SuperCum" has been trending on Twitter, roping in all of the precursor memes about the Russian invasion into one Twitter storm. Let's explain.

What Does 'SuperCum' Mean?
SuperCum is basically a mistyping of the word "SuperCam" which is short for the Russian military drone the SuperCam UAV (unmanned aerial vehicle). On May 16th, the Air Force of the Armed Forces of Ukraine shared an infographic to Telegram that outlined a then-recent Russian attack. The infographic accidentally wrote "SuperCum" instead of SuperCam, which was objectively hilarious given the word's meaning.

How Did 'SuperCum' Become A Meme On Twitter?
Although it was just a minor mistake on Telegram, it was amplified on Twitter when Twitter user, and NAFO member, @Maks_NAFO_FELLA reposted the graphic, essentially making fun of the Armed Forces of Ukraine.
Soon after, the mistake became a notable one, known by many on the app who were tapped into the Russia-Ukraine discourse. Memes and funny tweets began to surface that used "SuperCum" en masse. The discourse became so commonplace that "SuperCum" landed in Twitter's "Trending" tab for a brief moment, sparking more curiosity as to how it started and what it meant.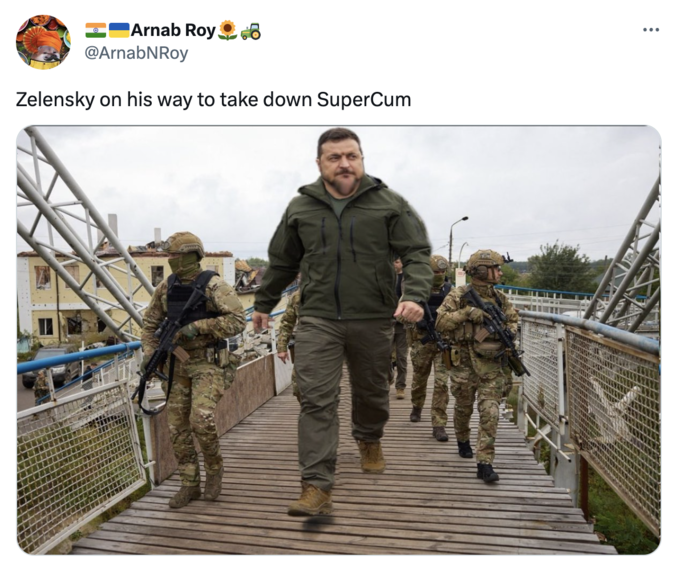 ---
For the full history of SuperCum, be sure to check out our entry on the meme here for even more information.