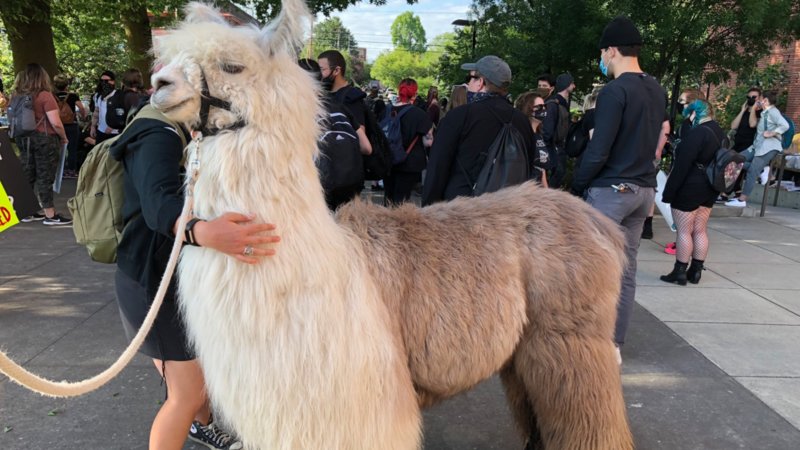 Portland Protests Graced With Presence Of Caesar, The No Drama Llama In This Trying Time
Portland, Oregon has a reputation for being one of the most idiosyncratic cities in America, and it lived up to that reputation yesterday when its protests against police brutality in the wake of George Floyd's death included a local celebrity llama named Caesar.
HAPPENING NOW: Protestors gathering at 13th & Stark. Caesar 'the no drama lama' is here too. People here telling me a big group downtown is headed this way. #PortlandProtests @KOINNews pic.twitter.com/AkWWVvvyf3

— Jenny Young (@jennytyoung) June 3, 2020
hey uh, there's a llama here pic.twitter.com/0zTH7QC1vW

— caitie🎈 b l a c k l i v e s m a t t e r (@ghostpoot) June 3, 2020
Why was this llama doing more than some of y'all today! He was out there protesting and everything pic.twitter.com/lzlJ4yFMKh

— Nakaycha Dent 🏳️‍🌈 (@nuhkaysha) June 3, 2020
Caesar, owned by Larry "The Llama Guy" McCool, became a local mainstay after he was photographed on the subway taking the bus to Portland's Comic-con. According to his team, Caesar "loves meeting new people & recognizing friends… He also knows, when walking up behind someone, just where to stop & wait for the people around that person to tell the person he's waiting for to turn around & then proceeds to snuggle them."
His presence at Portland's protests was a welcome, wholesome symbol, particularly when contrasted with the numerous videos of police brutality that have stunned social media.
If you're looking for another example of how this protest has been peaceful so far, here's a llama. This is very Portland. @fox12oregon pic.twitter.com/k6k0VR9OlV

— Brenna Kelly (@BrennaKellyNews) June 3, 2020
Take off your riot gear, all I see are llamas here #PortlandProtests #PDXprotests #BlackLivesMattter pic.twitter.com/5GQqeEQ4iK

— Jessica Olave (@JessicaOlave2) June 3, 2020
Caesar himself (or at least his social media team), weighed in on the issue, calling on activists and police to come together to demand racial equality in Salem, Oregon.
Please help us amplify the work being done in Salem, OR by activists & the Salem PD to come together & demand racial equality. In a few short days we've already come so far! #SalemForFloyd #Demcast #BlackLivesMatter https://t.co/gNYM73X2ML

— Caesar The No Drama Llama (@CaesarTheLlama) June 3, 2020