Weekend Meme Roundup: Conspiracy Chart, Omicron Variant, GirlBoss War Criminal
Welcome to the Weekend Meme Roundup, where the weekend's biggest memes are rounded up and examined more closely. This past weekend was Thanksgiving for America, which means it was an extra-long break for many to post memes and engage in discussion online.
Out of this long break, the biggest meme topics were another strain of coronavirus called Omicron, a further enhancement of the Girlboss lore with I Am A Girlboss I Am A War Criminal and a neat bundling of conspiracy theories together in the Conspiracy Chart format.

GirlBoss WarCriminal
I Am A Girlboss I Am A War Criminal refers to a copypasta parodying self-affirming mantras by mixing comedically boastful affirmations with extremely negative ones. The full quote reads, "i am a girlboss i am a war criminal i am a lunatic . i am clinically insane & the next virgin mary & i am never going to die." The quote is just the latest in the slowly expanding genre that is GirlBoss, and it stands to reason that more will be on their way eventually.





Omicron Variant
Omicron Variant refers to the newest discovered variant of COVID-19, which has multiple reactions attributed to it. Some are fearful of this new variant, which is reportedly faster spreading and more deadly than previous variants, while others are sick and tired of being held back by COVID and are outright unphased by it. A smaller subset of people are making memes out of one of a few reasons: apathy, fear of more shutdowns, the fact that the Greek letter "Xi" was skipped out of alleged concern for China and about Omicron being a Futurama reference.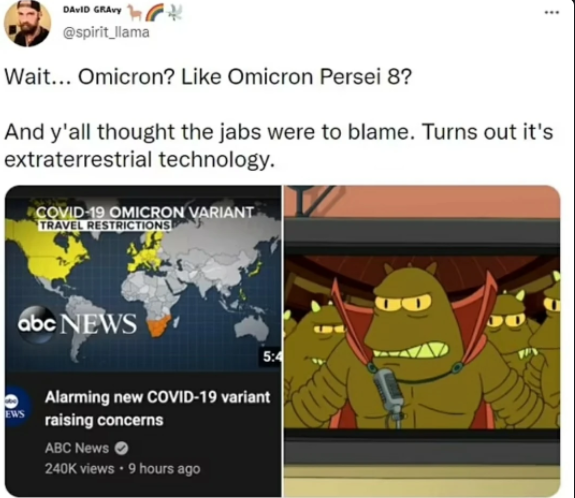 Conspiracy Chart
Conspiracy Chart refers to a social media post in which a vast number of internet conspiracies over the years were grouped up by subjective level of danger. With the original Conspiracy Chart being posted in 2020, then again in 2021, there was a lot of talk about what things were supposedly confirmed true, what things were lacking from the chart or should be removed and people making their own versions of the chart to fit their tastes.





---
Meme Insider is a Know Your Meme publication and the world's leading internet culture magazine. Find out how to get your first print copy for free, and check out the Meme Insider website for more info.