About
Advice Peeta is an image macro series featuring photos of the actor Josh Hutcherson, who played the character Peeta in the 2012 science fiction film The Hunger Games. The captions typically use puns related to baking bread, which is the character's main talent in the story.
Origin
On April 4th, 2011, Lionsgate announced in a press release[11] that actor Josh Hutcherson would be playing the role of Peeta in the film adaptation of The Hunger Games. On April 22nd, the first instance was posted to the "Advice Peeta"[5] Tumblr blog with the caption "Throw bread away? / Give it to your crush."[6] In less than a year, the post received over 140 notes.

Spread
On May 11th, 2011, the Advice Peeta Tumblr[7] posted another image macro featuring a photo of Josh Hutcherson wearing hipster glasses with the caption "I feel for the girl / named after an obscure plant", which inspired a series known as "Hipster Peeta."

On November 22nd, 2011, both Advice Peeta and Hipster Peeta were featured in a post titled "The Top 7 Hunger Games Memes" on the Hunger Games fansite Welcome to District 12.[8] On March 24th, 2012, the day after the film was released, the Hunger Games Fandom[9] blog posted a Hipster Peeta image macro with the caption "I liked Katniss / before all of panem did" (shown left) above an Advice Peeta image macro with the caption "We found bread / in a toastless place" (shown right), a parody of the 2011 Rihanna song "We Found Love."


On March 25th, the entertainment news blog Crushable[4] published a post titled "These Peeta Memes Will Only Make You Love Josh Hutcherson More", with a slideshow of notable examples from the image macro series. The following day, the Hunger Games fansite Team Peeta[10] posted an Advice Peeta image macro with the caption "Katniss / I loaf you" which linked to the Crushable article.

As of March 26th, 2012, a Quickmeme[1] page for "Peeta Mellark" has 48 submissions and an "Advice Peeta" Meme Generator[2] page has over 1,000 images.
Notable Examples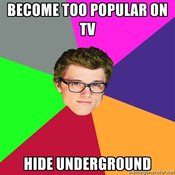 Search Interest
Search query volume for "advice peeta" climbed rapidly in March of 2012, the same month The Hunger Games was released in theaters.
Search Interest
External References
Recent Videos
There are no videos currently available.