Overview
#CNNBlackmail is a Twitter hashtag used to criticize the cable television news network CNN for threatening to dox a Redditor who posted an edited GIF showing President Donald Trump body-slamming the CNN logo on Reddit in early July 2017. While the Redditor was rumored to be a 15-year-old boy, the claim has been disputed by CNN Senior Editor Andrew Kaczynski.
Background
On June 28th, 2017, Redditor HanAssholeSolo posted an edited clip from Trump's 2007 WrestleMania appearance in which Donald Trump tosses WWE CEO Vince McMahon to the ground and punches him several times. In the post, the CNN logo is shown superimposed over McMahon's face, along with the Fake History title "Trump takes down fake news (Colorized, 2017)". Over the next week, the GIF received upwards of 9,400 points (96% upvoted) and 350 comments on /r/The_Donald.[2] On July 2nd, President Trump tweeted a video version of the GIF along with the hashtags "#FraudNewsCNN" and "FNN." Within 48 hours, the tweet received more than 564,000 likes and 339,000 retweets.
#FraudNewsCNN #FNN pic.twitter.com/WYUnHjjUjg

— Donald J. Trump (@realDonaldTrump) July 2, 2017
Developments
Apology
On July 4th, HanAssholeSolo submitted a post to /r/The_Donald,[7] in which he apologized for the controversy and any bigoted posts he made in the past. The post was subsequently locked by moderators of the subreddit.
"First of all, I would like to apologize to the members of the reddit community for getting this site and this sub embroiled in a controversy that should never have happened. I would also like to apologize for the posts made that were racist, bigoted, and anti-semitic. I am in no way this kind of person, I love and accept people of all walks of life and have done so for my entire life. I am not the person that the media portrays me to be in real life, I was trolling and posting things to get a reaction from the subs on reddit and never meant any of the hateful things I said in those posts. I would never support any kind of violence or actions against others simply for what they believe in, their religion, or the lifestyle they choose to have. Nor would I carry out any violence against anyone based upon that or support anyone who did. The meme was created purely as satire, it was not meant to be a call to violence against CNN or any other news affiliation. I had no idea anyone would take it and put sound to it and then have it put up on the President's Twitter feed. It was a prank, nothing more. What the President's feed showed was not the original post that was posted here, but loaded up somewhere else and sound added to it then sent out on Twitter. I thought it was the original post that was made and that is why I took credit for it. I have the highest respect for the journalist community and they put their lives on the line every day with the jobs that they do in reporting the news."
Andrew Kaczynski's Investigation
On July 4th, CNN[1] published an article by senior editor Andrew Kaczynski, who claimed he had tracked down the Reddit user who allegedly created the original GIF and threatened to "publish his identity" if he continued to "repeat this ugly behavior on social media again."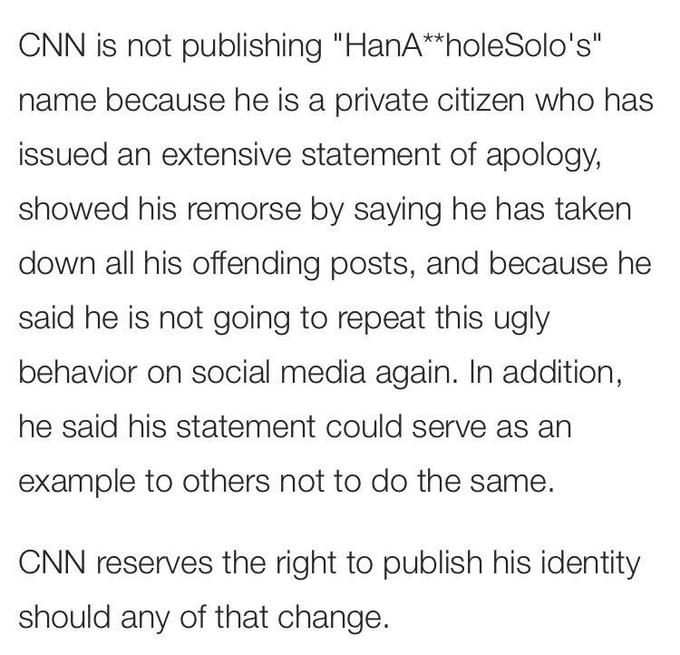 On July 5th, Kaczynski tweeted that Redditor HanAssholeSolo is an adult and not a teenage boy as some had reported. On July 5th, the news site Ricochet[8] reported that Kaczynski had previously gained online notoriety for publicizing PR director Justine Sacco's controversial AIDS joke in 2013.

Online Reaction
On July 4th, the hashtag #CNNBlackmail began trending on Twitter, with many criticizing the cable television network for threatening to release HanAssholeSolo's personal information for posting the animated GIF. Meanwhile, photoshopped images and animated GIFs about the controversy began reaching the front page of various subreddits, including /r/dankmemes,[5] /r/cnnmemes[4] and /r/memeeconomy.[6] Meanwhile, various internet users began referring to the backlash against CNN as a "meme war".






Also on July 5th, the Observer[9] published an article by 4chan moderator Jay Irwin titled "#CNNBlackmail: The Press Just Can't Stop Feeding the Trolls," which argued that "CNN -- and thin-skinned, self-righteous media outlets like them -- are the losers in this meme war."
Search Interest
External References