About
Donald Trump, born June 14, 1946 (age 74), is an American entrepreneur and TV personality best known for his celebrity billionaire status, as portrayed in the hit NBC reality show The Apprentice, and advocacy of extremely conservative political beliefs. In November 2016, Trump became the President-elect of the United States after winning the 2016 general election in an upset victory against his Democratic opponent Hillary Clinton. He served one term as president before losing the 2020 election to Joe Biden.
Online History
The Birther Movement
In March 2011, while exploring to make a bid for the Republican nomination for the 2012 presidential election, Trump began looking into the validity of President Barack Obama's birth certificate[2], stating that the "Certification of Live Birth" the White House released did not bear a signature of authenticity.[5] He continued to question President Obama's birth certificate throughout 2012, tweeting[3] on August 6th, 2012 that the produced certificate was a fraud.
An 'extremely credible source' has called my office and told me that <a href="https://twitter.com/barackobama">barackobama</a>'s birth certificate is a fraud.</p>&mdash; Donald J. Trump (realDonaldTrump) August 6, 2012
On October 22nd, 2012, Trump asserted he would be making a "very big" revelation about the president within two days.[6] On the 24th, Trump released a video (shown below, left) stating he would donate $5 million dollars to the charity of the President's choice if he provided his college applications and records as well as his passport records by October 31st to the billionaire's satisfaction. Many news sources including CBS News[7], Business Insider[8] and the Huffington Post[9] claimed the announcement fell flat of his Twitter hype.
2012 Presidential Election Reaction
Following the 2012 United States Presidential Election, Trump published several angry tweets about Barack Obama's election for a second term as President of the United States.

"Wow" Chain Tweets
On February 25th, 2013, Trump published a tweet promoting his reality television show The Apprentice. Immediately after, Twitter user Mark Gurman tweeted a link to Trump's tweet with the word "Wow." After Arizona student Erik Schmidt tweeted a link to Gurman's tweet with the word "Wow," a trend was created in which Twitter users began tweeting links to other tweets prefaced with "Wow." On February 28th, the Twitter worm was traced back by the tech news blog The Verge.[1]
Shark Tank is a dead Friday night filler compared to the Apprentice which has been number one show for week in the T. V. ratings!

— Donald J. Trump (@realDonaldTrump) February 26, 2013
Wow. twitter.com/markgurman/sta…

— Erik Schmidt (@shmdy) February 26, 2013
2016 U.S. Presidential Campaign
On June 16th, 2015, Trump formally announced his bid for the Republican primaries in the upcoming 2016 U.S. presidential election at the Trump Tower in Manhattan, New York City. During his 45-minute long announcement speech, the longest of any major party candidates to date, Trump made several pledges in a wide range of policy areas to "restore the American Dream" and become "the greatest 'jobs' president God ever created" under his trademarked campaign slogan "Make America Great Again," including plans for an overhaul of the fiscally troubled Social Security program, re-negotiation of the U.S. trade agreements, opposition against the federally sponsored Common Core State Standards Initiative in education and completion of the U.S.-Mexican border fence.
Trump's announcement was immediately picked up by virtually all major news outlets, including both traditional and online publications, generating the highest volume of Google search queries for any of the presidential candidates to date. In the weeks following his announcement, at least two public opinion polls were conducted by the Suffolk University and Fox News, with the former survey indicating Trump as the second most popular Republican candidate among likely voters in New Hampshire's primary for the Republican nomination and the latter poll similarly placing Trump in second place among Republican-registered voters nationwide.
Senator Lindsey Graham's Phone Number
On July 21st, 2015, Donald Trump launched a tirade against Republican senator Lindsey Graham while giving a speech at a campaign rally event in South Carolina, shortly after the circulation of headlines[25] that his rival primary candidate called him a "jackass" on the previous day. During his speech[26], Trump shot back at the South Carolina senator by calling him a "lightweight" and an "idiot," while making a disparaging comparison to another Republican presidential candidate Rick Perry.
"He doesn't seem like a very bright guy. He actually probably seems to me not as bright as Rick Perry. I think Rick Perry probably is smarter than Lindsey Graham."
Trump then wrapped up his diatribe by reading out the private phone number belonging to Lindsey Graham and encouraging his supporters to "try it."
Trump's Phone Number Leak
On August 3rd, 2015, Gawker[24] leaked a mobile phone number belonging to Donald Trump in an article titled "Call Donald Trump's Cell Phone and Ask Him About His Important Ideas." Prefaced with a note about Trump's disclosure of Republican senator Lindsey Graham's phone number at a campaign rally in July, the publication called on its readers to ask him questions by dialing the listed number:

You can reach Donald Trump at 917-756-8000. He has some pressing questions to answer. Does he still think Mexicans are out to rape you? Speaking of rape, does he think it's possible to rape your own wife? Just how much did he exaggerate his net worth to hit the $10 billion figure? What about breast milk does he find so disgusting? Which cabinet position would he give Sarah Palin? Interesting topics, all.
Gawker's disclosure of Donald Trump's phone number was subsequently picked up by numerous major political news sites and blogs, including ABC News[26], Politico[28], MSNBC[29] The Hill[30] and more[27], with MSNBC confirming that the leaked phone number matches the one Trump had previously used to call the news outlet.
Sarah Palin's Endorsement
On January 19th, 2015, Sarah Palin made an appearance at Donald Trump's campaign rally event in Ames, Iowa to declare her endorsement of the controversial Republican presidential front-runner. During her 20-minute long speech on stage (shown below), the former Republican vice presidential candidate reprised her notoriously militant brand of populism, or Palin-ism, filled with phrases like "pussy-footin'," "hallelujah" and "you betcha."
Palin's endorsement of Trump as the Republican presidential nominee was first picked up by the New York Times, followed by virtually all major U.S. news publications and networks covering the primaries campaign trail, many of which highlighted the former Alaskan governor's endorsement as a substantial boost towards Donald Trump's victory in the upcoming Iowa and New Hampshire caucuses. Meanwhile on Twitter and elsewhere in the social media, Palin's surprise appearance at Donald Trump's campaign rally instantly became a target of mockeries as a video clip of her rambling speech began circulating on Vine (shown below), which has garnered almost 20 million views within the first 72 hours.
Online Presence
Donald Trump's official website was registered at Trump.com[11] on July 9th, 1997, which features media and information regarding Trump's real estate properties. On February 23rd, 2006, the Trump YouTube[14] channel was created, which accumulated more than 14.1 million video views and 19,500 subscribers in the next seven years. On March 18th, 2009, Trump launched the @realDonaldTrump[12] Twitter feed, garnering upwards of two million followers in the next four years.
Campaign Aide's Social Media Posts
On July 31st, Business Insider ran an article titled "Top Trump adviser has a history of provocative and racial Facebook posts" detailing a history of racially charged status updates and controversial commentaries made by Sam Nunberg, a New York City attorney and one of Trump's political advisors, via his personal Facebook account since 2007. In one of his status updates, dated August 25th, 2007, Nunberg posted a facetious remark about calling American Reverend and civil rights activist Al Sharpton's daughter a "N***er!"

On August 2nd, two days after the publication of the article, Corey Lewandowski, Trump's campaign manager, revealed announced Nunberg has been terminated from his position in the wake of the recent revelations. Prior to this incident, Nunberg had been previously fired from his advisory role after urging Trump to participate in an unflattering profile article for BuzzFeed in early 2014.
Trump's Twitter Outage
On November 2nd, 2017, President Trump's Twitter account, @realDonaldTrump was pulled offline for 11 minutes. During that time, people on the site speculated whether his account had been suspended, removed or hacked (examples below).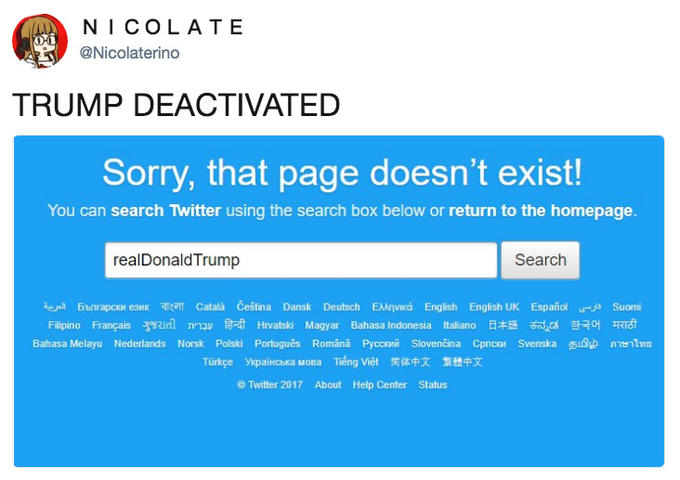 Following the account blackout, Twitter's official government account[81][82] responded to the controversy, stating that a rogue employee shut @realDonaldTrump down on their last day. Over two tweets, they said, "Earlier today @realdonaldtrump's account was inadvertently deactivated due to human error by a Twitter employee. The account was down for 11 minutes, and has since been restored. We are continuing to investigate and are taking steps to prevent this from happening again[…]Through our investigation we have learned that this was done by a Twitter customer support employee who did this on the employee's last day. We are conducting a full internal review." The posts (shown below) received a combined 68,000 retweets and 160,000 likes in less than 24 hours.


The following day, President Trump responded to the blackout on Twitter.[83] He tweeted, "My Twitter account was taken down for 11 minutes by a rogue employee. I guess the word must finally be getting out-and having an impact." The post (shown below) received more than 16,000 retweets and 61,000 likes in less than 12 hours.
Several news outlets covered the Twitter blackout, including The Washington Post,[84] Fox News,[85] Vox[86] and more.

Anti-Fandom
Erotica Fanfiction
On January 20th, 2016, LA-based comedian Elijah Daniel tweeted a message[47] pledging to get heavily intoxicated and write an entire erotica novella featuring Donald Trump in the style of the 2011 best-selling erotica novel 50 Shades of Grey, partly inspired by a Huffington Post article[48] which reported on an unconfirmed rumor that Trump allegedly "paid off" a gay lover to prevent their affair from breaking out into a public scandal.

While the article in question was deleted from the site shortly afterwards, Daniel completed his short story overnight and put it up for sale on Amazon's Kindle e-Book store on the following day. Titled "Trump Temptation: The Billionaire & The Bellboy," the adult-themed novella focuses on a one night stand between a toupee-wearing billionaire and a mysterious bellboy at a hotel.

According to the official description:
He was a billionaire, I was a bellboy, can I make it anymore obvious?

It all started one fateful afternoon in summer of 2012. I was working as a bellboy at the Trump Hotel in Hong Kong on an internship program. This was my first time in a big city. It was all I could have ever dreamed of, and more. But little did I know, it was all about to change.
Upon announcing the release of the story, Daniel's tweet[49] quickly went viral, garnering nearly 8,000 tweets and over 8,000 likes within the first 72 hours, as well as the novel[50] itself, which became an instant hit among parody reviewers and soon rose to the #1 best seller in the LGBT Erotica and Humorous Erotica categories on Amazon's general book and e-book charts.

Naked Trump Statues
On August 18th, 2016, statues of Donald Trump naked with tiny genitalia appeared in New York City, San Francisco, Cleveland, Washington D.C., and Los Angeles.[69] They were erected by the anarchist collective INDECLINE as part of a series called "The Emperor Has No Balls," referring to what the nude statues of Trump were lacking.

Cleveland was the first to remove their statue. The New York City Parks Department responded to the statue in a statement that read "NYC Parks stands firmly against any unpermitted erection in city parks, no matter how small."[70]
Reputation
In addition to his signature role as the founder, chairman, CEO and president of the Trump Organization, Donald Trump has established himself in public as a celebrity businessman who enjoys and understands extravagant lifestyle, especially through his role on the NBC reality TV show The Apparentice, which culminated with the inclusions of his name on Forbes' Celebrity 100 list (#17) and Gallup's Ten Most Admired Men and Women Alive poll in 2011.[15] Meanwhile, due to his outspoken manner in public, coupled with conspicuous display of personal wealth and staunch advocacy of conservative agendas mainly corporate deregulation, Trump has also become a frequent target of ridicule in pop culture and on the Internet.
Race-Related Controversies
Anti-Mexican Remarks
During the announcement of his presidential campaign in June 2015, Trump made several remarks addressing the issue of illegal immigration across the U.S. southern borders (quoted below), which instantly prompted a flurry of criticisms and accusations of generalizing the Mexican population from various news media outlets and Hispanics on social media.
"When Mexico sends its people they're not sending the best," said Trump. "They're not sending you, they're sending people that have lots of problems and they're bringing those problems. They're bringing drugs, they're bringing crime. They're rapists and some, I assume, are good people, but I speak to border guards and they're telling us what we're getting."
Univision's Response
In late June 2015, the New York City-based Spanish language TV network Univision[18] announced that the company would terminate its business relationship and broadcast contract with the Miss Universe Organization, on the grounds of what it perceived as "insulting remarks about Mexican immigrants" made by the pageantry co-owner Trump during his campaign announcement in the 2016 U.S. presidential election.
Today, the entertainment division of Univision Communications Inc. announced that it is ending the Company's business relationship with the Miss Universe Organization, which is part-owned by Donald J. Trump, based on his recent, insulting remarks about Mexican immigrants. At Univision, we see first-hand the work ethic, love for family, strong religious values and the important role Mexican immigrants and Mexican-Americans have had and will continue to have in building the future of our country. We will not be airing the Miss USA pageant on July 12th or working on any other projects tied to the Trump Organization.
The next day, Trump issued a personally-signed open letter in response to Univision's decision via his Facebook page[17], in which he notified the American news media company to immediately stop using Trump National Doral Miami, a Florida-based golf resort known to be frequented by Univision executives, while sarcastically congratulating the Mexican government officials for "having made such outstanding trade deals with the United States" in a postscript statement.

On June 29th, NBC[19] released a similar statement revealing its intention to end their business relationship with Trump over his "derogatory statements" regarding immigrants.
"To that end, the annual Miss USA and Miss Universe Pageants, which are part of a joint venture between NBC and Trump, will no longer air on NBC," the statement continued. "In addition, as Mr. Trump has already indicated, he will not be participating in The Celebrity Apprentice on NBC. Celebrity Apprentice is licensed from Mark Burnett's United Artists Media Group and that relationship will continue."
El Chapo's Response
On July 11th, 2015, the notorious Mexican drug kingpin Joaquín "El Chapo" Guzmán Loera escaped from the Altiplano maximum security, leaving through a 4,000 foot tunnel dug from a nearby home to the shower in his cell.[20] Trump, continuing his criticism of border control and Mexican government in general, responded directly and aggressively on Twitter on June 13th.




According to media accounts, a Twitter account called @ElChap0Guzman, purportedly run by one of Guzmán Loera's sons and followed by over 470,000 people, tweeted to Trump on the evening of July 12th, before Trump made the above remarks.[21] The tweet, now deleted, read:

Roughly translated, this means ""keep f***ing around and I'm gonna make you swallow your b**** words you f***ing whitey milk s***ter."[22] On July 13th, ABCNews reported that Trump had asked the FBI to investigate the threat.[23]
Woman Reading a Book
On November 10th, 2015, Vine user Vic Berger IV uploaded a post featuring a remixed, zoomed in video from a Trump Rally in Springfield, Illinois. The video featured clip of the televised footage where an older man asks a woman to put down the book she is reading, to which the woman reacts negatively. The video received over 16 million loops in less than one month.[40]
Later, in an interview with Jezebel, the woman, named Johari Osayi Idusuyi, revealed that the book was Citizen by Claudia Rankine.[41] She said that she had attended the rally out of curiosity, and that she and her (also black) friends had been asked to sit directly behind Trump by campaign officials so that they would be featured in the telecast, making Trump's support appear more diverse than it was. Upon realizing that she was being used in this way, she read the book as an act of silent protest.
Black Lives Matter Protest Beating
On November 21st, 2015, six attendees at a Trump presidential rally in Birmingham, Alabama, "shoved, kicked, and tackled" a Black Lives Matter protester who had attended the rally.[42] The next day on Fox News, Trump suggested that the violent attendees had done the right thing; "Maybe he should have been roughed up because it was absolutely disgusting what he was doing," he told the news anchors.
Anti-Muslim Remarks
After the 2015 Paris Terrorist Attacks, Donald Trump made a series of anti-Muslim remarks.
Cheering Post 9/11 Muslims
On November 22nd, Trump made a speech at a rally where he called for surveillance of mosques, and claimed that he saw Muslims in Jersey City, NJ (a town with an easy view of the lower Manhattan skyline) cheering when the Twin Towers fell in the September 11th, 2001 attacks.[43] Later, Trump reframed the remarks, saying that he had seen Muslims celebrate all over the world, and criticized a reporter he was quoting, making fun of the reporter's physical disability.[44]
Muslim Immigration Ban
After the 2015 San Bernardino Shooting, Trump ramped up his calls for surveillance on Muslims, calling at first for a database to be created, and then later, on December 7th, 2015, for all Muslims, including American citizens, to be barred from entering the country.[45] During a rally on the Yorktown Air Craft Carrier meant to commemorate Pearl Harbor Remembrance Day, Trump called for the ban, saying it was a temporary solution meant to suffice until the government could understand the ISIS threat to America more completely. He published the proposal in its entirety on his web site:[46]
Donald J. Trump is calling for a total and complete shutdown of Muslims entering the United States until our country's representatives can figure out what is going on. According to Pew Research, among others, there is great hatred towards Americans by large segments of the Muslim population. Most recently, a poll from the Center for Security Policy released data showing "25% of those polled agreed that violence against Americans here in the United States is justified as a part of the global jihad" and 51% of those polled, "agreed that Muslims in America should have the choice of being governed according to Shariah." Shariah authorizes such atrocities as murder against non-believers who won't convert, beheadings and more unthinkable acts that pose great harm to Americans, especially women.
Mr. Trump stated, "Without looking at the various polling data, it is obvious to anybody the hatred is beyond comprehension. Where this hatred comes from and why we will have to determine. Until we are able to determine and understand this problem and the dangerous threat it poses, our country cannot be the victims of horrendous attacks by people that believe only in Jihad, and have no sense of reason or respect for human life. If I win the election for President, we are going to Make America Great Again." – Donald J. Trump
Cinco De Mayo Taco Bowl Photo
On May 5th, 2016, a photograph of Donald Trump seated at his desk eating a taco bowl was posted on the official Donald Trump Facebook[51] and Twitter[52] feeds, along with the message "Happy #CincoDeMayo! The best taco bowls are made in Trump Tower Grill. I love Hispanics!" (shown below). Within 24 hours, the Facebook post gained over 578,700 likes and 560,000 shares, while the tweet received upwards of 99,000 likes and 79,000 retweets.

The posts were widely mocked online by many who speculated that it was a poorly-executed publicity stunt and patronizing toward Hispanic communities. That day, BuzzFeed[53] highlighted a critical Facebook comment from user Andrea Mucino, which gathered more than 60,000 likes prior to its deletion (shown below).

Also on May 5th, Democratic presidential candidate Hillary Clinton quoted Trump's post in a tweet[55] criticizing his stance on illegal immigration (shown below, left). Meanwhile, Giphy[54] user lectroid posted a looped animation of Trump eating the taco bowl in front of a spinning American flag (shown below, right). In the coming days, several news sites published articles about the online backlash to the posts, including The Independent,[56] USA Today,[57] The New York Times,[58] BBC[59] and Politico.[60]


Anti-Semitic Tweet Controversy
On June 15th, 2016, Twitter user @FishBoneHead1[67], a self-described "comedian," tweeted an anti-Hillary Clinton poster featuring an image of a blue hexagram, clearly resembling the Jewish Star of David (✡), with the caption reading "Most Corrupt Candidate Ever" and set to the background image of a pile of $100 bills (shown below, left). On June 22nd, an anonymous 8chan user reposted the same image on the site's /pol/ board[61] (shown below, right).


On July 2nd, Trump shared the image via his Twitter account[62] (shown below, right), which quickly prompted a firestorm of social media backlash from his critics and Clinton's supporters, many of whom blasted the Republican presidential candidate for promoting anti-Semitic imagery. Later that same day, not long after the term "Star of David" began trending nationally on Twitter in the United States, the controversial tweet was taken down by Trump's campaign team and replaced by an edited version of the same image[63] without the six-pointed star (shown below, left).


By the afternoon on July 3rd, Trump's original tweet had been widely condemned by leaders of the Jewish community and major U.S. news outlets[64][65][66] alike, though Trump's campaign team continued to remain quiet in the wake of the controversy. That same day, Mic[67] published an article titled "Donald Trump's "Star of David" Hillary Clinton Meme Was Created by White Supremacists," identifying @FishBoneHead1's tweet as the origin of the anti-Clinton image. On July 4th, Trump issued a follow-up statement[68] blaming the "dishonest media" for allegedly jumping to the conclusion that the hexagram is a Jewish Star of David (shown below).

Khiz Khan Controversy
On July 28th, 2016, Khizr and Ghazala Khan, Pakistani-born Americans and the parents of American war veteran Captain Humayun Khan, made a special appearance at the Democratic National Convention to deliver a speech in honor of their son, who was killed in action by a car bomb during Operation Iraqi Freedom in June 2004. During the speech, Khizr also criticized Donald Trump for his proposed ban on Muslim immigration and questioned the Republican presidential nominee's understanding of the United States Constitution. In an interview with ABC News, Trump reacted to the speech by questioning if Ghazala Khan "was allowed to have anything to say," leading many to accuse him of making a bigoted statement toward Muslim Americans.
Trump's Response to Russian Interference
After categorically denying the Russians were behind 2016 United States Presidential Election Hack on the Democratic National Committee, Trump admitted on January 11th, 2017, that Russia was probably behind the attacks at an explosive press conference, his first as President-elect.[80] He later stated it could have been from another country.
Gender-Related Controversies
1996 Miss Universe
In the first Presidential Debate of 2016, Hillary Clinton brought up sexist and disparaging remarks Trump had said about Alicia Machado, a model and actress who won the Miss Universe pageant in 1996, the first year Trump owned the pageant, to demonstrate Trump's demeaning attitudes towards women. Early the morning of September 30th, 2016, Donald Trump posted several tweets[71] suggesting Clinton had been "duped" by Machado or that Clinton had helped Machado become a US Citizen so that she use her in the debate. He also called Machado "disgusting" and invited people to "check out (her) sex tape and past)."[72]


Trump was referring to conservative claims meant to smear Machado,[73] including that she had appeared in porn. Snopes[74] had debunked such claims the day before, noting that the porn film she was reported to have starred in starred lookalike adult film actress Angel Dark. There were also claims that Machado had a sex tape, referring to her appearance on Spanish reality television show La Granja, similar to America's The Real World. In the show, Machado was filmed in bed with a cast member, though Snopes describes the footage as "nothing more than some grainy, night-vision footage of a couple of covered figures writhing in a bed, (which) hardly qualifies as explicit."
Later that morning, several major media outlets covered Trump's tweets, including The Daily Dot,[75] The Los Angeles Times,[76] The Chicago Tribune,[77] and many more.
The Trump Tapes
On October 7th, 2016, two days before the second round of the United States presidential debate, the Washington Post published a three-minute hot microphone recording in which Trump can be heard making a series of vulgar remarks about kissing, groping and trying to have sex with women while sharing a bus ride with former Access Hollywood host Billy Bush. After the recording began circulating online, Trump was widely condemned for the comments, with many calling them an admission of sexual assault.
"You know I'm automatically attracted to beautiful--I just start kissing them. It's like a magnet. Just kiss. I don't even wait. And when you're a star, they let you do it, you can do anything. … Grab them by the pussy. You can do anything."
Anti-Obama Remarks
In October 2012, American political pundit Stephen Colbert responded to Trump's Birther accusations against Barack Obama by making a counteroffer saying he would donate $1 million to the charity of his choice if he would allow Colbert to "dip his ball in his mouth."[10] The same night, Obama responded on The Tonight Show[11], joking that his feud with Trump dated back to when they were growing up together in Kenya.
Grammarly Study
On October 6th, 2015, the grammar checking website Grammarly[33] published a blog post titled "Presidential Debate Grammar Power Rankings," which featured an infographic comparing Facebook grammar mistakes made by supporters of various candidates in the 2016 United States presidential election. The company pooled 180 samples per candidate over a period of four months, showing that supporters of Donald Trump received the worst grammar score of any candidate.

In the coming days, several news sites reported on the study, including USA Today,[35] The Washington Post,[36] The Telegraph[37], The Daily Dot[38] and more.[34] On October 7th, an entry for the grammar study was created on Snopes,[39] which noted that Grammarly's findings could not be considered a scientific study, marking their claims as "unproven."
Tax Scandal
On October 1st, 2016, after receiving a leak of some of Trump's tax returns, The New York Times published an article that revealed Trump had lost $916 million dollars in 1995, "from the financial wreckage he left behind in the early 1990s through mismanagement of three Atlantic City casinos, his ill-fated foray into the airline business and his ill-timed purchase of the Plaza Hotel in Manhattan." Because of American tax laws, the loss would have wiped out over $50 million dollars in taxable income over the next 18 years.
"Second Amendment People" Joke
On August 9th, 2016, Donald Trump gave a speech in Wilmington, North Carolina where he tried to drum up support by insinuating that Hillary Clinton would abolish the Second Amendment that states Americans have the right to bear arms. While talking about the possibility of Hillary nominating Supreme Court justices, Trump joked that perhaps "Second Amendment people" could prevent her from picking anti-gun judges.
Related Memes
Donald Trump's "Bing Bong" Speech
Donald Trump's "Bing Bong" Speech is a nonsensical phrase uttered by the American businessman and Republican presidential candidate to mockingly describe how political lobbying works during a keynote speech he delivered at the Republican Party's "Lincoln Day" event in Birch Run, Michigan. Upon entering online circulation in August 2015, the soundbite of Trump saying the words "bing bong" became a popular audio material for parodies and remixes on Vine and YouTube.
McDonald's Meal Photo
On May 26th, 2016, Trump posted a photograph of himself eating a McDonald's burger and fries while aboard a plane with the caption "Celebrating 1237! #Trump2016" to his Instagram[1] feed (shown below). Within four days, the post gained over 124,000 likes and 16,900 comments.

"Make America Great Again"
Make America Great Again is a political slogan used by Donald Trump during his 2016 Republican presidential primary campaign. After a photograph of Trump wearing a hat bearing the slogan was taken on a campaign visit to the Mexican border, the phrase and merchandise bearing it became frequently used in a satirical photo fad and photoshops.
"Can't Stump The Trump"
"Can't Stump the Trump" is a political slogan often used by supporters of Donald Trump, indicating that he is incapable of being flustered or defeated by his critics.
#DonaldTrumpsGoogleHistory
#DonaldTrumpsGoogleHistory is a Twitter hashtag associated with mock search queries imagined to be found in the Google history of Donald Trump.
"A Small Loan of a Million Dollars"
"A Small Loan of a Million Dollars" is a statement uttered by Donald Trump during a live television segment in which he confessed that his father loaned him one million dollars to start his real estate business. After being posted online in late October 2015, the statement was widely mocked online for being delusional and out of touch.
Trump Your Cat
Trump Your Cat, also known by the hashtag #TrumpYourCat, is the act of using a ball of a cat's discarded fur, typically left from brushing, to emulate the hairstyle of tycoon and 2016 Presidential candidate Donald Trump.
Trump Facts
Trump Facts, also known by the hashtag #TrumpFacts, refers to a series of exaggerated and satirical tweets mocking Donald Trump's xenophobic and racist rhetorics regarding the prevalence of radicalized Islam in Great Britain.
Donald Trump's Small Hands
Donald Trump's Small Hands refers to a series of jokes referring to the supposedly smaller-than-average hand size of Trump.
Michael Moore in TrumpLand Speech Remixes
Michael Moore in TrumpLand Speech Remixes refers to edited versions of a monologue delivered by filmmaker Michael Moore in his documentary Michael Moore in TrumpLand, in which he describes how electing Donald Trump as president would be "the biggest fuck you ever recorded in human history."
#TrumpBookReport
#TrumpBookReport is a Twitter hashtag used to imagine Trump delivering a book report on classic pieces of literature.
Donald Trump's Wall
Donald Trump's Wall refers to a campaign promise made by Trump during his 2016 presidential bid to build a wall on the border between the United States and Mexico in order to keep Mexicans out of the country.
Bigly
Bigly is an archaic English adverb that means "in a big manner," which became a word of interest due to its frequent use by Trump during the 2016 United States presidential primaries and debates.
Donald Trump's Debate Chair
Donald Trump's Debate Chair refers to a photoshop meme based on a picture of Trump grasping a chair while standing behind rival Democratic candidate Hillary Clinton during the second 2016 United States presidential debate in early October 2016.
Trump Lurking Behind Clinton
Trump Lurking Behind Clinton refers to photographs and videos showing Trump standing behind Hillary Clinton during the second presidential general election debate held in early October 2016.
Trump Sniffles
Trump Sniffles refers to a series of tweets criticizing Trump for loudly breathing through his nose during the first presidential debate of the 2016 United States Presidential Election.
Cult of Kek
The Cult of Kek, also known as the Church of Kek, is a satirical religion based around the worship of the ancient Egyptian deity Kek[4] (also spelled Kuk or Keku), an androgynous God of darkness and chaos who is often depicted as a frog or frog-headed man in male form or a snake-headed woman in female form. Additionally, the deity is often associated with the popular 4chan slang term "Kek", and was often embraced by supporters of Trump during his 2016 United States presidential bid.
NAMBLA Donation Hoax
The NAMBLA Donation Hoax refers to the false rumor that Trump refused to disclose his tax returns during his 2016 United States presidential bid because he did not want to reveal the records of charitable donations he had allegedly made to the North American Man/Boy Love Association (NAMBLA), a pedophile and pedrasty advocacy organization.
#ManyPeopleAreSaying
#ManyPeopleAreSaying is a Twitter hashtag mocking Trump's frequent use of phrases like "many people are saying" to preface controversial statements and conspiracy theories.
Sassy Trump
Sassy Trump refers to a series of videos created by comedian and actor Peter Serafinowicz in which he takes footage of speeches made by Trump and dubs over them in an effeminate voice.
Trump Is Playing 4D Chess
Trump is Playing 4D Chess is an expression used by Trump supporters when speculating that his presidential campaign was using advanced political strategies to manipulate and dominate the news media.
"Soft Sensuality" Remark
On January 10th, 2017, after Trump's team had a notoriously difficult time booking celebrities to play his inauguration, Buzzfeed[78] published a statement from inauguration planner Tom Barrack that said the January 20th inauguration would not be a "coronation," but rather have a "soft sensuality" and "poetic cadence" (shown below).

The phrase "soft sensuality" struck Twitter users as odd, and they began making jokes with sexual undertones regarding the inauguration, which were compiled in a Twitter Moment[79] the following day.
i'm ready for the inauguration and also to die quickly of natural causes pic.twitter.com/rRcIybjsty

— Chris Person (@Papapishu) January 10, 2017



Search Interest
External References
[1] The Verge – Donald Trump sparks Twitters latest weird meme
[2] Huffington Post – Donald Trump: Obama Birth Certificate Details Being Sought By Investigators In Hawaii
[3] US News – Wolf Blitzer Spars With Donald Trump Over Obama's Birth Certificate
[4] NY Daily News – Donald Trump: Obama's birth certificate was released because I put on the pressure
[5] Newsmax – Trump: New Facts Emerging on Obama Birth Certificate
[6] NY Daily News – Donald Trump teases 'very big news' about Obama on Wednesday
[7] CBS News – Donald Trump's "big" announcement is not so big
[8] Business Insider – Donald Trump Makes His 'Big' Announcement -- And It's A Total Disappointment
[9] Huffington Post – Was Donald Trump's Announcement A Gigantic, Pointless Waste Of Time Promulgated By A Venal Con Artist?
[10] Huffington Post – Colbert Offers Trump $1M To Dip Balls In His Mouth (VIDEO)
[11] Huffington Post – Barack Obama Laughs Off Feud With Donald Trump On 'The Tonight Show'
[12] Twitter – @realDonaldTrump
[15] Huffington Post – Donald Trump Ranked Sixth on Gallup's Most Admired List
[16] Wikipedia – Donald Trump's 2016 Presidential Campaign
[17] Facebook – An Open Letter to Univision
[18] Politico – Donald Trump bans Univision staff from his Miami golf resort
[19] NBC Universal (via Wayback Machine) – NBC STATEMENT REGARDING DONALD TRUMP
[20] BBC – Mexican drug lord Joaquin 'El Chapo' Guzman escapes jail
[21] The Daily Dot – Escaped drug lord threatens Donald Trump on Twitter for racist remarks
[22] MediaIte – El Chapo Sends Death Threats to Donald Trump, Calling Him A 'Whitey Milksh*tter'
[23] ABCNews – Donald Trump Asks FBI to Investigate El Chapo Related Threat
[24] Gawker – Call Donald Trump's Cell Phone and Ask Him About His Important Ideas
[25] Politico – Donald Trump gives out Lindsey Graham's cellphone number
[26] ABC News – Donald Trump Gives Out Lindsey Graham's Cell Phone Number
[27] Houston Chronicles (via Wayback Machine) – Attack targets Trump website as Gawker posts old cell number
[28] Politico – Gawker publishes Donald Trump's cell phone number
[29] MSNBC – Gawker releases Trump's cell phone number
[30] The Hill – Gawker publishes Trump phone number
[31] The Daily Dot – Anonymous hacktivists deface Donald Trump's website with a tribute to Jon Stewart
[32] Talking Points Memo – Hackers Hit Trump Website To Post Tribute To Jon Stewart
[33] Grammarly – Presidential Debate Grammar Power Rankings
[34] On Politics (via Wayback Machine) – Democrats Crush Republicans in grammar
[35] USA Today (via Wayback Machine) – Democrats crush Republicans in grammar
[36] The Washington Post (via Wayback Machine) – Trump supporters have the worst Facebook grammar
[37] The Telegraph – Donald Trump fans have the worst grammar and spelling, study shows
[38] The Daily Dot – Donald Trumps Facebook commenters have the worst grammar
[39] Snopes – Trump Roast
[40] Vine – Vic Berger IV's post
[41] Jezebel – A Conversation With Johari Osayi Idusuyi, the Hero Who Read Through a Trump Rally
[42] CNN – Trump on protester: 'Maybe he should have been roughed up'
[43] The Guardian – Donald Trump: 'Worldwide, Muslims were going wild' after 9/11 attacks
[44] YouTube – Trump mocks reporter with disability
[45] Huffington Post – This Neo-Nazi Response To Donald Trump's Anti-Muslim Plan Says It All
[46] Donald J. Trump for President (via Wayback Machine) – ​DONALD J. TRUMP STATEMENT ON PREVENTING MUSLIM IMMIGRATION
[47] Twitter – Elijah Daniel's Tweet
[48] The Huffington Post – Did Trump Pay Off His Secret Gay Lover? (defunct)
[49] Twitter – Elijah Daniel's Tweet
[50] Amazon – Trump Temptation: The Billionaire & The Bellboy
[51] Facebook – Happy Cinco de Mayo
[52] Twitter – Happy Cinco de Mayo
[53] BuzzFeed – People Are Loving This Woman's Clap Back To Donald Trump
[54] Giphy – Trump Animated GIF
[55] Twitter – @HillaryClinton
[56] The Independent – Donald Trumps I love Hispanics picture
[57] USA Today – For the Record I love Hispanics!
[58] The New York Times (via Wayback Machine) – Donald Trumps Taco Bell Message
[59] BBC – Donald Trump declares Hispanic love with tacos
[60] Politico – Trump tweets picture of him eating taco bowl
[61] 8chan – My D**k Is About to Be Diamonds (archived)
[62] Politwoops – @RealDonaldTrump's Tweet (archived)
[63] Twitter – @RealDonaldTrump's Tweet
[64] CNN – Donald Trump's 'Star of David' tweet controversy, explained
[65] New York Times – Hillary Clinton's Campaign Calls Donald Trump's Star of David Tweet Anti-Semitic
[66] NBC News – Trump Responds to Criticism of 'Star of David' Tweet
[67] Mic – Donald Trump's "Star of David" Hillary Clinton Meme Was Created by White Supremacists
[68] Twitter – @RealDonaldTrump's Tweet
[69] Washington Post – These protesters wanted to humiliate 'Emperor' Trump. So they took off his clothes.
[70] Gothamist – Here's How NYers React To A Life-Size Naked Donald Trump Statue In Union Square
[71] Twitter – @pourmecoffee
[72] Twitter – @realDonaldTrump
[73] The Daily Beast – The Race to Smear Miss Universe Alicia Machado as a Bloodthirsty, Drug Lord-Loving Porn Star
[74] Snopes – Doppelbangher
[75] The Daily Dot – Trump goes on late-night tweetstorm, says to check out Alicia Machado's 'sex tape and past'
[76] Los Angeles Times – Trump continues attacks on former Miss Universe with middle-of-the-night tweets
[77] Chicago Tribune – Trump attacks former Miss Universe in early morning tweet storm
[78] Buzzfeed – Trump's Inauguration Will Have 'Soft Sensuality,' 'Poetic Cadence'
[79] Twitter Moments – Are you ready for the 'soft sensuality' of Trump's inauguration?
[80] New York Times – Trump Says 'I Think It Was Russia' That Hacked the Democrats
[81] Twitter – @TwitterGov's Tweet
[82] Twitter – @TwitterGov's Tweet
[83] Twitter – @realDonaldTrump's Tweet
[84] The Washington Post – Rogue Twitter employee on last day of job deactivated Trump's personal account, company says
[85] Fox News – Twitter security slammed after rogue employee deactivates Trump's account
[86] Vox – It turns out a departing Twitter employee took down Trump's account
Recent Videos 304 total
Video uploads have been disabled for this entry.
Recent Images 1,465 total
Image uploads have been disabled for this entry.