"Naturally, I Finished My Set" / Cameron Leslie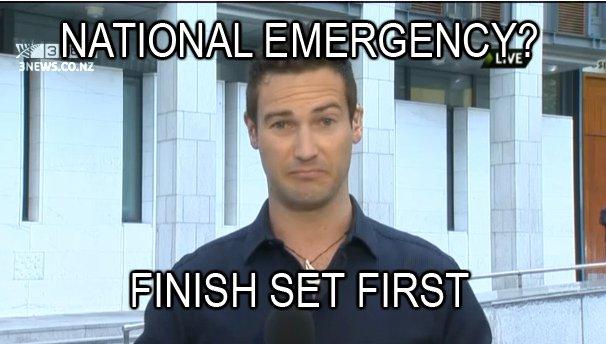 Overview
"Naturally, I Finished My Set" is a catchphrase originally said by New Zealander Cameron Leslie in a news interview in which he was supposed to be recounting what happened during the bombing[12] in Oslo, Norway in July 2011. In stark contrast to the tragic nature of the news story, Leslie's boastful account of how he managed to complete his workout session before escaping from the site came off as both odd and inappropriate to the audience.
Background
On July 22nd, 2011, a 32-year-old Norwegian right-wing extremist named Anders Behring Breivik detonated a car bomb in Regjeringskvartalet, the executive government quarter of Oslo, Norway. A second attack occurred less than two hours later at a youth camp organized by the youth organization (AUF) of the Norwegian Labour Party (AP) on the island of Utøya in Tyrifjorden, Buskerud, where Breivik killed a large number of innocent people with a variety of military style firearms. The Norwegian Prime Minister Jens Stoltenberg called the attack a "national tragedy" and the worst atrocity in Norway since World War II. These events generated significant attention from media around the world.
On July 25th, New Zealand news program Campbell Live managed to locate and interviewed a New Zealand national living in Norway named Cameron Leslie, who claimed to have been working out at a gym approximately 50 meters away from the ground zero at the time of the bombing. During his interview, Leslie diverged considerably from recounting the tragic event to mention irrelevant details like how he had bicycled for 20 minutes to ge to the gym and that he was in the middle of bench-pressing a 165kg weight when the bombing happened. Near the end of the segment, he recalled his reaction upon hearing the evacuation message: "naturally, I finished my set, and then made my way to the second level."
Notable Developments
The interview was uploaded online to TV3's website[1] immediately after the show aired on July 25th, 2011, receiving more than 230,000 views in just over 48 hours. The following morning, the video was reposted on the BodyBuilding Forums[5], Gawker[6] and LiveLeak.[7] Later that week, it was featured on the Tosh.0 blog[8] and the Huffington Post[13], where Leslie was quoted as calling his remarks "a bad taste joke."[14] On July 28th, 2011, a fictitious Twitter account[4] claiming to be Cameron Leslie was created, which ceased tweeting by that September. The same day, a remix of Leslie's interview was uploaded to YouTube, which gained more than 60,000 views in a little under a year.
Ove the next several months, the video was shared on hockey forum HF Boards[15] and body building forum Intense Muscle.[16] Two Facebook fan pages were also created: "Naturally finishing your set of 165kg bench press during a terrorist attack[2] and "Naturally, I finished my set"[3], which have more than 27,000 likes combined as of June 2012.
Merchandise
In August 2011, New Zealand t-shirt company Mr. Vintage[9] released a line of shirts with the phrase, to which Leslie replied on the company's fanpage, calling them "low-lying scumbags." Additionally, a mock billboard advertisement with the quote was put up for the New Zealand beer company Tui.[10]


Notable Examples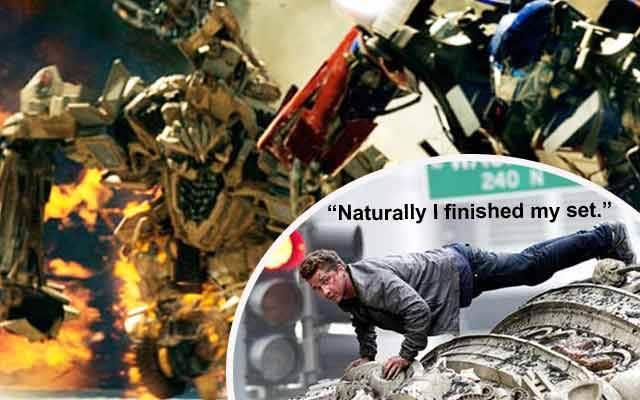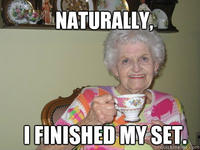 Search Interest
Search queries for "Cameron Leslie" yielded a significant spike following the broadcast of the interview on June 25th, 2011. The previous spikes can be attributed a successful Paralympics athlete from New Zealand with the same name.
External References