This submission is currently being researched & evaluated!
You can help confirm this entry by contributing facts, media, and other evidence of notability and mutation.
Overview
Sandra Bland was a 28 year-old African American university administrator and activist who was arrested during a traffic stop on July 10th, 2015 and was found dead in her prison cell three days later. Initially ruled a suicide, online and offline protests spurred the Texas Rangers of Waller County to begin investigating her death as a murder, echoing the public outcry from other police brutality controversies of 2014 and 2015.
Background
On July 10th, 2015, Sandra Bland was in the process of moving to Texas after taking a job offer from her alma mater university, Prairie View A&M.[1] A Texas Department of Public Safety trooper named John Encinia pulled Bland over for improperly signaling a lane change and, after she refused to put out a cigarette, the two had an exchange where Bland ended up on the grass next to the road, shouting that her head had been slammed on the ground.[2] The officer arrested her for "Assault on a Public Servant." The arrest was filmed by a bystander and uploaded to social media by an unknown user.[1][4] The dashcam footage was released on July 21st, although, according to NBC News, "At several points in the video of Bland's arrest, posted Tuesday to the department's YouTube channel, video of a person walking or a car driving by are cut or repeat themselves as the audio continues uninterrupted," leading to claims that the dashcam video had been edited.[13]
On July 13th, after spending the weekend in jail, Bland refused her 7 am breakfast. At 9 am, she was found dead in the cell. Prison authorities say that she had hung herself with a plastic bag.[2] A video of the hallway outside the cell was released by the department, and officers claimed that since the camera was motion-detecting, they could confirm that no one had been in the hallway for 90 minutes prior.
The official ruling on her death was suicide, but on July 21st, 2015, the District Attorney of Waller County announced that the death would be investigated as if it were a murder investigation after a public outcry, including a Change.org petition that received over 150,000 signatures.[12] This outcry included the opinions of her family, friends, pastor, and a bailbondsman who spoke to Bland the day before her death, all of whom said that they didn't think that Bland would kill herself. Family cited no history of depression and the fact that she was excited about her new job to back up their claims, as well as a history of racism in the Waller County Police Department.[1]
Notable Developments
#WhatHappenedtoSandraBland
On July 14th, 2014, users in the community of Black Twitter began tweeting photographs of Sandra Bland, mostly smiling selfies, with the hashtag "#WhatHappenedtoSandraBland."[8] The users also linked back to a post by Isiah Carey, a local Texan Fox News reporter, who had claimed to have spoken to Sandra Bland's family and said that no one seemed to understand why she would commit suicide, especially her family.[5] On the following day, after the bystander video of her arrest had been broadcast, the hashtag was 4,000 times, and the hashtag #SandraBland (often paired with the un-hashtagged phrase "Whatever Happened to) had been tweeted 34,000 times.[6][7] As of July 21st, 2015, both hashtags have been used on Twitter more than 155,000 times. Another hashtag, #JusticeForSandy, was also in circulation during this time.

In addition, many images featuring the hashtag have been circulating on Facebook and Tumblr.[9]



A selection of hashtagged images.
#IfIDieInPoliceCustody
After a second death in police custody, that of African American teen Kindra Chapman, accused of stealing a cell phone and then also found hung in her jail cell the following day, activists took to Twitter using the hashtage #IfIDieInPoliceCustody, using it to leave messages to their followers about how they would like to be treated or how they would like their deaths fully investigated.[11] Some tweeters said they would want their families to ask questions of their deaths in the same way that Sandra Bland's family was pushing the media and Texas police to question hers; in addition, many users Tweeted pictures they would like used or messages they would like to give. The effect of the protest was to make clear that they believed that this type of death could happen to any black person in America. First tweeted on July 15th, 2015, the hashtag was used more than 35,000 times in the six days following, and on Sunday July 19th, activists used it, in tandem with the slogan Black Lives Matter, at a Town Hall Meeting featuring presidential candidates Bernie Sanders and Martin O'Malley.[10]



Bland's Depression Vlog
On July 16th, 2015, conservative journalist Charles Johnson uploaded a vlog released by Bland prior to her death, in which she discusses her issues with depression (shown below).
Inmate Interview
On July 24th, the Texas news station KTRK-TV released an interview with Texas resident Alexandria Pyle, who was jailed in the cell next to Bland for unpaid traffic tickets. In the interview, Pyle claims she communicated with Bland and believes she did commit suicide (shown below).
Operation Rage for Sandra
Also on July 24th, Anonymous-affiliated collective AnonIntelGroup[14] uploaded a YouTube video accusing the Waller County Police Department of covering up Bland's murder and announcing a "day of rage" in protest of the incident (video deleted). In the first week, the video gathered upwards of 1.9 million views and 1,100 comments. On July 27th, AnonIntelGroup[14] released another video demanding the termination of Walter County police officer John Encinia (shown below, right), along with a series of promotional tweets for the upcoming protest, which is scheduled to be held on August 8th, using the hashtag #RageForSandraDay.[15] Meanwhile, several news sites have published articles about the operation, including Mic,[16] IBI Times[17] and Mirror.[18]
On July 27th, the AnonIntelGroup YouTube channel released a video announcing that the day of rage would be held the following month on August 8th and demanding the firing of officer John Encinia (video deleted). Meanwhile, the @AnonIntelGroup[14] Twitter feed posted the video along with the hashtag #RageForSandraDay.[15] On July 28th, the county officials confirmed that the local police authorities have been under cyber attack and received death threats as a result of the incident. That same day, the county released a rough cut video clip of Bland's booking process following her arrest on July 10th to "dispel rumors concerning her death." Several news sites have published articles about the operation, including Mic,[16] IBI Times[17] and Mirror.[18]
Grand Jury Decision
On Monday, December 21st, after meeting for eight hours, the grand jury in Waller County concluded that no one would be indicted for murder in the death of Sandra Bland.[19] However, the grand jury was set to reconvene in January to see if anyone should be indicted for lesser charges. The notice led to social media outcry, with over 120,000 people talking about the story on Facebook.[20] Notable messages came from Nicki Minaj on Instagram, who wrote "This woman didn't kill herself. smh"[21] and from Bernie Sanders, who issued the following statement:[22]
"Sandra Bland should not have died while in police custody. There's no doubt in my mind that she, like too many African Americans who die in police custody, would be alive today if she were a white woman. My thoughts are with her family and her loved ones tonight. We need to reform a very broken criminal justice system."
Users on Twitter spoke about the decision using the hashtags #SandraBland[23] and #SayHerName,[24] often complaining that they felt that it was unfair.
Cellphone Video
On May 6th, 2019, the YouTube account Investigative Network published a video shot by Sandra Bland on her cellphone during her arrest (shown below). In the video, Bland and her arresting officer Trooper Brian Encinia argue about her apprehension. In the video, the officer threatens bland with a stun gun, saying "I will light you up." Within two days, the video received more than 1 million views.
The video surfaced as part of an investigation between the Investigative Network and the Dallas news network WFAA. In the report, the WFAA[25] writes that the video "fuels the Bland family's suspicions that Texas officials withheld evidence in her controversial arrest and, later, her death."
In response to the report, Houston Democratic Representative Garnet Coleman released a statement. He said:
It is troubling that a crucial piece of evidence was withheld from Sandra Bland's family and legal team in their pursuit of justice. The illegal withholding of evidence by one side from the other destroys our legal system's ability to produce fair and just outcomes. As Chair of the House Committee on County Affairs that looked into the death of Sandra Bland, I will make sure that the Committee will also look into how this happened.
On May 7th, journalist Shaun King tweeted[26] the video with the caption "Local authorities kept this cell phone video from Sandra Bland a secret for 4 years. Local journalists @WFAA fought to get it released. Sandra Bland knew her rights. She never should've been arrested and threatened in the first place. A gross abuse of power from this officer." The tweet received more than 30,000 retweets, 50,000 likes and 2.8 million views in 24 hours (shown below, left).
Writer Clint Smith tweeted,[27] "The woman who said Emmett Till came onto her lied about what he said. The officer who killed Oscar Grant lied about what he did. The police withheld video of Sandra Bland that tells a different story. There's a long history of black ppl being killed based on someone else's lie." Within 24 hours, the tweet received more than 26,000 retweets and 75,000 likes (shown below, center).
Presidential candidate Senator Bernie Sanders tweeted,[28] "There's no doubt in my mind that Sandra Bland, like too many African Americans who die in police custody, would be alive today if she were a white woman. I support her family's call for a renewed investigation into her arrest and death." Within 24 hours, the tweet received more than 3,800 retweets and 14,000 likes (shown below, right).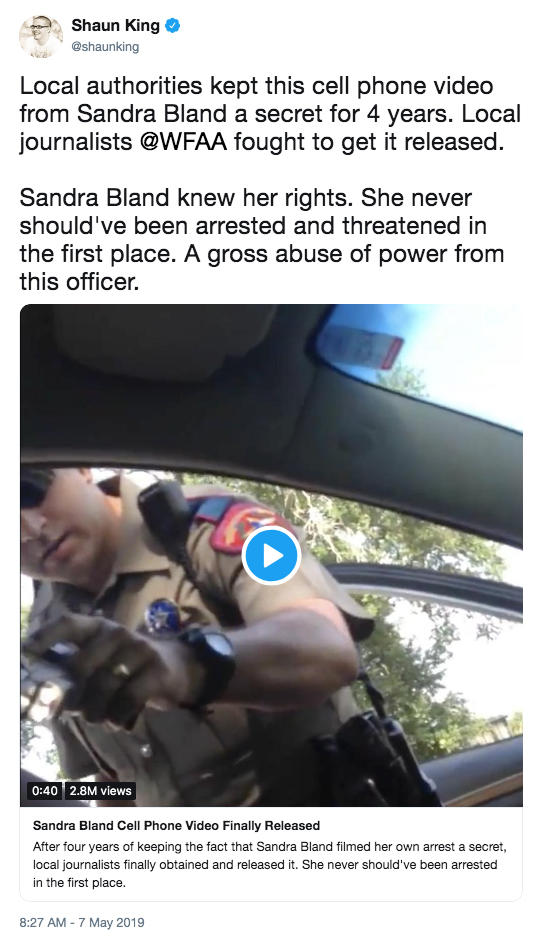 Search Interest
External References