Shuaiby Livestream Suicide
Warning: This page contains material that may be considered not safe for work.
Warning: This entry contains content that may be unsuitable for some viewers.

---
Overview
Shuaiby's Livestream Suicide refers to a livestreamed video in which a young man identified by the online handle Shuaiby appears to commit suicide by shooting himself with a shotgun. In mid-March 2018, the video became a subject of controversy on Reddit after it began circulating within various communities on the social media platform.
Background
On March 14th, 2018, YouTuber Shauiby published a livestream in which a man wearing a bandana over his face holds a piece of paper with the words "Bye /r9k/" up to the camera before shooting himself in the head with a shotgun, followed by a woman discovering his body. The video was promptly removed from YouTube.[1]
Developments
Online Reaction
On March 14th, an anonymous 4chan user submitted a thread to the /r9k/" board titled "4channer suicide," which claimed to be a friend of Shuaiby.[2] In the post, the author described their relationship with Shuaiby in green text, speculating that a strained relationship with his mother led to the suicide (shown below).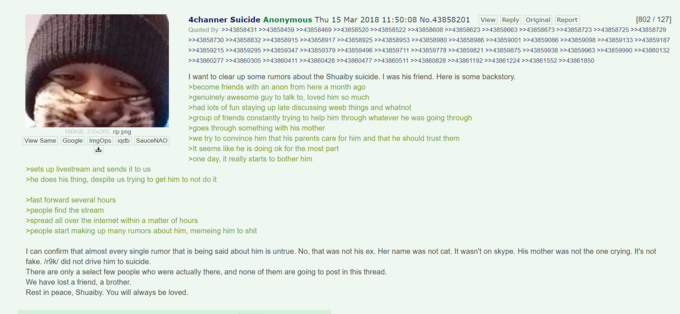 The following day, a thread about the suicide was submitted to the Kiwi Farms[9] forum. Also on March 15th, a post titled "RIP u/Shuaiby who committed suicide on YouTube Live" was submitted to /r/DeadRedditors.[8] On March 16th, a 4chan user submitted a thread to the /pol/ board speculating that the suicide video was linked to a 4chan outage.[5]
News Media Coverage
On March 14th, the blog News Media Watchdog[4] published an article titled "Man Reportedly Commits Suicide on a YouTube Livestream." On March 15th, the Vice tech blog Motherboard[3] published an article titled "A Video of What Appears to Be a Man Shooting Himself Has Been Up on Reddit for 9 Hours." That day, the news site Fast Company[6] published a similar article titled "A grisly "suicide" video was removed from Reddit. Except it wasn't."
Search Interest
External References
Recent Videos
There are no videos currently available.