This submission is currently being researched & evaluated!
You can help confirm this entry by contributing facts, media, and other evidence of notability and mutation.
About
Goth Birthday Girl, also known as Goth Girl Birthday Party or Photogenic Goth Girl, refers to a photograph of a goth girl (or emo) at her 15th birthday party sitting at a table with her family in front of a cake with candles while wearing all black, white makeup and sporting long, black hair with bangs covering her eyes. The photo was originally posted to Instagram in 2021 but later spread to iFunny, Reddit, 4chan and TikTok where many users fantasized about her and gave her captions.
Origin
On April 28th, 2021, Instagram[1] user gravesitezero (willow) posted a photograph from her 15th birthday party in which she was sitting at a table with who appeared to be her grandma, grandpa and older sister, waiting to blow out the candles while wearing a goth outfit, consisting of a black t-shirt, chain choker necklace, white, black and red face paint, as well as long black hair that covered her eyes. The posted received roughly 51,100 likes over the course of 16 months (shown below).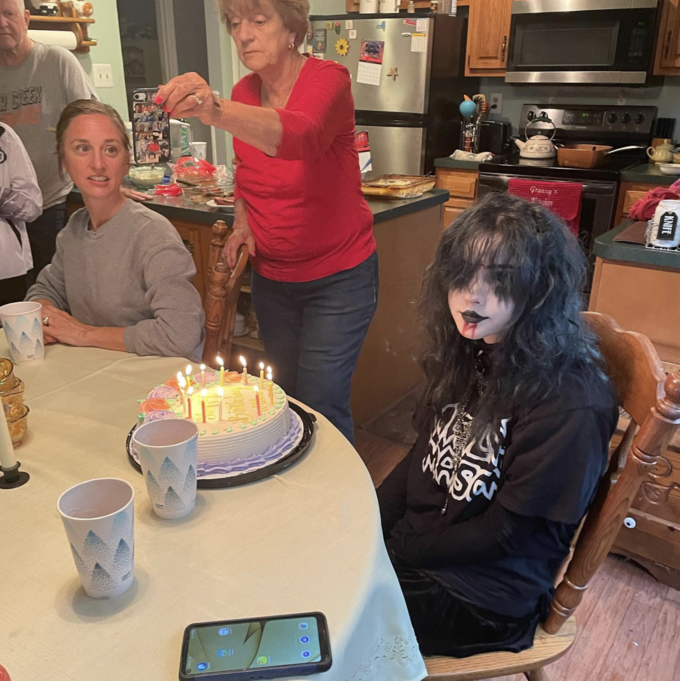 Also on April 28th, 2021, gravesitezero posted to Instagram[2] a video that was taken at her party that recorded her family singing her "Happy Birthday." In the same amount of time, the video received roughly 69,700 views and 7,800 likes (shown below). On April 29th, 2021, willow also posted the video to TikTok,[11] gaining roughly 16.4 million plays and 3.4 million likes in 17 months.
Spread
On May 10th, 2021, iFunnyer DrPepper first used the image in a meme, claiming that it was their little sister's birthday (shown below). The post received an unknown amount of smiles, however, screenshots of questionable comments from its comment section also received viral engagement on iFunny[12] in May 2021.

On May 11th, 2021, the image was posted by Redditor bekal69 to /r/funny,[3] gaining roughly 51,200 upvotes over the course of 15 months. Also on May 11th, 2021, Redditor ThatDeafDrummer posted a meme to /r/dankmemes[4] that captioned the image, "When darkness is your life, but your mom still wants you to celebrate," gaining roughly 12,200 upvotes in the same time period (shown below, left). On June 4th, 2021, the post was shared by Tumblr[7] user vizionsin who posted a redraw of it with Yu-Gi-Oh! characters, earning roughly 1,000 notes in 15 months (shown below, right).


On June 12th, 2021, the image was shared to /r/hmmm[5] by Redditor seven_critical_blows, gaining roughly 29,600 upvotes in 15 months. Later on June 12th, 2021, Redditor GrosslyUneducated23 shared a screenshot of the post's comment section to /r/cursedcomments.[6] The comment pictured read, "I understand her pain. This is how my family looks at me at Thanksgiving when I walk around with three dill pickles in my ass. My asshole deserves a feast, too." Over the course of 15 months, the post received roughly 2,700 upvotes.
The image trended again en masse in mid-2022 within multiple image boards on 4chan. On May 3rd, 2022, an anon on /v/[8] posted the image, asking others if they still got video games for their birthdays. On June 6th, 2022, a 4channer posted it to /b/.[9] Other usage surfaced on /bant/[10] in June 2022.
Related Memes
Tractor Goth Girl
Tractor Goth Girl is a viral image of goth girl and TikToker @gutknot sitting in a tractor, taken from a viral video on TikTok in which she drives it on a farm. The photo spread on Twitter in late June 2022 and has been used as source material for image macros and Whisper memes.


Various Examples



Search Interest
External References